Some Arlington County residents will be able to ride Arlington transit buses at no cost starting Saturday, Oct., 1, as the county continues to push for reducing barriers to public transportation.
The discount applies to SmarTrip card users who start their one-way trips on the Metrorail and transfer to an ART bus to complete their trip.
Reducing barriers to transportation is important to county leaders, not only for equity, but because it is key in helping Arlington tackle climate change and achieve its reduced emissions goals.
Ballston resident, Nicole Tinghitella, commutes to work in Washington, D.C., daily using the Metrorail. While not a frequent ART bus user, she said that "more affordable transit options would entice me to use it more."
"It is nice to live in a city that is actively trying to make public transit more accessible," said Tinghitella.
Making transit accessible is a key tenet of Arlington County's vision.
"Transit becomes a viable choice for people when it can get them from where they are to where they need to be with as little pain as possible," said Katie Cristol, Arlington County Board chair.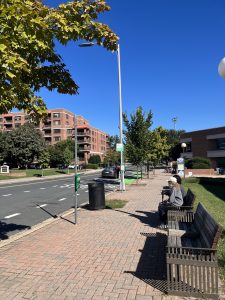 Finding ways to entice community members to use the transportation network, so that fewer cars are on the road emitting greenhouse gasses, is an important part of the county's climate plan.
Emissions from transportation represent roughly one-third of greenhouse gas emissions in Arlington, according to the county.
Arlington County currently has a Community Energy Plan that aims to make Arlington a carbon-neutral community by 2050.
"If we're trying to get to our net zero goals for energy use and emissions, transit is going to be an incredibly important strategy there, and again, getting people to opt for transit instead of driving," Cristol said.
The projected revenue loss to Arlington County per fiscal year is $242,000, a loss Cristol said the county is more than willing to take because of the benefits the county will gain in the long run.
Cristol noted that fare-box recovery, the fraction of operating expenses which are met by the fares paid by passengers, is not how transit systems get their operating budget.
"It is a system that requires input of public dollars. I believe so firmly that it is incredibly worth it because there are so many benefits to us as a community," she said. 
One of the most important benefits the Arlington community reaps by making the transit system more reliable and enticing, Cristol said, is economic competitiveness.
"We know that transit is incredibly attractive to regional employers because it expands the universe of a highly competitive workforce that they can connect to; it expands the opportunities for networking to other businesses," she said.
Several companies, including Boeing and Amazon, have moved their headquarters or established offices in Arlington within recent years.
Arlington County has taken several steps to reduce emissions in the transportation sector, in addition to trying to increase use of the public transit system.
For example, Arlington County currently uses compressed natural gas in its transit buses, making the county "ahead of the curve" compared to other areas still using diesel, said Lynn Rivers, Arlington County Transit Bureau Chief.
The county is currently running a pilot program, testing out several manufacturers for zero-emission buses, which are battery electric powered.
"We want to get people out of single occupancy vehicles. We want people to use transit more often," Rivers said.
Arlington County experienced a significant dip in public transit ridership when the COVID-19 pandemic hit in March 2020.
In July 2022, there were 164,668 ART passengers, according to an Arlington Transit monthly service report.
That is an increase from the 131,566 riders in July 2020, but both numbers fall far short of the 243,879 ART passengers in February 2020, before the pandemic severely impacted public transit ridership.
John Bloom, chair of the Potomac River Group, a local group and member organization of the Virginia Chapter of the Sierra Club, expressed support for the steps Arlington County is taking to reduce emissions.
An Arlington resident, Bloom said that reduced transit fees and zero emission buses are "big steps forward in the right direction."
Bloom said he'd like to see Arlington go even further in their efforts with transportation and climate change.
Bloom suggested, for example, that a shift to a fare-free system would make public transportation more accessible and community members more inclined to use the system.
"That is just so much easier for everyone: for the users, for the bus riders, it's easier to administer and it encourages people to ride," Bloom said.
While a shift to a fare-free system would constitute a greater loss in revenue, Bloom sees it as a shift to a different philosophy altogether.
"It's seeing transit service, transportation, mass transportation, as a public good; as something more like a park, or other things that governments provide that cost a lot of money, but they're worth it," Bloom said.
Although Arlington does not currently operate with a zero-fare system, the county continues to work toward that by implementing it on a need-based system.
Arlington launched two pilot programs early this year, providing no-cost bus access to students and low-income residents.