Note: Republican Glenn Youngkin won with 50.8 percent of the vote on Tuesday.
By Cassidy Stoneback
HENRICO COUNTY, Va. — The Richmond suburbs have become a battleground in the final weeks of the Virginia gubernatorial race as Republican Glenn Youngkin has pulled ahead in the region that President Joe Biden won a year ago. Both parties need to win the suburbs to win the election and Democrats are pulling out all the stops to get suburban voters out to the polls this Election Day.
At a GOTV rally in Henrico County, the delegate for the 72nd District in Virginia, Schuyler VanValkenburg, reminded the crowd of what news outlets were saying during the 2013 elections: "Henrico County, that's the place you gotta look at to know which way the country goes. Watch them. They're a bellwether."
Local organizers know firsthand how competitive the suburbs can be. The Chair of the Henrico County Democratic Committee, Marques Jones, said that "Henrico is a very purple place." While it used to be solidly Republican, Jones notes that "with shifting demographics, younger folks moving in and … raising families here, things are changing."
The event, in a local family's backyard, featured scores of campaign signs and boasted a lineup of local Democratic celebrities. Before former Democratic Gov. Terry McAuliffe took the stage, Richmond Mayor Levar Stoney, candidate for House of Delegates Blakely Lockheart, and U.S. Rep. Abigail Spanberger all spoke to the crowd.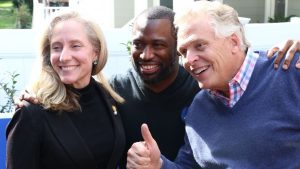 Delegate Rodney Willett noted how much the political landscape has changed in Henrico, said "the Henrico Dems used to be able to fit at a table for eight at a restaurant… There's not a restaurant in Richmond that can accommodate us now." Henrico is not the only suburb in Virginia that has undergone demographic changes in recent years. Suburbs across Virginia have grown far more populous and diverse, making them more competitive than many expected.
Throughout the events, Democrats spoke about the importance of direct voter contact and personal connections when getting suburban voters to the polls. The Rev. Tyrone Nelson spoke to those that have already voted, asking them to reach out to their friends and "remind them if they haven't already voted early, encourage them to vote, and then tell them to encourage all their people to vote."
Attendees also understand how important relationships are in the suburbs, even between neighbors with different political views.
Tracy Labin, 59, a financial analyst, stressed that politics didn't matter to her when it came to her neighbors. Of one, she said, "She's voted for the other guy and I know she's gonna continue to vote for the other guy. I don't care, though. She's my neighbor at the end of the day."
Labin said voters in the suburbs are getting tired of hearing about one election after another but believes McAuliffe can win by getting voters familiar with his policies. "Trump, in my mind, is gone, he's lost, he's gone," she said, "But I think the issues are what's important and, 'hey here's what we've gained and we don't want to lose those.'"
President Biden won in the suburbs because, as Jones said, "Donald Trump is such a turnoff here. Because we don't see our neighbors as enemies. We see our neighbors as neighbors."