The lights and sirens of police officers were loud in the Brightwood Park neighborhood of D.C. around 5:30 pm tonight as a person crashed his car into a concrete barrier that was blocking a narrow alley.
"Somebody has been transported to hospital," confirmed an MPD officer who was on the site of the accident in Northwest, D.C. However, the officer declined to give more information
On Twitter, @alanhenney reported that the person was in cardiac arrest, though The Wash could not confirm that. The identity of the person has not been released.
CRASH WITH PROBABLE FATALITY — Kennedy St at Illinois Ave NW DC. Man crashed auto into barrier. He is in cardiac arrest (possibly suffered a medical event). #BrightwoodParkDC #DCTraffic h/t @RealTimeNews10 pic.twitter.com/7gRXCg1xRf

— Alan Henney (@alanhenney) December 6, 2022
The accident occurred near the intersection of Kennedy Street and Illinois Avenue, NW in a narrow dark alley that connects some residential apartments to the main roads. The car smashed into a concrete jersey barrier that was blocking part of the alley off Kennedy Street.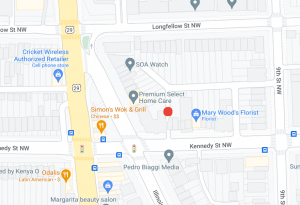 The back of the car is severely damaged. 
Fatalities on the road have been dramatically increasing these two past years in D.C. 
In 2021, 40 fatalities were reported, the highest number since 2007. As of Dec. 6, 2022, the Metropolitan Police Department reported 30 fatalities. 
In 2015, Mayor Muriel Bowser launched Vision Zero, an initiative designed to reduce the number of traffic injuries and fatalities in the city, with a goal of zero traffic fatalities by 2024. However, in October, the mayor released a report on the initiative, noting that, while the initial goal was ambitious, the city was making some progress.
According to the report, in the three years before the pandemic, 2017-2019, the District recorded an average of 8,530 traffic crashes per year, or 23 per day, that resulted in injuries. 
"During the nearly three years of the COVID-19 public health emergency, overall reported traffic injuries in the District decreased sharply, by about 30% overall. Among pedestrians and cyclists, reported injuries decreased even more: by 44% (pedestrians) and 51% (cyclists)," the report said.
"However, fatalities did not follow suit, instead showing a divergence, where injuries declined and fatalities increased," the report added.