A new lively and colorful mural was unveiled this month in Adams Morgan, in large part due to Peter Wood, one of the neighborhood's advisory neighborhood commissioners.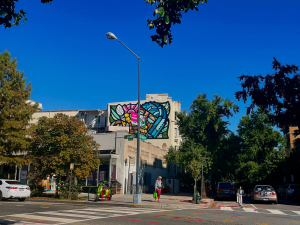 There are 152 murals in 72 neighborhoods, according to MuralsDC – a collaboration between the D.C. Commission on the Arts and Humanities and the Department of Public Works.  
So, it was unsurprising when Wood decided it was time for his neighborhood to have one of its own.  
Wood has served as ANC commissioner for Ward 1 since January 2021. Getting art into his community was a priority because "Adams Morgan has a pretty rich history as being a hub of art and just creative expression, but also of using that creative expression for political means and a good sense," he said.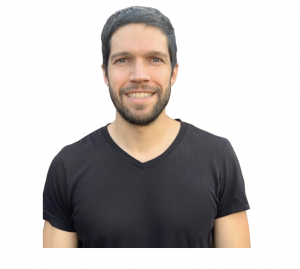 Wood added that bringing a mural to the neighborhood is also good for community building.  
"I had that idea just to try to find and connect with more artists throughout the District, as well as potential avenues and platforms for those artists to be able to engage their work within Adams Morgan, because a lot of people really do want art," he said.  
The ANC commissioner contacted the property owners of the condo building where the mural is located, put them in touch with MuralsDC and let the pieces fall into place. He said once he put all the right people in contact with each other, everything else was left to MuralsDC.  
"They just kind of did the rest because it's a private property," Wood said. "The condo owners within the building voted in one of the meetings about it."  
According to MuralsDC public information officer, Nancee Lyons, she and her counterpart at the Commission on the Arts and Humanities chose the artist and the payment for labor is entirely funded by the Department of Public Works. 
Lyons added that the design concept was a conversation between the artist and the property owner, but all designs must be approved by DPW and the Commission on the Arts and Humanities prior to installation. MuralsDC keeps their mural themes loose and "Anything that supports the expression of love, peace, harmony, unity, tolerance and equity is encouraged," she said in an email.
In addition to community building, Wood said the decision to bring a mural to Adams Morgan was to also hopefully attract small business owners and residents. 
"You hope that that's something that will make people think, 'Oh I've been thinking about starting and building a business. And I would like to find a location. And I want to be someplace that has some charm and some interesting aspect' and art is a really big part of that," he added. 
Overall, the process was fairly smooth, according to Wood, but as with anything there were some small disagreements. 
"There's always resistance to things," the ANC commissioner said. "Not necessarily because people are against art, but because you know, there's just a difference of opinion on how different things should be expressed." 
The mural, which is located at 1831 Belmont Road, was painted by local artist Federico Frum who goes by Mas Paz.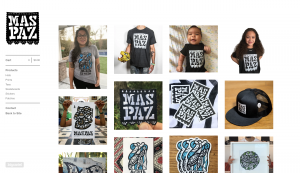 According to his bio on the MuralsDC website, Paz was born in Bogotá, Colombia and raised in D.C. His Latin American roots heavily influence his work which is centered around indigenous peoples and respect for Earth. He's also worked as an art director and as a head designer consultant for Nike.
Lyons said the decision to go with Paz was because they "thought his cultural design style worked well given the cultural history of Adams Morgan."
Wood said indigenous rights are important to his residents and something that the condo owners were particularly interested in.   
"Indigenous people, for lack of a better expression, have been treated very poorly," he added. "And I think the tip of the iceberg of rectifying and undoing a lot of that harm, much of which can't be undone, is things like art and promoting different ways of expression. Because otherwise that's how histories get completely lost, isn't it? We need ways to preserve that and actively engage with it as we go forward as well." 
The Adams Morgan commissioner said that he sees art as an "incredibly political act" and as a tool to challenge systems of power that are hurtful.  
"Having the satisfaction of just artwork being presented publicly and visible and kind of evoking positive emotions, that in itself is impactful," Wood said. "But on top of that, when it's connected to a deeper cause, especially when it's done really well, art is very important." 
The new mural has already evoked many positive emotions in its viewers.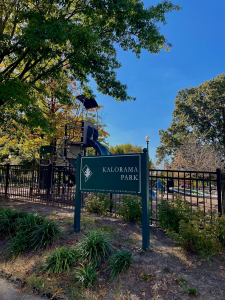 "I think the color has a nice mix of blues and greens and yellows," Virginia resident Kevin N., said. "It adds some vibrancy to the buildings." 
Courtney S. added to Kevin's point saying, "A little pop of color, I think, always improves something."  
The mural sparked a discussion between them and their friend, Anna C., about what they each thought the painting is of. Courtney saw half a heart while Anna saw a helmet on a warrior.
Adams Morgan resident, Mimi K., said it was about time her neighborhood had a mural. "I mean there are murals all over," she said. "It's only right that there should be some here in Adams Morgan too."
She added that any amenities for the community is always a plus for her. 
All four people requested to use their last initial for privacy reasons.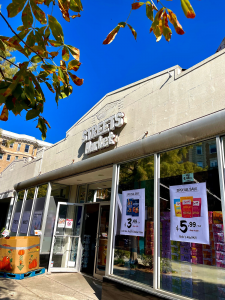 The condo building the mural is located on is adjacent to Streets Market, a grocery store in the neighborhood. Store manager Francisca Martinec said the mural is a good idea, because it catches people's eyes and can be seen from Kalorama Park directly across the street.
"It looks beautiful," she said. "It's a good appearance to the neighborhood." 
When asked what he hopes people get out of this mural, Wood's answer was simple – "I just hope people see it and smile."  
The artist did not respond to requests for comment.