Richard Tonetti, vice president of operations at Craftsman Auto Care, said it happens to the best of his customers.
They power up their cars and hear the engine hiss. The wheel is stiff, and the gas pedal won't accelerate. Icons across the dash light up like a Christmas tree.
Tonetti can guess the problem: The vehicle's catalytic converter has been stolen. And officials say it is a problem that has only been growing in Fairfax County and across the nation.
More than 700 catalytic converters have been stolen in Fairfax County this year, according to data provided by the police department. That is nearly double the 409 converters stolen in all of 2021 — and triple the 213 stolen by the end of September last year, the data shows.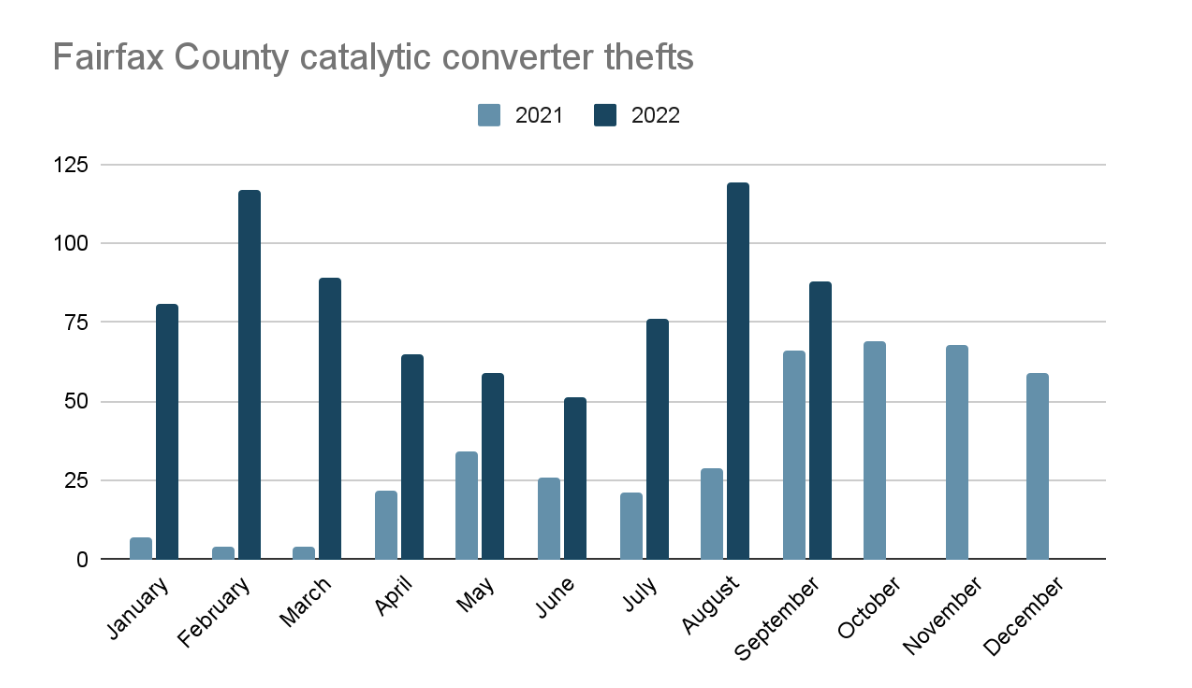 "We have seen more and more of these calls come in," Tonetti said. "It is extremely frustrating for people."
Officials and locals like Tonetti are trying to help the community protect their vehicles amid the surge of thefts. Whether it be increasing penalties for the crime or setting up a tracking system for stolen converters, they hope new efforts to stop catalytic converter thefts will help keep potential incidents at bay.
Why catalytic converters?
Catalytic converters were developed during the 1970s by the California Air Resources Board to tamp down on pollution and smog-forming emissions from cars, with support from the U.S. Clean Air Act. By 1975, they were required on all new vehicles in the U.S.
"The converter has precious metals that help to break down the vehicle's toxic gas so that it doesn't go into our ozone," Tonetti said. He said each converter is different, but can have multiple metals such as copper, aluminum, steel or platinum.
Those metals are valuable.
"That's worth a decent amount of money," Tonetti said. "So yeah, people will sell it to someone who has the tools to melt it down and separate the metals." Tonetti noted that Toyota Priuses, particularly, are most susceptible to crime.
Virginia Del. Robert Bell, R-Albemarle, said catalytic converter thefts have historically been like other thefts of items less than $1,000, which are a misdemeanor in the Commonwealth.
But while a converter may be worth less than $1000, repairing damaged vehicles can cost between $1,000 and $3,000.
Bell sponsored a bill to take those costs into account. He said making the crime a felony was a logical response.
"My opponents, though, did not like having too many felonies in Virginia," Bell said. "Their opposition was not a surprise. But we were able to get it through."
The bill passed 57 to 38 in the Virginia House of Representatives. It passed unanimously in the state senate.
The new law signed by Gov. Glenn Youngkin, a Republican, in April makes breaking or removing a catalytic converter a felony. If convicted, a person can face up to five years in prison.
Bell said it would take time to see whether the new law was effective.
"The guy on the street stealing a catalytic converter is not reading the code amendments," Bell said. "We are hopeful that the few people who are committing these crimes will over time be deterred or get caught and go to prison."
A nationwide trend
Fairfax County is not the only place experiencing an influx of catalytic converter thefts, said Chris Herrmann, a John Jay College of Criminal Justice professor.
"These are increasing crimes everywhere," Hermann said. "I think you can kind of blame that a little bit on the economy and blame it a little bit on the fact that it has easy access."
Herrmann said it does not take much to steal a catalytic converter, noting that perpetrators can access converters by sliding underneath people's cars.
Barriers to shield catalytic converters are expensive, Herrmann said.
"The only way to really prevent it is to weld a cage over your catalytic converter," Herrmann said. It's an expensive process, so a lot of people probably wouldn't do that."
Tonetti and workers at Craftsman Auto Care are etching people's converters to make their cars a less easy target, they said.
Asha Boone, marketing manager at the auto shop, said the shop bought scanners that can be placed on the converter and tracked on a security website.
Workers call it "Etch and Catch," she said. The auto shop has hosted eight events this year where people can drive up to Craftsman Auto Care, and shop workers will glue the scanner on the converter for free.
People can notify the International Security Register code check website if the part gets stolen. If someone tries to sell the piece for scrap, a metal or parts dealer will know it was stolen and can notify the website they found the part.
The Fairfax County Police Department partnered with the shop to promote their etching campaign, Boone said.
Watch here: Etching a catalytic converter
"We're fortunate to have outstanding community partners who have volunteered to provide VIN etching," Lt. James Curry wrote in a statement. "We hope this not only deters criminals from stealing catalytic converters but also aids detectives in tracking down the rightful owners if the property is found."
Boone said their shop has yet to have been notified that an etched converter has been stolen, she said. It's a hopeful sign, she noted, that etching these thefts will soon be on the decline.