Expanded development in residential and urban areas throughout Montgomery County in the last decade have negatively impacted local streams and wildlife, according to recent announcements from Montgomery Parks and nonprofit Bethesda Green.
Rainfall on impervious surfaces does not soak into the ground. Parking lots, rooftops and driveways allow for the collection of this water, called runoff. Stormwater runoff flows either directly into streams or by way of storm drain pipes and stormwater management facilities, carrying contaminants with it, according to Montgomery Parks.
Runoff water poses more of a threat to residents than just soggy grass and flooding in the streets.
Sewage spills from damaged and burst drain pipes have been a recurring problem in Montgomery County, according to water and wastewater utilities WSSC Water.
Seneca Creek in Germantown saw the same section of storm drain pipe damaged a year after the first incident in 2020, dumping thousands of gallons of sewage and contaminated water into the environment.
WSSC Water told residents tap water was still safe to drink in each instance.
Investigations by WSSC Water have not yet released new insights into the state of the 11,000 miles of storm drain pipes in Montgomery County.
Urban consequences
Most households in Montgomery County are within half a mile of one of the 1,500 local streams with the potential for stormwater damage, according to Montgomery Parks.
Montgomery Parks employees regularly survey waterways for the oxygen level, pollution contaminants and presence of aquatic life to determine the health of the stream. Each waterway is then assigned a rating for its condition.
Montgomery Parks maintains an online watershed map where residents can find out the rating for their local stream.
Bethesda Green functions to improve green living in urban areas. A report by the nonprofit stated that in a forested stream like Newaukum Creek, water flow is slower to rise. An urban waterway such as Mercer Creek has higher rates of erosion and flash flooding.
Ryan Zerbe, Watershed Outreach Planner for the Montgomery County Department of Environmental Protection, focuses on improving water quality and stream health. Zerbe said 55% of stormwater in an urban area becomes runoff, equivalent to seven Olympic sized swimming pools, compared to the 25% in a forested area.
Tree canopies are highly important for stormwater, according to Zerbe. Roots keep the soil in place. Once impervious tree canopy coverage is lost, it is "very difficult to get reestablished," Zerbe said.
Runoff water also increases stream bank erosion, according to Zerbe. There exists a natural process of erosion, but "we certainly accelerated that by the type of building and development that we do," Zerbe said.
Montgomery County streams in poor condition face erosion of up to 15 feet, according to Bethesda Green. Development has reduced Sligo Creek to just 26% of what it was 125 years ago.
Adam Ortiz, Director of Montgomery Parks Department of Environmental Protection, has overseen watershed regulation and stormwater management since 2012. Ortiz was recently tapped by the Biden administration to serve as the Regional Administrator for EPA Region 3.
Pollution on land is carried into the waterways by stormwater runoff, according to Ortiz.
"The health of the water is directly related to the health of the land. If there's bad stuff on the land, when it rains, it will get into the water," Ortiz said.
Pollution like trash, oil spills and improper disposal of pet waste all threaten the water quality of local streams and rivers.
Fighting back
Montgomery Parks recently announced a new campaign called "Critters in Crisis."
"This is basically Montgomery County's version of endangered species here in our region," Ortiz said. "What we find is that there's life all around us. And sometimes it's not quite visible, but it's certainly there."
Five aquatic creatures make up the list of at risk species in Montgomery County's waterways. The acuminate crayfish, giant stone fly, marbled salamander, American eel and yellow lance mussel are all at great risk due to polluted runoff stormwater emptying into the streams.
Each creature is important to Maryland's ecosystem and in danger of disappearing, according to Montgomery County senior water quality specialist Ken Mack.
For instance, the yellow lance mussel helps filter the Patuxent River basin. The mussels are endemic to Maryland, Virginia and North Carolina, meaning they cannot live anywhere else. Mack said only about 10 of these federally protected mussels have been seen within the last decade. The mussels had not previously been seen in the Patuxent River in over 50 years, according to Mack.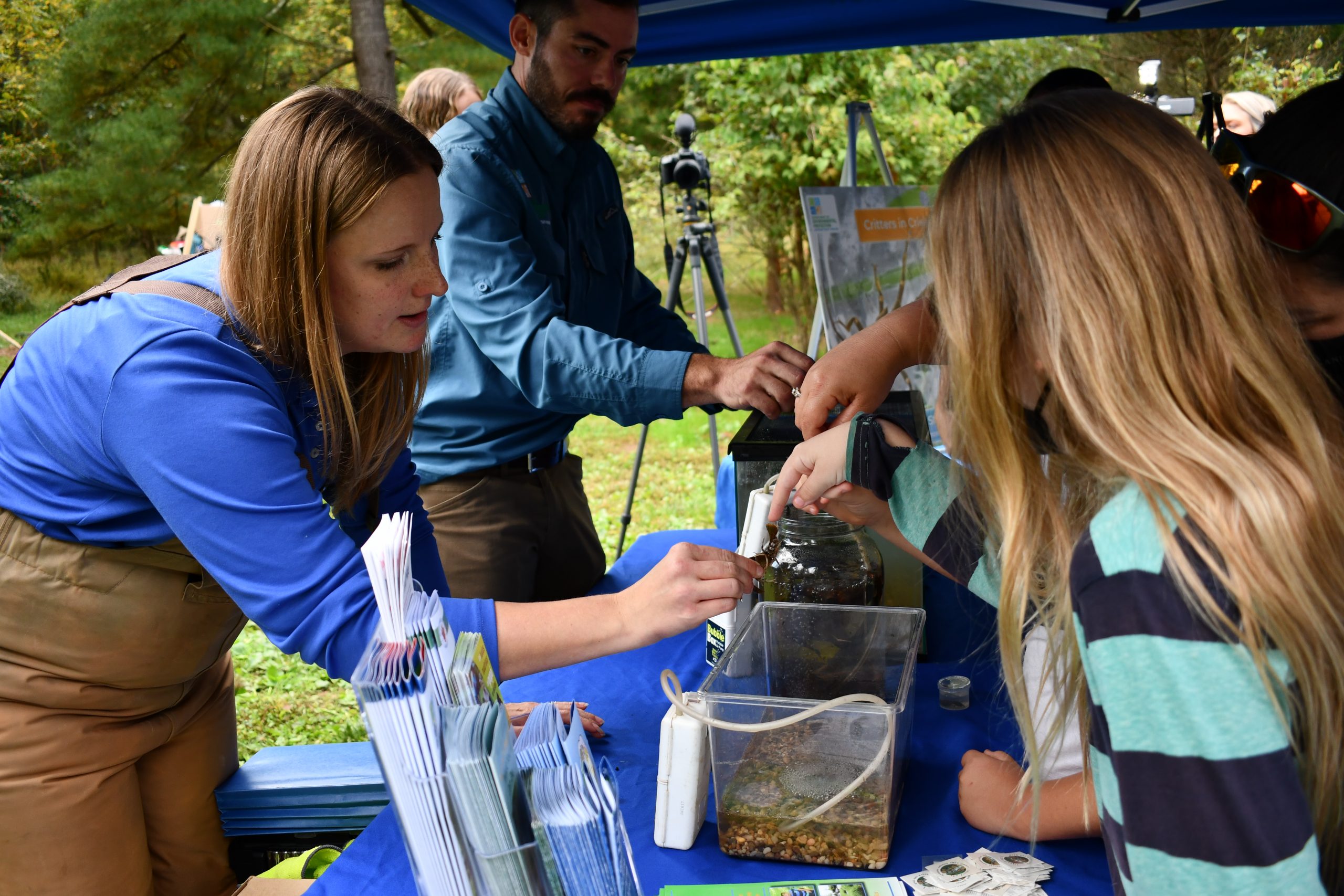 "There are many ways the public can help protect the streams and wildlife, including picking up litter and pet waste and volunteering for park cleanups," said Mike Riley, director of Montgomery Parks.
Montgomery Parks and Bethesda Green sponsor a number of incentive programs to help protect the local waterways. Residents are being encouraged to consider participating in free programs that award cash rebates, like RainScapes and TreeMontgomery.