Arlington residents may begin to notice a change in the courthouse area as the Ellen M. Bozman Center begins to undergo some renovations that could cause a mess for the next 16 months. 
The $4.8 million renovations began last week in Arlington. 
Resident, Cecilia Tran has some apprehensions about the renovation due to the high expense and long timeline.
"I don't think it's worth spending that much money and time for a building that not that many people know of," said Tran. 
Connor McQuillan agrees. He's worried that there may be a better use for this fund. 
"It just sounds like there's not as much public benefit to that which is kind of a shame," said McQuillan. 
Department of Environmental Services spokesperson Peter Golkin, disagrees. He believes these changes will benefit the building and community as the times change. 
"As you can imagine, buildings age and demands change. Certainly, with the pandemic, we've seen office demand and staffing completely turned on its head," said Golkin.
These renovations have been in the works for several years according to a spokesperson for the Department of Environmental Services.
The Bozman Government Center is not only home to an Arlington DMV location and the Voters Center but, also, a movie theatre, public library, and conference centers that are frequently utilized by the public.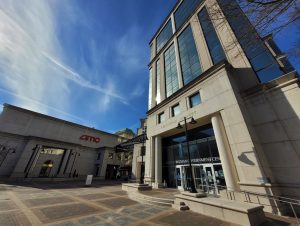 The changes to the building will include a new reception area on the main floor, more security enhancements, a children's area in the library, garage-level elevator and more conference rooms, according to the news release on Arlington's government website. 
The Arlington Public Library's Plaza Branch will remain closed to the public as it has through the COVID-19 pandemic, while most other public areas will remain open and accessible. 
"I can't say what that would specifically look like. I can only imagine that, of course, it's gonna be like protective spacers and things to make sure people aren't walking through construction," said Communications and Engagement Specialist, Department of Environmental Services, Claudia Pors.
Owers of the building intend to keep it open throughout the construction process.
"The idea is to keep businesses open, keep services going but then once this is all over, it's gonna be a much better use of space where people can get done what they need to get done," Pors said. 
The County Board approved the construction in July 2021 but for now, only pre-renovations have begun. 
"So far, they haven't started the actual physical construction yet…they're still doing all the prework that comes with construction," Pors said.
The Ellen M. Bozman Government Center is on county land and, therefore, partially owned by the county. However, JGB Smith owns the building itself. Funding for this construction came from JGB Smith through the tenant improvement allowance.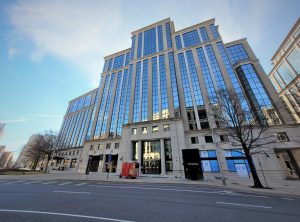 "It's kind of a unique relationship…the county owns the land, but Smith owns the building. It's not like most cities where the city owns city hall," Golkin said. 
The spaces are used by the public and continue to be used through COVID, according to Pors. They intend on keeping it available to the public throughout the construction.
The intention is to keep the building open to the public but keep the public as safe and comfortable as possible. 
"That's always the number one consideration, is the safety of everyone around," said Golkin.
The construction goes by the industry standards of keeping people away from the work and not being exposed to anything harmful.
"The reason it's important to keep these spaces open is because these are services that people actually need, like, whether they don't have internet access to pay taxes at home and they have to walk up to a counter or have some other language barrier and just need help in person. It's good to keep this continuity of service going on but, of course, also keeping people safe," said Pors. 
This construction project is planned to last for 16 months, ending in 2023. 
JGB Smith did not reply in time to comment.