Los Angeles County reported 10,500 new cases Sunday, marking the seventh consecutive day of record-breaking Coronavirus hospitalizations in the county. 
The county implemented a ban on outdoor dining the week of Thanksgiving, limiting restaurants to only offer takeout, drive-through and delivery.
County Board Supervisor Kathryn Barger is one of the few public officials who have voiced opposition to restaurants' restrictions, calling the ban on outdoor dining an "arbitrary and capricious restriction" in a press release.
The Wash previously reported on outdoor dining in Bethesda, Maryland. Outdoor dining is still allowed in the District, but with several restrictions and permit requirements. 
However, the Wash found that several restaurants were not in compliance with permit requirements, or all together did not have any permits on file but were still operating.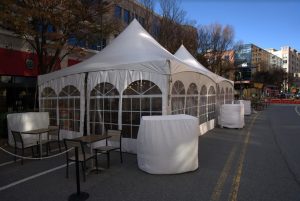 The report found that several locations did not meet the minimum required three feet for pedestrian pathways. 
Additionally, if restaurants have tents set up for outdoor dining, they must use electric heaters. The Wash found that many restaurants were using propane heaters instead, which would be a fire code violation. 
The Wash contacted Supervisor Barger's office and spoke to her communications director, Michelle Vega. 
"Outdoor dining had been open for five months while we saw the greatest decline in cases," said Vega. 
She added that the data and science do not support the need for the ban and that it will hurt businesses that have already been struggling since the pandemic hit. 
The county's health department has reported that 10-15% of new cases were connected to restaurant dining, while over half were from private gatherings. 
A CDC study released in September found that restaurant dining is inherently prone to spreading the virus since patrons gathering do not wear masks while being served. 
Vega said that the study doesn't "distinguish between outdoor and indoor dining" and that Supervisor Barger is only advocating "for the continuation of outdoor dining" since it provides more space and an open-air environment for patrons. 
The Wash tried reaching out to the county's health department for public comment but did not hear back. However, during a press briefing Monday, L.A. County Public Health Director Barbara Ferrer said that daily hospitalization projections could surpass 4,000 this month.
Paul Scrivano, owner of Blue Dog Beer Tavern in Sherman Oaks, is infuriated with the dining restrictions, "My sales are down, I don't know, 85% now? I had 29 employees in my restaurant in March. I have six now."
Scrivano mentioned that he's a part of a restaurant association that laid off 800 employees when the lockdown began in March. He declined to name the group out of fear of any "backlash."
"I'm not going to close that f—ing restaurant, and I will not lay off another employee," Scrivano exclaimed. 
The county has offered several assistance programs for struggling small businesses and workers. The Keep LA County Dining Grant Program offers $30,000, though since it went live Monday, it has already received 2,500 applications and is closed to further applicants until further notice. 
"This ain't about me, this ain't about the company, this is about the people that work for us who are suffering, real big right now," said Scrivano.
The county's health department has also provided resources for workers struggling or laid off due to the pandemic.