A dynamic group of seniors are fighting social isolation by raising money to offer programs and services to help neighbors remain in their community.
The Foggy Bottom West End Village offers a wide variety of programs and services to older adults. It has grown to 160 members in just six years.
"It's like social insurance. It prevents us from becoming socially isolated," C.B. Wooldridge, a founding and current board member, said.
According to the American Psychological Association, social isolation can lead to "adverse health consequences including depression, poor sleep quality, impaired executive function, accelerated cognitive decline, poor cardiovascular function and impaired immunity at every stage of life."
A 2017 study by the APA called social connection a "public health priority" as social isolation can lead to premature death.
Social isolation is the most important issues addressed by Foggy Bottom West End Village. The DC Office of Aging awarded the Foggy Bottom West End Village a $71,000 grant to address social isolation through its programs and services.
The 400+ programs offered in 2018 focused on education, health and wellness, arts, and social initiatives.  Some of the offerings in November are tai chi, gentle yoga, happy hour, coffee hour and a book talk with Dr. Amitai Etzioni on his book "Reclaiming Patriotism."
"This is something that all cities need," said Pat Kellogg, secretary of the board. She has been a member since the beginning and joined the board this past summer.
Kellogg, a physician, said that she has seen how isolated people can become. The organization helps members get to know their neighbors and develop friendships.
"It's the idea of fostering neighborhoods. There are people you can say hello to when you pass them on the street," Kellogg said.
Earlier this month on November 3, the Foggy Bottom West End Village held its annual fundraiser that also honored one of their long-time members. Approximately 80 members attended the function.
Wooldridge said that the fundraiser allows the organization to increase its ability to offer reduced income memberships.
Kellogg said that although Foggy Bottom is an affluent neighborhood, approximately 15-20% of the members pay reduced fees. Yearly membership fees are $630 for a single household or $690 for a couple. A reduced membership can be as low as $25.
"A ride to the doctor can become a significant expense," Kellogg explained.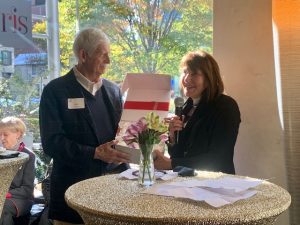 Carl Vacketta was presented the Founders' Torch Award for Community Spirit at the fundraiser.
Vacketta has lived in the Foggy Bottom for over 40 years and recently retired from a distinguished legal career at DLA Piper. He is a founding board member of the Foggy Bottom West End Village and since retiring, serves as an advisor to the board for financial and governance issues.
The Foggy Bottom West End Village "helps people age in place", Vacketta said during his award acceptance speech at the fundraiser.
Anna Chisman, who attended the fundraiser, told The Wash that the group has "become an important part of her life." She has been a member since the beginning.
"I know the people in my neighborhood. We have become friends," Chisman said.
Myrna Fawcett is an elder law attorney and the president of Foggy Bottom West End Village. She said the effort to get the Village established took two years. She worked as part of a large group of neighbors interested in the "idea of living and staying in the community without having to move."
"Many are interested in meeting other people in the community and want to be active. Others are older and need services," Fawcett said.
Fawcett said that the Foggy Bottom West End Village is not age driven, meaning there is no age minimum or limit, but the members are mostly older retired residents looking for social activities. According to its online factsheet, members range in age from 36-99.