Coming home late from work, 22-year-old Bethany Alderman walks from the neighborhood's Metro station back to her house every night with her Mace spray gripped tightly in her left hand, ready to be used. She is not the only one to feel unsafe walking alone in Deanwood alone at night. 
Located in the Northeast quadrant of the nation's capital, the Deanwood neighborhood is often considered one of the most unsafe neighborhoods by the locals. Living in shared housing as a tenant, Alderman said her housemates don't feel safe either. 
"When I first moved here almost two years ago, I was constantly told by my landlord and roommates to avoid roaming around by yourself here, that it's not a very good area," Alderman said.
According to the Metropolitan Police Department's latest statistics, Police Sector 6D1, encompassing the Deanwood neighborhood, has experienced a notable uptick in violent incidents this year, including homicide, robbery, sexual assault, and assault with a dangerous weapon.
There have been 21 more crimes reported within the jurisdiction this year, dated from January 1, 2023, to September 12, 2023, compared to the same time frame in the preceding year.
This accounts for about 6.1% of the city's overall violent crime incidents this year. The Advisory Neighborhood Commission (ANC) 7C region, which represents the Deanwood neighborhood within Police Sector 6D1, alone accounts for nearly 4.4% of the city's overall violent crime incidents during the specified time period.
"I think it's a mix of gentrification happening rapidly while at the same time having a large poverty population all within the same area that comes into play," said Dr. Carlos Richardon, one of the Advisory Neighborhood Commissioners in ANC 7C. "Racially, ethnically and even economically, I see my neighborhood rapidly changing before my eyes." 
While not surprised about the statistics, Richardson said that during their regular ANC meetings, MPD has reported a decline in crime incidents over the last few months.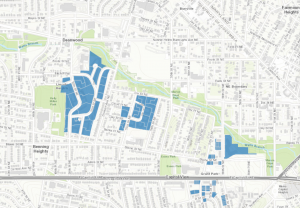 "So, I've been encouraged by the fact that crime is going down, but I think in relation to the statistics — and I don't want to necessarily say that is definitely just as one area, but there are some large public housing complexes within 7C," Richardson said."I feel like a great concentration of that crime is due to this location having public housing."
Living in Deanwood since 2009, Richardson believes there has been a significant reduction in neighborhood crime compared to the early 2010s. Despite statistical upturns in recent crime reports, he maintains a sense of security within the community. However, MPD data reveals that violent crime trends in subsequent years of 2010, 2011, and 2012 mirror today's trends.
In an attempt to address the violent crime, property crime and quality of life issues, MPD Inspector Matthew Fitzgerald from the Sixth District substation stated in an email to The Wash that the department is working closely with community partners and non-law enforcement government agencies.
"The Deanwood neighborhood is unique in that the community has a major metro station as well as closely bordering Maryland," Fitzgerald wrote in the email. "Considering these factors, the Sixth District partners closely with the Metro-Transit Police Department as well as our jurisdictional neighbors along the Eastern Avenue Corridor."
Not all residents feel like they can rely on law enforcement, though. According to a poll from Niche.com, a ranking and review site for U.S. cities and neighborhoods, five out of nine Deanwood residents feel that while the police are visible, they respond slowly when needed.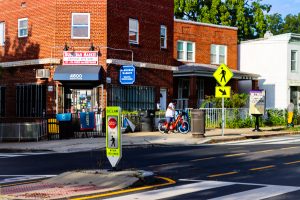 In response to the poll, Fitzgerald wrote that the Office of Unified Communication (OUC) is an external government agency separate from the MPD that intakes 911 calls for service, ranks the calls for service in order of priority, and then relays them to a dispatcher for police assignment.
"Calls are ranked in order of priority," Fitzgerald wrote. "For example, a threat to life would be given higher priority than a call for service involving lost property. The MPD ensures appropriate response times to calls for service across the District of Columbia."
A Deanwood resident, who declined to be identified said that while they see the MPD cars patrolling in the neighborhood all the time, an incident of wallet-snatching reported by their friend last year went unheard. 
"I'm just gonna play devil's advocate," Richardson said. "A lot of people already have a bias against the police because they've had a negative experience with them. I don't want to discredit what they had to say, but I don't find that to be the case for me."
As an ANC Commissioner, Richardson said that all the issues he has dealt with in the past have been mostly about traffic or carjacking incidents. Not one of them has been about violent crimes in the neighborhood, he said.
"The safety of this neighborhood is very important to me," Richardson said. "I have my family living here, my home here. And it's very important to me that the community feels safe. So, as an elected community leader, it is my goal to do what all I can."