By Danny Nguyen and Dima Amro
Former President Donald Trump's third series of indictments on Tuesday also came with a flurry of media coverage. As he's done in the past, Trump immediately turned that coverage into a campaign promotion tied to his reelection efforts. Trump's latest activity on Truth Social, a right-leaning social network, suggests he is bracing to win the 2024 presidential election.
"I NEED ONE MORE INDICTMENT TO ENSURE MY ELECTION!" Trump posted hours before his latest arraignment Thursday.
The former president's polling leads soared following his first two indictments. Biden and Trump are neck-and-neck, according to a recent New York Times/Siena College poll.
"The media talking about Trump is a benefit [to him]," said Don Johnson, who traveled from New York to D.C. to support Trump outside of the E. Barrett Prettyman U.S. Courthouse, where Trump was arraigned. "He's not even running commercials. He doesn't have to."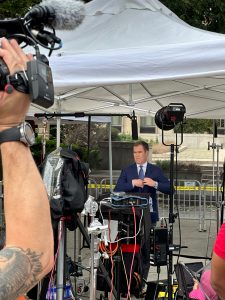 Merely covering Trump isn't the problem, said John Scheuer, an engineer for CNN. "We have to [cover the indictment] because he broke the law."
"What are the facts in the [third] indictment?" Ava-joye Burnett, a national political correspondent at Scripps News, asked. Special counsel Jack Smith accused Trump of falsely claiming the election was rigged and corralling federal and state officials and his supporters to overturn his loss. "That's what I stick to," Burnett said, adding that the media should remain objective. Burnett believes that meant covering both Trump's opponents and supporters equally. "If I stick to the facts, I'm less likely to stumble and worry about being politically correct," Burnett told The Wash.
But some media consumers believe the indictment coverage, among other coverage of the former president, is politically motivated. "The mainstream media are nothing but cheerleaders for the Democrat Party," said John Johnson, a two-time Trump supporter. For John Johnson, any Trump
coverage has become anathema. The indictment turned into the "show of the month" for Alan Penberg, a retired D.C. police detective living a block from the Prettyman Courthouse. "[Trump's] persona makes the news… and [the media] covers it… The media coverage feeds his ego, and Trump's followers are probably happy he's in the news."
Some left-leaning voters also see an issue with how news channels cover Trump's indictments. "There should maybe be a point where it's like, OK, we've covered this, nothing is changing, we don't need to keep covering it," said Lucia Sieczka, a registered Democrat and D.C. resident. "I've noticed so much of the news on Trump is like repetitive, so maybe say it when it happens and then move on."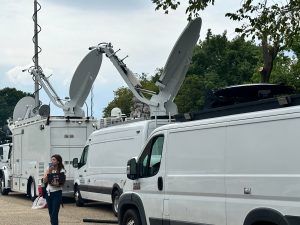 Like Sieczka, D.C. visitor Jessica Sheer said, the media usually covers Trump's news as unbiased and truthful. Further, she thinks media sites keep him on repeat, which benefits him.
"I think the media sensationalizes Trump a little bit, which in a sense helps him," Sheer said. "I feel like this whole event will be in the news cycle for like weeks, but you don't need to keep repeating the same thing if nothing has changed. I don't think it always has to be on the news, just do updates and move on."
But if the media caved to demands for infrequent coverage, the public would become uninformed. Scheuer said this would be more dire than possibly servicing the Trump campaign.