An alley in Northeast D.C. is home to an art studio aptly named – Kucheh, meaning
"narrow alley" in Farsi. Mina Jafari, who co-owns the studio with her husband, opens
Kucheh to visitors every Saturday. Iranian themed art pieces don the walls, and t-
shirts and other accessories stare back at visitors with their unibrow eyes.
Guests are welcomed with hot cardamom tea — traditionally served in Iranian
gatherings — as a vinyl record player softly plays the sounds of 70s psychedelic rock
superstar Kourosh Yaghmaei. The familiar sights and sounds of Iranian traditions
have created a welcoming space for local diaspora Iranians – and a safe, calm place to
discuss a violent, ongoing feminist uprising 6,000 miles away.
In September, Iranian police were accused of beating 22-year-old Jina Mahsa Amini
to death for allegedly wearing her hijab incorrectly. Iranians regularly head into the
streets to protest the brutal way she died and challenge the oppressive norms society
has imposed on them. Locally, Iranians gathered in the streets of the District to
support the movement with folks from all generations and genders showing up to
protest the authoritarian regime Iranians have faced for decades.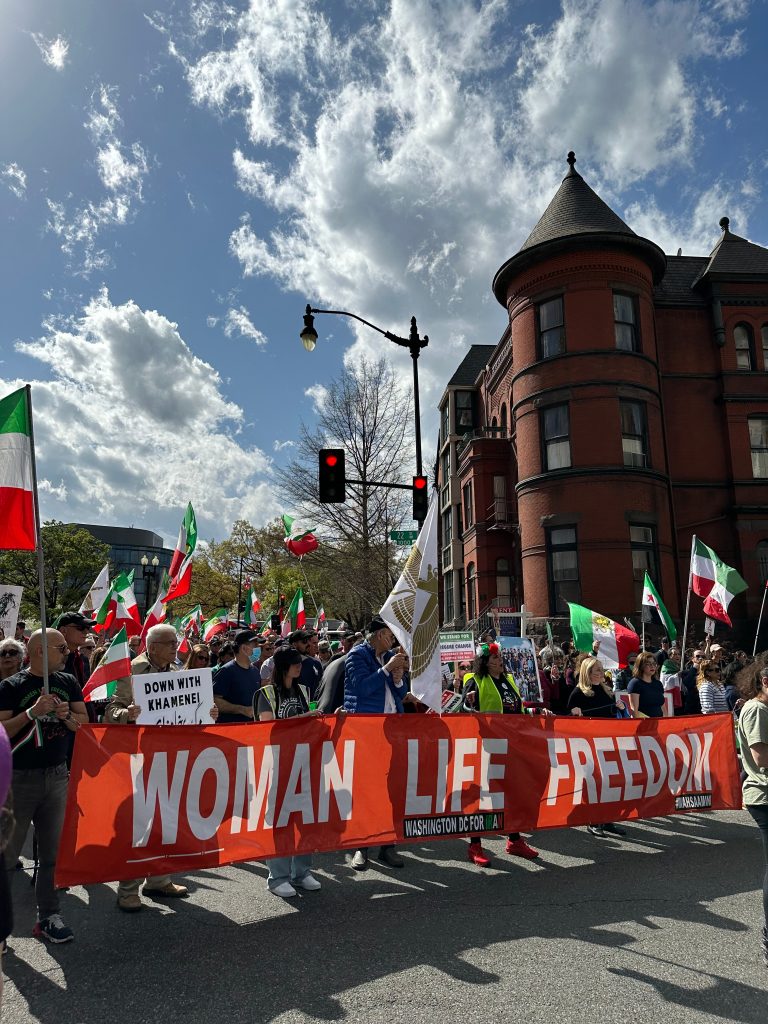 While the physical distance made supporting the movement on the ground difficult,
some locals, including Jafari, refocused their feelings of helplessness by getting
creative.
"I'm an Iranian-American woman living in D.C., trying to make a difference, and I've
found that if I really want to make a difference, why not use the skills I have?" said
Jafari.
Jafari has always centered her art around justice – the feminist uprising in Iran being
no different. Her American upbringing included trips to Iran, but despite regular
visits, the distance from her motherland felt omnipresent.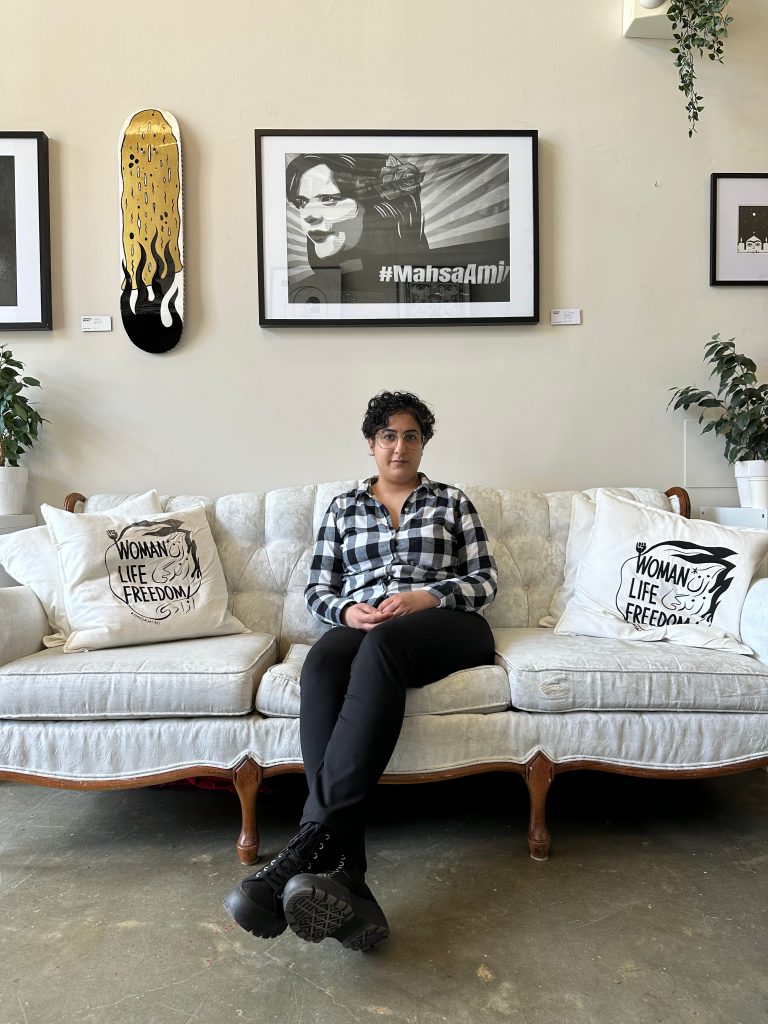 "Growing up, I always wondered – 'why do I have to be so far away from my
family?' When there's a funeral or a birthday or a wedding, the distance always
creates anxiety, and my art has been my way to kind of satiate that yearning for home,
but to also express myself and who I am here."
She describes herself as always having been creative, and despite an academic
background in politics, she ultimately followed her passion and is now a full-time
artist.
It's not lost on Jafari that the timing of her studio opening coincided with the killing of
Jina Mahsa Amini, influencing how the space is used and how some of her most
recent pieces came together and were developed.
"In the beginning, when this all started, and protests were picking up, people were
coming here because we were offering screen printing of our art on t-shirts, so people
would stop by before heading to protests," she said. "There's been so much art coming
out of this movement and it's been nice to see what I have to add to it."
While many have been supportive, community infighting has caused Jafari to receive
pushback from other Iranian-Americans.
"There has been a witch hunt. I feel like there has been a section of the community
who definitely has been misinformed and kind of had their emotions manipulated, so
they think there are enemies among us, within our own community," she said.
While Jafari has had a few experiences of harassment, she expressed, "It doesn't deter
me because it's nothing compared to bullets. I can face a few negative comments, but
I do think it's unfortunate. I want us to not lose that sense that we're all in this
together, and really to not fear one another. It's just gonna break down our energy.
Even now, talking about it, it sucks energy out of me."
As weeks passed and the movement grew stronger, new faces at Kucheh turned into
regular visitors.
"Kucheh has kinda been a community center, a refuge, a place to create art, a place to
just hang out and have our creative juices flowing," Jafari said.
Some folks stopped by for a cup of hot tea and conversation so frequently that they
began to refer to themselves as the Kucheh Kollective, self-described as "D.C.
creatives with eyes on the streets of Iran."'
They meet regularly at Kucheh to discuss life, the revolution, and ways that they can
creatively respond to it. One of their ideas included making a free, downloadable zine
to explain the ongoing movement and how it started, with the goal of helping local
folks understand what is going on in Iran and how they can help.
"We all have to search within ourselves and figure out, 'what does women, life,
freedom mean?' The revolution is not just in the street. The revolution is in our minds
and hearts, and what we have to shift is a mentality as well as it is a system of
government," Jafari said.
Ryan Aghabozorg, a 34-year-old D.C. resident hailing from Texas, joined the Kucheh
Kollective after becoming a regular visitor at the studio.
"I think it's an opportunity to mobilize and bring people together. We were having sort
of a community meeting at Kucheh discussing how we want to show up to some of
the early protests here in D.C., what would be on the t-shirts, what were some of the
messages we wanted to elevate," said Aghabozorg.
Aghabozorg also commented on some of the pushback from community members,
sharing that "our diaspora has a tendency to self-immolate, so it's like, how do we
harness that fire for good? I think art is the best medium to do it."
On a spring Saturday morning in Washington Circle, hundreds of protesters showed
up with signs that stated things like "Stop executions in Iran" and "Democracy in Iran
& Justice for All." Although dedicated enough to show solidarity and shout slogans
alongside their compatriots, many do not want to give their names to journalists. They
don't want to face harassment online or, worse yet, have family back in Iran be hauled
in for questioning.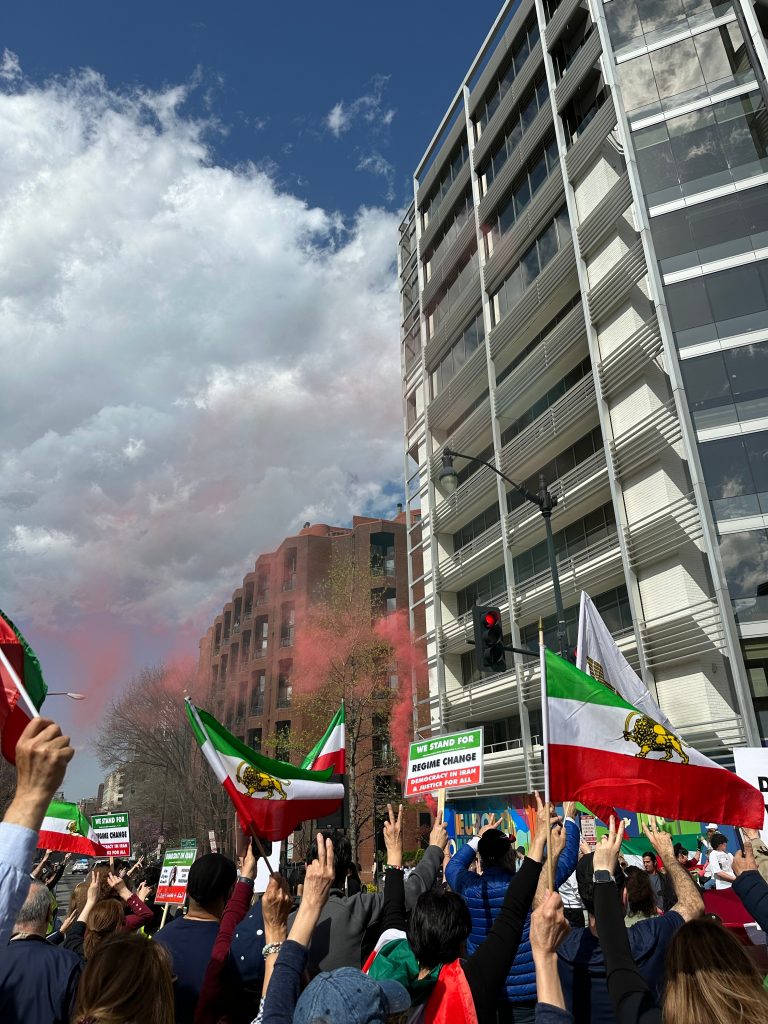 For one Iranian-American, the backlash from her community has not stopped her from
voicing her opinions publicly.
Negar Mortazavi, an Iranian-American journalist and analyst, has been reporting on
Iran for over a decade – the most recent uprising being no exception.
"When the movement started in September, I was doing nonstop interviews as a guest
analyst for various international outlets. I'm an independent journalist and analyst. What I do is the intersection of reporting and analysis," Mortazavi said.
Since arriving in the U.S. from Iran 21 years ago to attend college, Mortazavi has
been living in exile from her motherland since 2009, due to her political and media work. While
she has made a home for herself here in the U.S., harassment from her critics within
the Iranian diaspora community has complicated her identity as an Iranian-American
journalist.
"I've worked hard for years to be a fair and objective journalist, and I've paid a high price for my
professionalism and objectivity…to the point where people have called me a
mouthpiece for the regime," Mortazavi explained.
Despite the regularity of the attacks she has faced, Mortazavi acknowledges that she
understands how individuals in the diaspora feel they have nowhere else to direct their
rage.
"When protests happen in Iran, the diaspora becomes very angry, naturally. And I
understand that anger. There has been an uptick in smears and attacks somehow trying
to scapegoat journalists and analysts like myself, especially those who are trying to do
objective, professional and fair work, to try to attach us to a violent brutal regime
who are killing children and women. Emotions are high, so we also get attacked by state actors and
psy-ops as well as members of the diaspora," said Mortazavi.
Mortazavi believes that women journalists are especially targeted, and shared stories
of other Iranian-American reporters who have received similar verbal harassment
online, describing them as "a tsunami of attacks coming at us."
Unfortunately for Mortazavi, the sharp increase in threats against her led to an account personifying "Anonymous" threatening an event where she was speaking at the University of Chicago, and the organizers receiving a bomb threat. Ultimately, the event was held on Zoom, but the emotional impact was felt heavily by Mortazavi.
"It adds much fear to an already stressful job – journalism itself, politics, and
working on a country and situations like this that are brutal. There's a lot of killing, a
lot of violence…having to watch and then analyze killing children day after day is not
an easy job – and you can't turn it off," Mortazavi said.
While the attacks against Mortazavi have not ceased, she maintains a sense of hope
for her beloved homeland, crediting the courage of Iranian women for inspiring this
sentiment.
"I think this moment is an incredible time. We are witnessing a feminist uprising and a very progressive movement led by women and girls in Iran, bravely standing up to decades and centuries of patriarchy and political tyranny," she said.
Jafari emphasizes the need for the community to fight less with one another and to
unify more.
"I just think that the attacks serve the patriarchy and the regime, so that's the part
where I'm saying that the revolution is in our minds and hearts – that's the shift we
need to see."