Christmas arrived early in Southwest after The Wharf launched its 30th annual Christmas Boat Parade. 
Since 1992, DC residents have been wrapping their boats in lights and sailing them through the Washington Channel. 
Only about five boats were present at the first parade after residents of Gangplank Marina decided to have a contest to see whose boat had the best decorations. 
Now, over 60 boats and hundreds of thousands of people come to The Wharf to start the holiday season every year, according to Patrick Revord of The Wharf Community Association.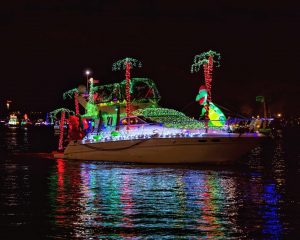 Parents and children gathered on the pier to take pictures with Santa, skate at the ice rink, and vote for their favorite boats. 
Other guests gathered on the main dock while listening to live music from a local band, The Royals.  
Hannah Sprinkle and Olivia Shoener, who attended the boat festival for the first time this year, had different opinions of the parade from rooftop bars around the area. 
Sprinkle, 22, said, "We were talking about how this was the event where I was like, 'I'm not in the Christmas mood yet. I need to be kickstarted into it. It was perfect."
Sprinkle and Shoener said they enjoyed debating which boat was the best. 
"We were really intensely judging the boats," she said. "Like, if they weren't good we were like, 'Why are you here?'"
Jason Kopp, 42, has lived on a houseboat in the marina since 2007. He says the hidden community of houseboats residents is always excited to show off their decorations every year.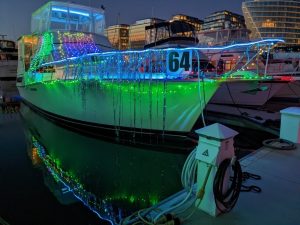 "The parade has always been something that I've been part of one way or another," Kopp said. "My first boat that I owned out here I didn't take out very often, so I used to host watch parties and bring neighbors down or colleagues or just people that might not otherwise have known about the event down here." 
There are currently about 94 residents in the houseboat community. Still,  at one point, Kopp said there were over 120 residential boats in the area, making it the largest "liveaboard" community on the East Coast.
Boaters spend months preparing for the parade and building their displays. Kopp said each boater has their own approach to how they decorate and how much they spend. 
"One thing that I try to do to save money is to buy light sets that I can configure in different ways," he said. "I try to just reuse those throughout the year and change what I'm doing with them." 
Kopp also said friends can also be a part of your display,  with crewmates in costumes like he had featured on his mermaid-themed boat this year. 
 "It's different for everyone," he said. "If you're building exhibits from scratch, you need lots of materials and time to build custom things. That's going to take a lot more time and cost a lot more money." 
Kopp said the average boater spends around $500 on lights and decorations every year to participate in the parade. 
However, he says the cost is a small price to pay for his and his neighbors' big impact on their community. 
"I think it is part of what makes the boating community unique," Kopp said. "It's fun for us. And then we feel like once we're done, we're like, 'okay, we did our part and now we can go to all the other cool holiday stuff that exists in the city.'"
Guests could vote for their favorite boat on The Wharf's website. Best in Show went to Brian and Tonia Dollinger's National Lampoon-inspired boat, while Community Choice went to Daniel Ricks'  multicolored boat 'Coexist' boat. 
Bob Rose, who Kopp says is a central figure in the boating community, won first place for his boat that celebrated 30 years of the Christmas Boat Parade.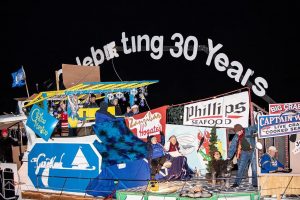 Rose's boat featured different businesses and cultural aspects that have come and gone throughout the years on the Wharf. 
According to Revord, cash prizes for winners ranged from $100 to $1000. 
The celebration ended with fireworks on District Pier, a mainstay of Wharf events, and a night-long party with live music, karaoke, and holiday fun.