John McCarthy, state's attorney for Montgomery County, stood before an auditorium full of high school students and said he was worried.
"I'm here because some of the things that are going on in the community scare me," he told the students at Maryland's Gaithersburg High School in October. "I do believe that what happens in the community ultimately makes its way into the schools."
In a 30-minute presentation, McCarthy discussed the increase in gun violence involving teenagers across the country and urged the students to play an active role in keeping the community safe.
McCarthy embarked on his gun education tour to all public high schools in Montgomery County in early September, as applications for gun-carry permits soared in Maryland.
Applications for carry permits grow 6-fold
Maryland State Police told The Wash by email that it has received 70,846 carry permit applications for 2022 through Nov. 17, compared to 12,189 for all of 2021. The number of disapprovals was only 1,399 through Nov. 17, the state police said.
This carry permits frenzy in Maryland was a result of a U.S. Supreme Court ruling in June. The conservative bench decided that a New York law requiring citizens to demonstrate a good reason to carry guns outside of the home was unconstitutional.
The ruling put at risk similar laws in other states, including Maryland. Within days, Maryland Gov. Larry Hogan issued a statement saying he directed the state police to stop requiring a "good and substantial reason" for issuing a carry gun permit.
Neil Kravitz, director of firearms at Guntry Club of Maryland that offers state-required training to obtain carry permits, described the surge as "mind-boggling."
The number of people taking the training classes increased "exponentially from July to October" and then plateaued at a high level, Kravitz said.
Kravitz was helping in a booth at a gun show in Frederick in mid-November. He said it was a relatively slow day, but the venue was full of families and couples checking out firearms.
"Women and people of color are the biggest beneficiaries"
"Maryland is just catching up with the rest of the country," said Mark Pennak, president of Maryland Shall Issue, a gun rights advocacy organization.
Maryland has been one of the most restrictive states in the country, Pennak said. "Judges, prosecutors, criminal defense lawyers were getting permits. But if you weren't special enough, you simply couldn't apply."
Pennak said the biggest beneficiaries of the change are women, people of color and LGBTQ persons who often feel threatened, but did not have access to carry gun permits.
"When I teach the training course, there's an awful lot of women," Pennak said. Women now represent about 25% of participants in his course, while there were almost none before June, he said.
Pennak dismissed the idea that more people carrying guns will increase gun violence.
"The bad guys are going to get guns no matter what," Pennak said. Denying law-abiding citizens the right to defend themselves simply increases the body count, he added.
On the other hand, gun violence prevention groups express concerns.
"The research indicates that whenever you have more guns in public places, there is likewise a rise in gun crime," said Karen Herren, director of legislative affairs of Marylanders to Prevent Gun Violence (MPGV).
A recent study by Johns Hopkins Bloomberg School of Public Health looked at states that weakened carry permits requirements from 1980 to 2019. It found that the average rate of assaults with firearms increased an average of 9.5% in the first 10 years after the change.
Herren said a big priority of MPGV for 2023 is "to get a child access prevention bill passed" in the Maryland state legislature.
"If we're going to let more people carry firearms in public places, then we want to make sure that we are very clear about what safe gun ownership looks like," Herren said. "There is a real need for it."
Gun purchases and gun violence surged during the pandemic
The Covid-19 pandemic triggered a surge in gun purchases. A study shows that an estimated 7.5 million Americans became new gun owners between Jan. 2019 to April 2021, approximately half of them being female, 20% Black, and 20% Hispanic.
"With the pandemic, they felt less safe. They trust government less. And so they're thinking that somehow a gun keeps them safer, which is so not true," said Mindy Landau, co-founder of Brady United Against Gun Violence Montgomery County chapter.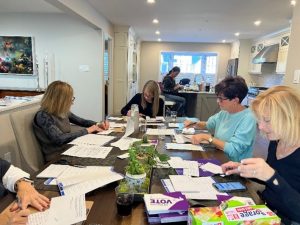 In the meantime, gun violence surged across the country. According to the Gun Violence Archive, total number of gun violence death increased by 14% from 2019 to 2021.
In Montgomery County, 20 people died in gun-related homicides between June 2021 to June 2022, according to a report from Montgomery County Police Department (MCPD).
County Council's new law bans guns in public spaces
The Montgomery County Council has taken actions to contain gun violence.
The county became the first local jurisdiction in Maryland in April 2021 to pass a bill to prohibit the use and sale of ghost guns, which are not serialized and easily obtained online. The Maryland state legislature followed suit one year later.
"We know that individual laws don't do a whole lot. But collectively, all of these laws together they make an impact," said Landau.
The county council passed another gun control law on Nov. 15, among growing criticism from gun rights advocates. The new law bans the possession of firearms in or near places of public assembly, even with a state carry permit.
Malaika Wande, student from the Montgomery Blair High School in Silver Spring who attended the council meeting as a 'Councilmember for a Day," was asked for a comment before the vote.
"It shouldn't take another incident in order to fix it," Wande said.