A man suffered life-threatening injuries after being electrocuted while on top of a train near Union Station Friday morning, according to District authorities.
The victim was trespassing in an unauthorized area of the station, according to Amtrak Senior Public Relations Manager Kimberly Woods. He ended up on top of a train and was electrocuted by contact with an overhead wire.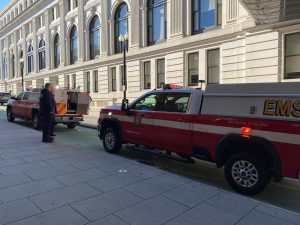 The D.C. Fire and EMS Department received reports of a person being electrocuted around 9:35 a.m., FEMS Public Information Officer Vito Maggiolo said. Investigators found an injured adult male on top of a rail car just north of the station, where the H Street bridge goes over the tracks.
To safely access the man, first responders had to cut electricity from the overhead wire that powers the trains, Maggiolo said. Amtrak Police, MPD and WMATA assisted FEMS.
"Not only did they have to bring down the power, they also had to ground the power lines," Maggiolo said.
The victim was on top of the train for more than 30 minutes and was removed by 11:15 a.m., according to FEMS' Twitter page.
DC Fire and EMS working to remove victim from atop rail car during earlier incident at Union Station. This was taken after the high voltage catenary was de-energized, grounded, and tested in order to make the scene safe. #DCsBravest pic.twitter.com/gRiNMYuNvo

— DC Fire and EMS (@dcfireems) December 2, 2022
Deputy Fire Chief Danny McCoy confirmed onsite that the rescued man had life-threatening injuries and was transferred to a local hospital.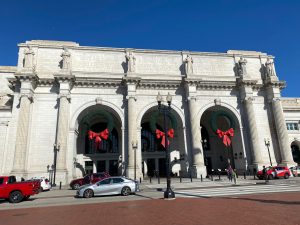 Officials have not said how the man got on top of the train or what motivated him. Woods said there had been no reported injuries to passengers or employees.
"Amtrak is working with local law enforcement to investigate the incident," Woods said.
The incident caused a power outage, Woods said, but crews worked quickly to restore it. 
Some MARC trains traveling to and from D.C. have been impacted by delays or cancellations, according to the Maryland Transit Administration. This includes the delayed Penn Line Trains 449 and 440. Penn Line Train 438 is canceled, and passengers can be accommodated by train 440.