An unusual-looking train was spotted paused today on the Metro Center Station Blue/Orange/Silver line platform heading towards Virginia.    
Around 1:30 p.m., the yellow train known as the "Money Train" was stuck at Metro Center for a total of 20 minutes due to a brake issue, Washington Metropolitan Area Transit Authority spokesperson Ian Jannetta said.  
"Service was not interrupted," Jannetta said. "But there were some delays." 
Metro rerouted trains to the opposite platform, though riders were left standing around confused.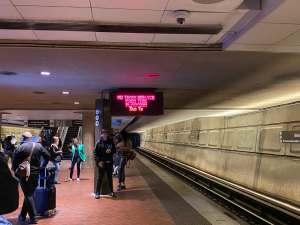 "What's going on," one man said while looking around anxiously.  
No one from Metro was present to direct the confused riders, but the announcement screen read, "NO TRAIN SERVICE FROM THIS PLATFORM, Due To Disabled Train at Metro Center Please Use The Opposite Platform."
The yellow money train travels from station to station collecting cash from faregate machines, according to Jannetta.   
Riders not aware of the Money Train thought it was a new passenger train being revealed.  
"I've never seen a train look like this," Ryan Selsor said. "I think it looks cool."  
Riders should not expect to ride on it anytime soon as only Metro staff are allowed to board the train, according to Jannetta.