In the late '70s, Bettina Fletcher needed her hair cut, and so she took a recommendation from her sister for a local stylist in Georgetown. Liking his work and personality, she went back to him soon again to get her hair done for her wedding. And for years after, she continued returning to that salon, bringing along her daughter Maggie, who at three years old would sit in the bay window during her mother's appointments.  
When that stylist opened his own salon in Tenleytown in 1982, the mother and daughter followed him there. Today, three generations of Fletchers still come to Minsky's Hair Emporium to see owner Jack Bubis, or "Grandpa Jack" to Maggie Fletcher's two children.
"Jack is a wonderful person," Bettina Fletcher, 73, said. "He's done well with this community." 
Bubis, 71, moved to Washington, D.C. from Montreal when he was 25, taking a job at the hair salon in Georgetown, before opening Minsky's six years later. Bubis said he has stayed in business for the past 40 years because of people like Bettina and Maggie. 
"A lot of my clients, we've been together longer than most marriages," Bubis said.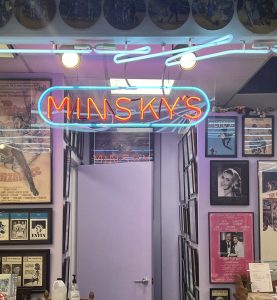 Like her mother, Maggie Fletcher, now 45, went to Jack at Minsky's to get her hair done for her wedding. That evening Bubis was dancing at the reception. 
"And he was the first person to cut Emma's hair and the first person to cut Tim's hair as well," Maggie Fletcher said, referring to her 12- and 7-year-old children. Bubis also cut Bettina Fletcher's mother's hair when she was alive. 
Even though the family now lives in Bowie, Maryland, Maggie Fletcher said they make the 45-minute drive to Tenleytown, D.C., "because it's Jack." 
"Just sit and look" at the salon walls
When Minsky's was closed for several months during the pandemic, Bubis decided to repaint the entire shop, changing what used to be red and green walls. However, visitors to the salon are less likely to spot the now dark purple and lilac backdrops as they are the photos, paintings and playbills that cover nearly every square inch of the space.  
"When I decided I wanted to open up my shop, I didn't want to be like everyone else," Bubis said. 
A lifelong fan of the theater, Bubis said he acquired many of the signed headshots now hanging at Minsky's from attending Broadway shows and standing outside the stage doors to catch members of the cast. 
The name Minsky's was also a product of Bubis's love for theater. 
"I wanted something Jewish, something Russian, and something to deal with burlesque," Bubis said, referring to his inspiration, Minsky's Burlesque house, which was owned and operated by a Hasidic Jewish family in Brooklyn in the early twentieth century.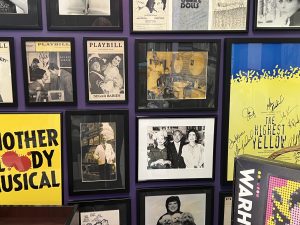 The remainder of Bubis's wall art collection came to him as gifts, he said. Pointing to a signed photograph of actress Mae West, Bubis said that particular black and white artwork was from a client who told Bubis, "She'll like it here." 
Even after coming to Minsky's for decades, Bettina Fletcher said she still spots something new among Bubis's collection each time she's in the salon chair. 
"All kinds of things around here if you just sit and look," she said. 
Mixed with the memorabilia are personal touches, including framed photographs of Bubis's grandfathers — both barbers — and a photo collage of a young Emma Fletcher. 
Down to the details, Bubis said he wants clients to feel at home in his salon. Around this time of year, that includes pulling out his wealth of holiday decorations.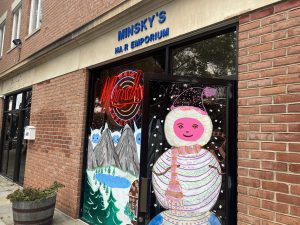 "I don't take this lightly," Bubis said. "I have a lot of clients that say to me this makes their holiday." 
Minsky's is known for having an extravagant Christmas display, with multiple themed trees, garland weaving between collector plates on the ceiling and a painted wintery window display. 
"Christmas is one of my favorite holidays. For a Jew, I'm a good Christian," Bubis said. "To me, Christmas is just one of those wonderful holidays … And it's not about the gifts. It's about the cheer and the people." 
A fixture in the Tenleytown community
In all his years in Tenleytown, Bubis has cut men's and women's hair at Minsky's, serving clients of all ages. Though most of this time has been at the salon's current location on Wisconsin Avenue, Minsky's was also previously located at two other Tenleytown addresses.  
In the four decades he has owned Minsky's, Bubis said he has watched the neighborhood grow and change. His own business has stayed afloat, especially during COVID, he said, because of loyal clients like the Fletchers and other members of the community. 
At Minsky's, Bubis said he does everything, from running the business to cutting and styling clients' hair. Though he has had employees from time to time in the past, Bubis said he prefers to run the show solo, since he enjoys his work so much. 
"I'm going to be 72, and I still love what I'm doing. I keep learning. I keep doing different types of hairstyles for different people," Bubis said. "This is what it's all about. I mean, if you don't enjoy what you're doing, you're in trouble."