When Constantine Stavropoulos, owner of Tryst in Adams Morgan, agreed to host "Coffee with a Cop" at his coffee shop, he thought it would be a good way for community members to talk about neighborhood safety, particularly incidents relating to homelessness, to the Metropolitan Police Department's third district.
Instead, the event was met with intense backlash and criticism on social media and forced Tryst to rename the event to the "Adams Morgan Community Safety Forum" with no MPD presence.
The original event, scheduled for Oct. 20, generated angry comments that flooded Tryst's Instagram, with many users upset that an event about safety included MPD. Some of the comments included:
Initially, Stavropoulos didn't understand why people were so angry. 
"When we put it together, I was coming at it from the mindset of this is a community thing," he said. "I was trying to figure out why people are equating it to a separate issue and not focusing on the community." 
According to MPD's website, "Coffee with a Cop" is an MPD-sponsored event that is "dedicated to encouraging communication and positive interactions between law enforcement agencies and the public." 
It is a program that has been in effect since 2018 and used in different D.C. neighborhoods. 
"The event has become so popular that the Metropolitan Police Department hosts similar coffee events with community members throughout the year," the MPD website said. 
Plus, Stavropoulos said Tryst had hosted this event a few years ago with no issue. "It was successful, everybody was happy, there was no concern about it," he added. 
However, when Mohir Muminiy, a worker at Tryst, contacted Stavropoulos about concerns he and some of his colleagues had with the event's messaging, Stavropoulos listened and worked with Muminiy to rebrand. 
"I don't believe police are the solution at all, however, if I kind of proceed with that rhetoric of 'Yo completely cancel the event' and all that, it wouldn't have been productive," Muminiy said. 
Muminiy was a large reason why the Oct. 20 event became rebranded as the "Adams Morgan Community Safety Forum," did not include MPD and instead included voices from people in the community who have dealt with the biggest safety problem for Adams Morgan: homelessness. 
"Ideally, initially, we wanted to get it canceled, if I'm being honest," Muminiy said. "But then, as we're talking, we're like, 'OK instead of just canceling the event, while everyone is kind of looking at Tryst, let's just turn it into a way that then will help the homeless population that we see is the current problem with the whole security within Adams Morgan.'"
The Tryst worker urged Stavropoulos to make the event tailored towards social services and get representatives from homeless shelters – which Stavropoulos took to heart. 
Andy Wassenich, assistant director of outreach for Miriam's Kitchen, spoke at the safety forum about his role and the role of Miriam's Kitchen for the homeless population. 

Wassenich explained that Miriam's Kitchen is a D.C. Department of Human Services contracted outreach provider. The organization works with the D.C. government and the homeless population to get them the proper food, housing and help they need. 
He added that Miriam's Kitchen has night teams that check in on different neighborhoods in D.C.
"We have a night team that swings through here once or twice a week as well," Wassenich said. "So if there's ever anything that's, you know, pressing we will send somebody up here or respond to it."
Incidents relating to homelessness have upticked for businesses as they've started emerging out of the pandemic, according to Stavropoulos. 
"A lot of our managers were not trained to deal correctly with the individuals," he said. "The knee jerk reaction is to kick them out of here or call the police. We know that there are ways to address the issue."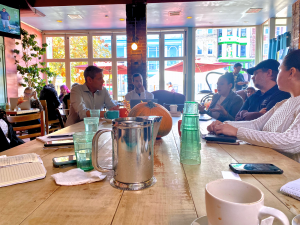 Ana Reyes, the owner of El Tamarindo, which is a few blocks down from Tryst, spoke about an incident she had with a homeless individual who came into her restaurant. 
"There was one situation where a gentleman came in and he seemed to be, you know, just a regular customer," she said. "Came in, ate, had a couple of beers and then zonked out." 
Reyes and her staff tried to wake the man up and, when he wouldn't, she said her only option was to call the police. When the police arrived, they told her she could press charges.
"For what?" Reyes said.  
They gave her a barring notice, which is a form "that is used to prevent individuals from entering private property," according to MPD.
"That's as good as it gets," Reyes said. "That's the only resource that they were able to provide."
Kristen Barden, the executive director of the Adams Morgan BID, explained that the BID has safety ambassadors who patrol the neighborhood during the day. They're not law enforcement, don't carry weapons and center their work around de-escalation. 
"I do mostly neighborhood security, homeless outreach, take initiative that businesses are taken care of," Gari Requena, a safety ambassador, said. 
Requena has been a safety ambassador for almost two years and has worked in the security field for almost 15. His training came from his experience; he was not trained by the BID. 
The safety ambassador has introduced himself to many businesses in Adams Morgan so they know they can call him or another safety ambassador if they don't want to, or need to, call the police. 
Before the community safety forum, Reyes didn't know her neighborhood had safety ambassadors and said she would've rather called Requena than the police. 
Despite an onslaught of angry social media backlash and an event overhaul, Stavropoulos was happy with the outcome of the community safety forum. "I think I found in the last 20 plus years that everybody kind of wants the same thing and because we're all so passionate about it, we don't always have that same approach about how to solve it," he said.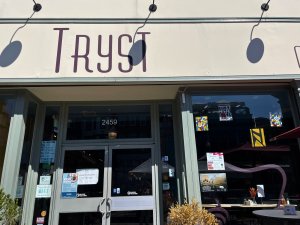 Stavropoulos said his mission statement for all his businesses is "Building meaningful connections one animal cracker at a time." 
"And that's for our staff but it's kind of true for what we're trying to do in the community too."
The MPD third district and the Office of Councilwoman Nadeau did not respond to requests for comment.