On a sunny weekend at City Ridge apartments, tenants like Kayla Matikonis can be spotted walking their dogs around the sidewalks outside their building, away from the busy Wisconsin St. nearby. Others are strolling in pairs headed for the Tatte café just doors down, while another resident returns from the Wegmans supermarket right around the corner with a bouquet of sunflowers for her unit. 
"I've lived in luxury buildings before, but this … truly is an actual luxury building," Matikonis said. 
Located just south of Tenleytown, City Ridge is one of the latest mixed-use developments to arrive in Washington, D.C. Still, it's the first of its kind in the northwest corner of the district, said Jeff Edelstein, partner at Roadside Development, the group behind the project. Often called live, work, play communities, these developments blend residential buildings with commercial spaces and social amenities. Matikonis, 29, said the "built-in ecosystem" is City Ridge's most attractive feature, especially in her stage of life. 
"I'm not going to bars and clubbing anymore," Matikonis said. "It is one little community versus having to live in a neighborhood. I'm not there yet."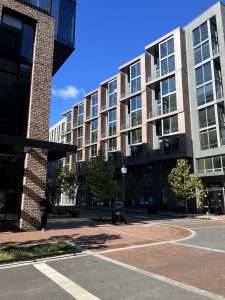 An earlier study by Deloitte found that mixed-use developments are becoming increasingly favored by millennials like Matikonis, who tend to prefer "a vibrant urban community feel that blends the shades of work and play," according to the study. 
City Ridge has features attracting a diverse demographic of tenants, Edelstein said, including a private playground for families or grandchildren of residents. 
"We have everything from grad students to empty nesters to business professionals," Edelstein said. "It's kind of really exciting to see such a collision point of different people living here." 
This style of living that mixes residential, retail and office spaces in one community has skyrocketed in popularity over the last decade, according to RentCafe, quadrupling nationwide and representing about 10% of apartments available in cities. While Manhattan is the city with the most in total, D.C. has added the most mixed-use developments of any city in those ten years — over 17,0000 of these apartments new since 2012 alone. 
Edelstein said the vision behind City Ridge was to weave the development into what is already a well-established neighborhood. 
"We're really trying to fill in some daily needs and some excitement with new restaurants and not over retail it," Edelstein said. "There's already a lot of great retail up and down the Wisconsin Avenue corridor, so we're just trying to see a niche for dining and grocery and an elevated health club and bring those to the project." 
City Ridge offers what its website calls "a curated retail ecosystem for everyday living," including the district's first and only Wegmans, a popular supermarket chain and the only grocery store in D.C. to sell liquor. A KinderCare Learning Center is expected to open by the spring of 2023, along with restaurants like Taco Bamba. 
"You have a one stop shop for your grocery store and a liquor store," said Gianna Nacci, resident experience manager at City Ridge. "We really created a space that you didn't really have to leave if you really didn't need to." 
Residents can also stay near home during the workday: City Ridge offers co-working spaces and a co-working terrace, where tenants can "break out of their four walls," Edelstein said. 
"You don't have to just work in your unit. You have all these amazing spaces you can go work in if you're only going to the office two, three times a week or not at all," he said. 
Although Roadside had the plan for City Ridge before the pandemic began, Edelstein said popularity of the project, especially the work-from-home spaces, grew following the height of quarantine and isolation. 
"I think people are itching for that human interaction but in a different way," Edelstein said. "People are excited to interact with their neighbors and hang out again, and they're spending more time at home." 
The apartments opened in May of this year and months later, Nacci said they have 150 tenants and are working to fill the rest of the nearly 700 total units. Each of the four residential buildings has rooftop amenities, including grills and a greenhouse, along with indoor spaces like a den with a golf simulator, library and fitness studio. Alongside a members-only rooftop pool and social club, award-winning chef Michael Mina is expected to open two restaurants at City Ridge early next year.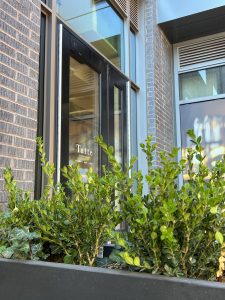 The wealth of offerings has contributed to the project's success so far, Edelstein said. 
"If it was just residential or just more of a cookie-cutter development, it wouldn't have been as well received," he said. 
Along with the effects of the pandemic, Nacci said mixed-use developments appeal to newer mindsets around living styles. 
"People especially now, especially generations to come, are big on convenience, and when you create a community like this, it really does give you the aspect of convenience at your fingertips," Nacci said. 
Nacci said because D.C. is a city where many residents may not have a car, communities like City Ridge are more popular in the area for this convenience factor. 
Even in a more expensive city like D.C., rent for City Ridge skews high, with a 499-square-foot studio costing around $2,600 a month and a 1,723 square foot, three-bedroom apartment going for over $10,000 a month. The average rent in D.C. is $2,335 a month for an average apartment size of around 750 square feet, according to RentCafe. But Nacci said the price tag factors in all that the development has to offer residents beyond a place to live. 
"We're selling the lifestyle," Nacci said. "For the level of service that you're getting, as well as the amenities and the convenience of the area, it kind of speaks for itself."