Cobalt. Apex. Phase 1. These are only three of the queer bars that have closed in D.C. within the past decade.  
But two queer spaces, one in Adams Morgan and another in Eastern Market, are trying to buck that trend.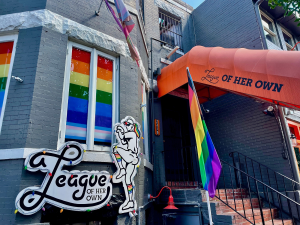 In 2018, A League of Her Own and Pitchers opened in Adams Morgan and, in 2022, As You Are opened in Eastern Market. Both bars have been trying to reshape the narrative of what it means to be a queer and lesbian bar and confirm the need for these spaces.  
"We need more spaces," Barbi Lopez, a manager at A League of Her Own, said. "We need spaces to be able to meet other lesbians, other queer women."  
A League of Her Own opened to be an exclusively lesbian and queer women space. It shares a dance floor with Pitchers, but they are two separate bars, according to Lopez. While they have the same owner, both have different managers.  
"I like to kind of think of it as we're just a big queer space," Lopez said.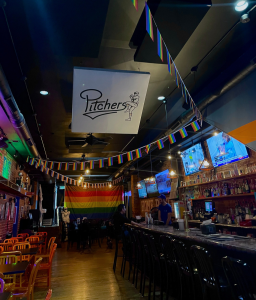 Lopez started as the manager in January and said she's fought to make A League of Her Own a more inclusive and welcoming environment.  
"I started a Reggaeton night, which is something you would never think would happen in a queer space," she said. "You just feel like your inner child is just jumping for joy if you grew up in the early 2000s."  
Reggaeton is a style of music from Puerto Rico and has musical influences from hip hop, Reggae, dancehall, Bomba and Plena. Lopez said she's had people drive two hours just to attend this event because it's a safe space for them to listen to their favorite music.  
A League of Her Own has also been trying to expand into other activities that don't necessarily have to involve drinking and partying, because the establishment wants to be a space for the community, not just a bar.
"We do open mics, and we do sip and paints," Lopez said. "We have a book reading next week."  
For As You Are co-founder and co-owner Jo McDaniel, building a space to universally serve the community they're in is the very mission she and her wife built their bar on. 
While their business has a bar, it also has a cafe that stays open past the standard Starbucks and Philz Coffee hours. McDaniel and her wife, Rach Pike, wanted to create a flexible, versatile space that serves as a jack of all trades. 
"We obviously have alcohol available, but it's not the only thing we're pushing," McDaniel said. "We have coffee and food, and the cafe stays brighter and quieter so you don't have to feel like you're in a bar at all times. We have the patio that we work hard to maintain so folks that aren't comfortable being inside yet have a space to gather."  
Operating a queer bar is nothing new for McDaniel and Pike. Between the two of them, they have over 20 years of experience in this space. In fact, McDaniel worked at all three lesbian bars that have since closed down in D.C.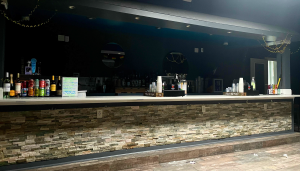 McDaniel said part of what's helped the business stay afloat, amidst the trend of lesbian bars closing, was the willingness to listen to the needs of their community and stay open-minded.  
"If you're only offering one thing and your community wants more than that, either you have to shift or you're not gonna make it cause people aren't coming to spend money there," she said. 
Currently, there are only 24 lesbian bars in the United States, according to the Lesbian Bar Project. McDaniel said she believes part of the reason lesbian bars close is because of exclusionary environments and behavior.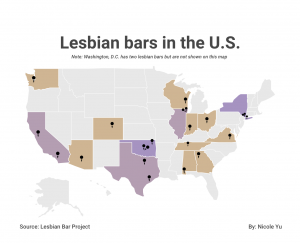 "I think there's something that can feel really TERF-y, so that's trans exclusionary radical feminists," she said. "TERF-y people are like 'No this is just for women. Or this is just for lesbians' and not everybody identifies that way, which is why we shied away from calling ourselves just a lesbian bar."  
Being a business that is a welcoming safe space for everybody seems to be the central theme as to why lesbian bars still need to exist. 
Olivia Eutsler, a member of security at A League of Her Own, said just having a safe space for her to go to is so important.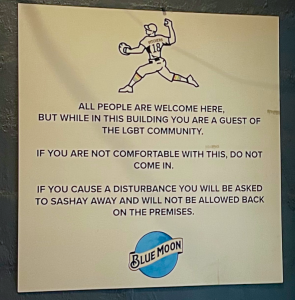 "I feel like it's important to exist so we can have a safe space to go to," Eutsler said. "A more comfortable space to be where you can like really be yourself."
Tena Williams, bartender at As You Are, said she's had jobs where the environment is not as accepting of who she is, so working in a queer specific space feels very supportive.  
"It's nice to go somewhere where it's like, 'No. Be you. We celebrate who you are,' and not just tolerate it," Williams said.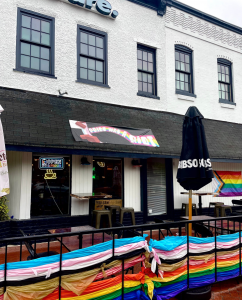 Not everyone feels comfortable at any spot, McDaniel said. Some people have never dressed as their true selves and a queer space is the only place they feel safe enough to do that. It's important to hold spaces for people from all walks of life in a community, she added. 
"To have a lot of different intersections in the same space when you walk in, you immediately feel a sense of ease, a sense of safety," she said. "It'll always be necessary for us to have spaces to gather."