Alexandria is seeing more of it's transit turning electric, with a city environmental goal of electrifying all city vehicles by 2040, including those from Alexandria City Public Schools (ACPS) and Alexandria Transit Company's transit system, DASH.
Last month ACPS added five electrical buses to their fleet, and since last year, DASH launched six battery-electric buses of their own.
Both organizations offer insight as to what Alexandrians can expect in public transportation moving forward. Advocates cite major benefits of these buses as zero-emissions, less noisy and contain fewer moving parts that need maintenance. The drawbacks are centered around keeping them charged and a much higher upfront purchase cost according to sources from Dominion, ACPS and DASH.
Both ACPS and DASH were able to offset these initial costs using grant and state funding. As they continue to operate, the organizations are collecting valuable data that can be used to improve electrical bus technology and operations.
ACPS
ACPS purchased its five electric buses for the same price as their diesel models, according to an ACPS press release. The purchase came through a Dominion Energy program which also provided the batteries and charging stations at no additional cost to the school. The buses are manufactured by Thomas Built Buses and Proterra.
"What Dominion provided, I mean in cost alone, saved the taxpayers here almost $2 million," said ACPS Director of Pupil Transportation Scott Merriman.
The program's information page says electric buses improve air quality inside the bus and reduce greenhouse emissions by 54,000 pounds each year. Dominion claims that the buses reduce operation and maintenance costs for schools by 60%. ACPS received five of the 50 buses that were a part of the program.
Merriman said the ACPS fleet consists of 112 diesel powered buses, one gasoline powered bus and the five new electric powered buses. He said since the inception of the program, the electric buses have saved $8,000 in fuel costs.
"As of this point it has cost me exactly zero dollars to maintain any of these," Merriman said.
In return, Dominion uses the buses to inject electricity into the grid during periods of high demand, when the buses are not needed for transport. They are using a new "Vehicle-to-Grid Technology" which allows the buses to supply extra energy to the grid once they're connected, providing extra stability.
Dominion Energy is exploring battery storage capabilities of electric school buses to see how they can improve electric grid reliability, according to the program's webpage.
Merriman said the agreement with Dominion would not interrupt ACPS fleet operations.
"The agreement with Dominion is we use the school buses at will, without any constraint with our traditional operating day," Merriman said. "There's nothing within our agreement that says we cannot use the bus from X to Y or period A to period B."
Merriman said urban school districts are a perfect candidate for electric buses, because they have lower mileage than rural districts where buses need to cover larger distances.
"We have already projected that we can operate almost three days without a charge because of the number of miles and distance in our service district," Merriman said.
Merriman said ACPS is in the process of applying to purchase 10 more electric buses to their fleet through grant funding from the Volkswagen Environmental Mitigation Trust run by the Virginia Department of Environmental Quality. DEQ will announce the winning applicants this coming February.
The trust is "a result of settlement allegations that Volkswagen violated the Clean Air Act through the use of emission testing defeat devices designed to cheat on federal emissions tests," according to the DEQ settlement agreement page.
DASH
Alexandria Transit Company, DASH, unveiled it's battery-electric buses in October of last year. They received $5.1 million in funding from the Volkswagen Environmental Mitigation Trust and from statewide transit capital funding.
DASH CEO Josh Baker met with the Northern Virginia Transportation Commission last month to discuss the implementation of its electric buses.
"In Alexandria we have taken a very ambitious effort here in the adoption of electrification of our fleet," Baker said.
Baker said his goals are to have a fully zero-emission fleet by 2035.
DASH is currently in the second phase of its Zero Emission Bus Implementation Study.  
"Essentially the first study was: Can we do this? Should we do this? How can we do this?" Baker said.
Baker said while the environmental benefits were an important aspect of DASH replacing its fleet with electric buses, there are also fiscal benefits to the project. He said while the upfront funding for electric buses is substantial, the long-term benefits of decreased maintenance and the elimination of unpredictable fuel costs are worth considering.
"They're coming in at about half the cost from a maintenance and operations perspective," Baker said.
The second study, currently in progress, centers on the range of the buses, the technology required, the charging infrastructure and the short term and long-term investments that need to be made in order to implement an electric bus fleet.
Baker said the new buses are well received by the community, riders and bus operators and have performed well in "stop and go" urban environments, making them well suited for Alexandria.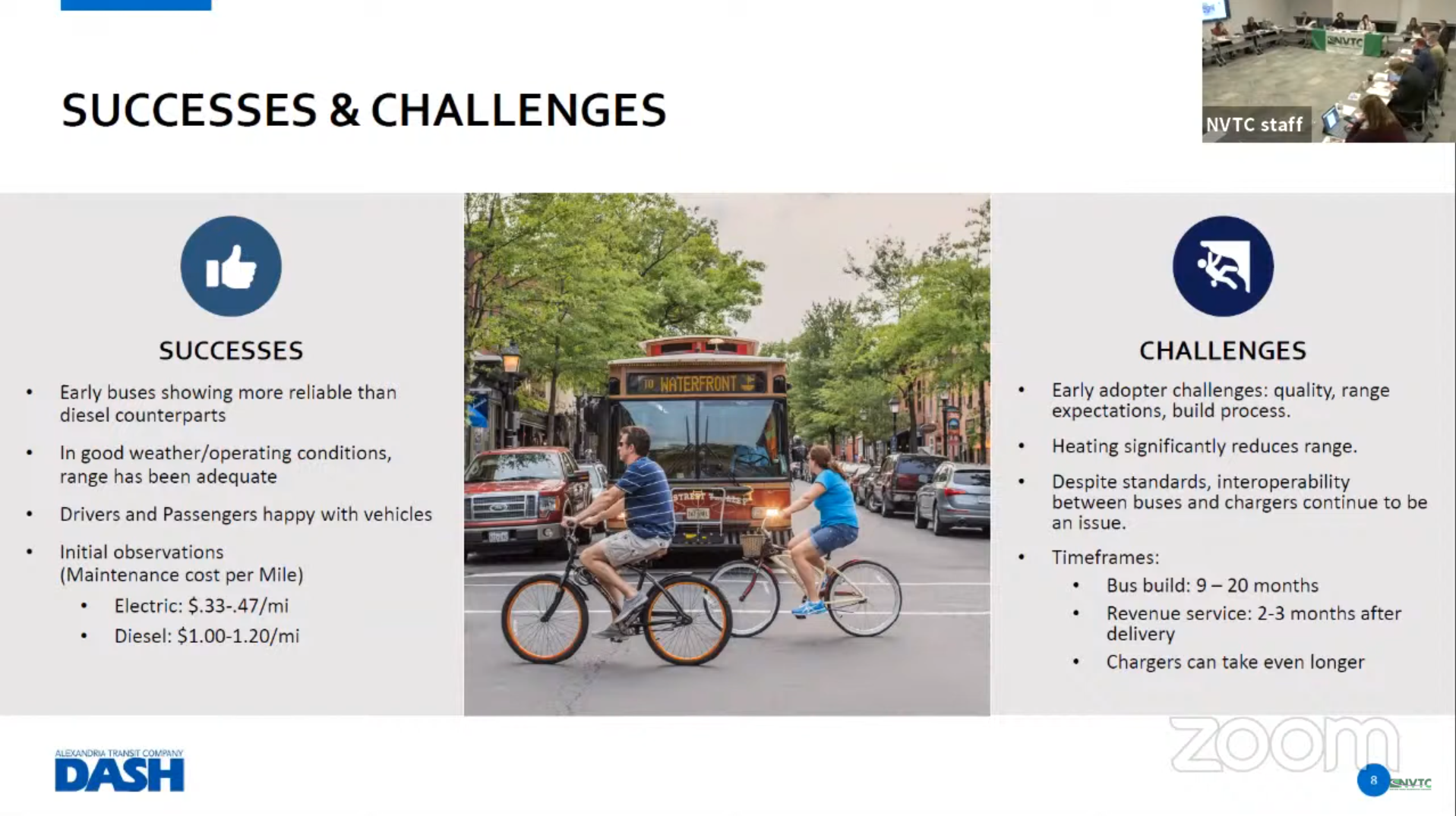 Baker said the biggest challenge DASH has faced is with the bus chargers.
"The chargers have a tendency to go down for various reasons. We had struggles with installations. We had struggles with contractors. We've had battles back and forth with getting them in to service them when they break down," Baker said.
Another challenge was in heating the buses. Traditional automobiles generate heat from the internal combustion process, which is then captured and used in the cabin. But Baker said if heat is exclusively generated from the battery of an electric bus, it would require upward of 60% of the battery's power. On colder days, the buses won't be able to travel as far without needing a charge.
Moving forward, DASH is working to address these challenges and implement technologies that can address the unique problems that come with electric buses. DASH said they secured funding for an additional 20 electric buses through 2025 from the Northern Virginia Transport Authority and the Department of Rail and Public Transportation.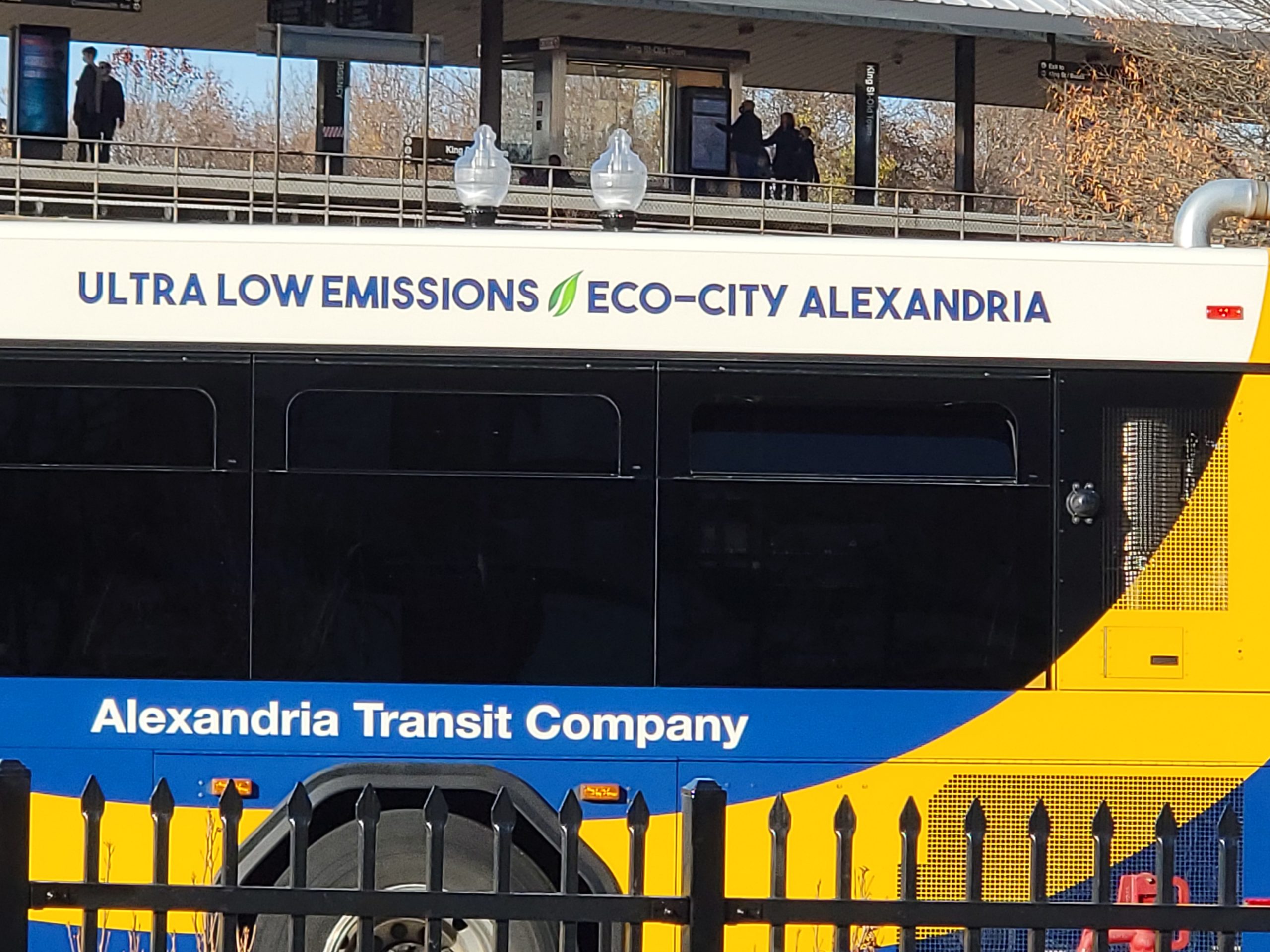 The move for electrification as a whole is in line with Eco-City Alexandria, a collaborative effort to achieve sustainability in the city of Alexandria. In 2008, the Alexandria City Council adopted the Eco-City Charter. In 2019, the city released "Environmental Action Plan 2040," which highlights city-wide environmental planning projects to reduce carbon emissions and move towards a more sustainable city.
The action plan sets out to "implement electrification of, at minimum 10% of DASH, rapid transit routes and King Street Trolley buses" by 2028.
Based on the projections in the first implementation study, DASH will have more than a 50% electric fleet by that time.