Metro Transit Police responded to Farragut West Station for a report of a fight on an Orange Line train at 9:50 a.m. One individual attempted to steal a cell phone from another passenger. During the altercation the passenger cut the other suspect with a box cutter. Both suspects were adult males.
EMS arrived on the scene at 10:10 a.m. and transported the injured party to the hospital at 10:35 a.m. Both suspects have since been arrested, according to Sherri Ly, media relations manager for the Metropolitan Transit Police Department. 
 Originally the incident was reported as a potential stabbing but was later corrected after investigation. 
 This report is the most recent in a slew of incidents on the metro in D.C. On Dec. 8, a suspect fired a gun towards a Metro car after a fight at the Columbia Heights Station. Prior to that, a 19-year-old was shot in the leg on a Metro car on Nov. 29.
 When asked about crime on the metro, passenger Alex Crane said, "It's just what happens now, I guess."
 Field Training Officer for the Metropolitan Transit Police Department Ryan O'Donnell said that there was "no interruption" to the operation of transit at the Farragut West Station throughout the investigation and trains are continuing on their original schedule.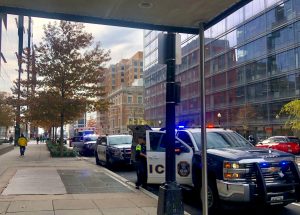 EMS, Metropolitan Transit Police and a bomb tech were on the scene out of an abundance of caution but had the scene cleaned up less than an hour after police were first dispatched. Passengers on the platform were largely unaware that there had been an assault. 
José, a passenger waiting on the platform, said he "saw all the police vehicles outside but didn't hear what was the accident." 
 D.C. has been experiencing a crime wave, much like other large U.S. cities, and after this incident some Metro riders are rethinking how they use public transit. 
 Karen Herrera said she has to continue to use the metro to commute, but after hearing about incidents that happen so close to her, "it makes me consider how aware I am of my surroundings."
 Crane said with the rise of crime generally in D.C. and the reported incidents on the Metro, he's become very cautious of friends traveling solo.
"Especially with my female friends and my girlfriend, I'm much more intentional than ever about making sure they're not traveling alone."
 The Metropolitan Police Department reported that this year the number of homicides has grown by 10% compared to 2020. Crane says he experienced a drive-by shooting just last week while at a friend's apartment in Navy Yards. 
 "At this point, there's a stabbing or a shooting every day now," he said.
 MPD reports don't show the same rise in assaults and robberies, but WMATA data tells a different story about crime on public transit.
 In November, there were 22 incidences of aggravated assault reported by WMATA, jumping over 40% from November 2020. Rates of robbery reported by WMATA doubled for the same period. The vast majority of these crimes are committed on trains.