The Supreme Court heard oral arguments Dec. 1 on a Mississippi state abortion law that would limit abortion access to 15 weeks, much sooner than the current law.
The case, Dobbs v. Jackson Women's Health Organization, could alter Roe v. Wade, the 1973 ruling protecting a woman's right to have an abortion nationwide.
The ruling of this case could have implications nationwide. Some states have even enacted "trigger laws," laws that will "trigger" abortion bans if Roe v. Wade is overturned.
According to the Guttmacher Institute, twenty-one states are ready to immediately ban or restrict access to abortion if the Supreme Court decides to overturn Roe. v. Wade.
While states like California have planned to act as a safe haven for those seeking abortions. Yesterday, California lawmakers and abortion providers unveiled the California future of abortion council which includes a series of recommendations to "protect, strengthen and expand abortion care," in California.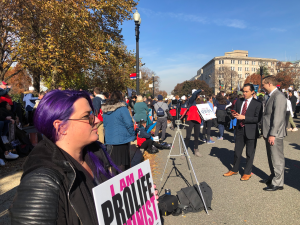 During the oral arguments, questions from the justices focused on when a fetus is viable, women's constitutional rights and stare decisis, the precedent this ruling could set for other states.
Scott Grant Stewart, attorney for the state health officer of the Mississippi Department of Health, argued that the Mississippi state law would return the issue of abortion to the states.
Julie Rikelman, Center for Reproductive Rights senior director and Elizabeth Prelogar, U.S. Solicitor General, representing the Biden administration, argued that women have a constitutional right to bodily autonomy and liberty.
Stewart said he believes the court should return to a neutral stance on the constitutional precedent and overturn Roe v. Wade so that the states and the people can decide.
"Abortion is a hard issue. It demands the best from all of us, not a judgment by just a few of us," Stewart said in his opening statement. "When an issue affects everyone and when the Constitution does not take sides on it, it belongs to the people."
Stewart argued that abortion is not protected under the Constitution.
"They pointed to the 14th Amendment, that privacy in Roe, autonomy and similar values in Casey led to a right to abortion," Stewart said. "That is not how this court traditionally does things."
Stewart argued that the court typically looks at history and tradition, and in the cases of Roe and Casey cases, the court did not do that.
Justice Sonia Sotomayor grilled Stewart during the oral arguments.
"Counsel, there is so much that is not in the Constitution," she said. "And here in Casey and Roe, it is inherent in our structure that there are decisions that belong to the individual that the court cannot impede on."
Sotomayor questioned Stewart further, suggesting that he seemed to be disregarding how this ruling could impact women.
"How is your interest anything but a religious view?" she asked.
Justice Elena Kagan said Stewart's argument to overturn Roe v. Wade would reset a nearly 50-year-old legal precedent.
"Usually there has to be a strong justification for this, beyond the fact that you think it's wrong," Kagan said.
Where is the line drawn? 
The court argued for nearly two hours about fetal viability, bodily autonomy and constitutional rights.
Chief Justice John Roberts questioned why changing the law to only allow abortions before 15 weeks would limit access to abortion.
Rikelman argued that a 15-week rule is unreasonable, as many women are unaware they are pregnant during that time.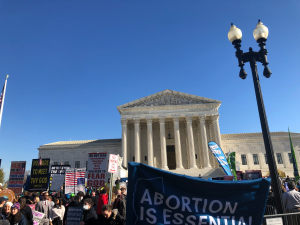 Rikelman said for the State of Mississippi to take control of a woman's body is a "fundamental deprivation of her liberty" and would have monumental consequences.
"Eliminating or reducing the right to abortion will propel women backwards," she said.
Stewart argued that the 15 week viability argument discounts and disregards state interests.
Rikelman said in addition to bodily autonomy and the health risks of forcing women to endure pregnancy, there are also economic effects of forced parenthood.
Justice Amy Coney Barrett responded that safe haven laws, which allow a parent in crisis to give up a newborn at a hospital or fire station for adoption, would take care of the forced parenthood issue.
Rikelman said it is 75 times more dangerous for a woman to give birth in Mississippi than to have an abortion.
Rulings possible effects on the Supreme Court
Some of the justices also expressed concern about the implications of this ruling on the Supreme Court as an American institution.
Justice Stephen Breyer said this ruling could "kill us as an American institution," because people will likely think the court is "just being political."
Sotomayor said the Supreme Court "won't survive the stench of overturning Roe v. Wade."
Emotions and anxieties are high outside the courthouse
Protesters rallied outside the Supreme Court with signs, music and speeches to voice their opinions.
Destiny Herndon-De La Rosa, founder and president of the non-profit organization New Wave Feminists, said she traveled from her hometown of Dallas, Texas, to speak at the rally today and fight for her and her organization's beliefs.
Thirty-three-year-old Lisa Grimm, who identifies as pro-life, traveled from Pittsburgh, Pennsylvania, to participate in the rally. She said she believes life starts at conception and hopes the court overturns Roe v. Wade.
"I'm a feminist," she said. "Women deserve better than abortion, and their children deserve better than abortion."
Grimm said she is adopted, and her birth mother made two appointments to have an abortion before eventually deciding against it.
"I'm grateful for my life," she said. "It was very important for me. So I've been doing pro-life activism since I was fifteen."
Kathelene Kiopatrick, a 79-year-old protester and rape survivor, said she protested at the court to fight for women like her — for bodily autonomy, liberty and equality.
Kiopatrick said she was raped by a member of her local church at the age of sixteen. She said she had to drop out of school as a result of the assault.
"It's been a long-time struggle for me," she said.
She said while she is grateful that her son, now 61, grew up to be a wonderful man, she doesn't want other women to face the pain she did at sixteen.
Laura Winick, a 61-year-old Maryland resident, said she thinks reproductive freedom is everything.
"I believe that women and pregnant people need to be able to control their bodies," she said.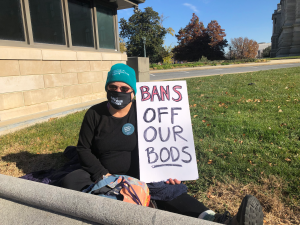 Winick said she is a mother of two daughters and has had two abortions in her life. She said she feels blessed to have been able to choose, and she wants her daughters to have the same opportunity.
"I want them to have every right to control their futures," she said.
Winick said she hopes Roe v. Wade continues and the court overturns the Mississippi state law. She said it's essential to stand up for everyone's right to "control their lives."
"I'm afraid that if they uphold the ban, then it's going to be a domino effect of many states cutting back rights," Winick said.
The court is expected to decide the case by June 2022.