One local restaurant owner finds himself running to the grocery store when deliveries come in short. Another is opening a new restaurant, but missing appliances have pushed progress back four months. Through these headaches, prices surge.
Supply chain disruptions have hit hard, from production lines abroad to stagnant container ships at U.S. ports to local stores where owners know customers by name. While store owners acknowledge inflation and delays happen, they said the pandemic has spurred the unprecedented impact felt today.
"It goes back as far as last year," Ashish Alfred, owner of Duck Duck Goose on Norfolk Avenue in Bethesda, said. "We were trying to winterize the patios, so we were looking to get heaters. Even then, heaters come from China. China cut back its production from what we were told. So, we were only able to get two or three at a time."
Alfred added that he noticed a limited supply of boxes, bags and plastic cutlery, necessary items for restaurants when they pivoted to mostly takeout orders. 
Chris Nardelli, owner and operator of Blue 44 on Connecticut Avenue NW in Chevy Chase, echoes this sentiment. He said that before the pandemic, roughly 7% of all orders were takeout. Now, about 35% are takeout.
"The downside of that is the cost of packaging right now and being able to get your hands on salad containers or hot entree containers," Nardelli said. "We've had to change containers so many times, not because we're looking for a cheaper product just because they don't have them."
Alfred of Duck Duck Goose, which serves French fare, said the pandemic was tough on his restaurants. He had to close one, called George's Chophouse, and shuffle around staff. Now, Alfred, who also owns a Duck Duck Goose location in Baltimore, is opening a third in D.C.'s Dupont Circle. 
"Now, here I am, opening a new restaurant, and oven parts and stoves and chairs and silverware and plates, wherever it comes from, it's stuff that we've literally had to wait on for 16 weeks," Alfred said. "It's been a nightmare."
Nardelli of Blue 44, which serves new American cuisine, said he sometimes scrambles to find ingredients when deliveries come in short.
"I've had to run to Safeway, I've had to run to Costco, I've had to run to Restaurant Depot several times a week," Nardelli said. "When you tighten up [the menu], you hate to be out of certain things because then there's not a whole lot to choose from."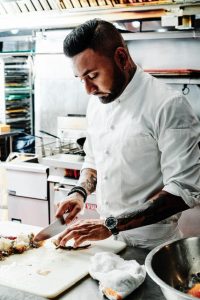 Both Nardelli and Alfred have been in the restaurant industry since they were teenagers, working first as busboys and hosts. They take pride in their businesses, crafting an experience that keeps customers coming back. 
"Restaurants are there because, for a lot of us, this is all we know how to do, and this is all we want to do," Alfred said.
Supply chain issues have also hit the retail industry. Steven Aarons opened Child's Play 35 years ago, which has expanded into three locations, including one on Connecticut Avenue NW in Chevy Chase. He said his toy store might offer a different variety of goods this holiday season, but he is not worried about empty shelves. 
"We have a warehouse, so we have orders planned that they're coming in every 45 days or so," Aarons said. "But when people buy in a different cycle than what you planned based on 2019, you may be running out of things in between since people are buying more early."
Child's Play currently has a notice on its website saying, "Due to supply chain disruptions, some of our favorite toys are in short supply." Because of this shortage, the store is limiting which items are available to purchase online.
Erkut Sönmez, associate professor of supply chain management and analytics at the University of Nebraska-Lincoln, has followed the impact of supply and labor shortages on businesses.
"It is going to be much more difficult for local businesses compared to the big-box retailers," like Walmart and Target, Sönmez told The Wash. 
He explained that large companies have contracts that give them purchasing power. This prioritizes products that may be limited in supply due to space, transportation and labor issues. 
Sönmez added supply chains are not designed to allow much flexibility. The high unpredictability and variability in demand and labor shortages at various stages of the supply chain also have unintended consequences for nearly everyone's wallets.
Lee Roeder, general manager at Strosniders Hardware in Bethesda, said keeping up with the increasing cost of goods is a daily chore. He has been in the business for more than 40 years, and he said he had not seen anything close to today's supply chain disruptions.
Nardelli of Blue 44 told The Wash that he juggles increasing costs too. He said the price of tomatoes has doubled and explained that because tomatoes are used on most sandwiches, "across the board, you just have to go up a dollar on each item just to cover your costs."
Inflation, which the Bureau of Labor Statistics revealed is at a 31-year high, is leading many customers to experience sticker shock, the negative feeling when faced with higher prices. Owners ask customers to be patient with them.
Sönmez explains it boils down to customer expectations. In terms of both hospitality and retail, people are used to having more options that can be delivered as soon as possible. But with the supply chain bottleneck, patience is tested.
"When I wanted to buy a soccer shirt [when I was a kid], there were only like two or three types, and I was happy," Sönmez said. "Now, with online retail, I can buy anything from any part of the world…Now, a little bit of it is late, and we are getting very upset. It is all about expectations."
Sönmez predicts these disruptions will last well into 2022. But Aarons, Roeder, Nardelli and Alfred are hopeful their businesses will thrive this holiday season, especially as more people return to in-person shopping and dining.
"If it wasn't for hope, then I would have shut the doors on all my spaces a while ago," Alfred said. "It may be a little bit tough right now. It's a little bit inconvenient right now, but for the people who can get through it, I think there's a better year on the other side of all this."