In Capitol Hill, Eastern Market Main Street (EMMS) serves as the heart of the community. Lined with over 200 businesses from 6th Street to 8th Street and Pennsylvania Ave N to North Carolina Ave SE, the area serves as a supportive grounds for these businesses, even during times of hardship.
There are 26 Main Streets in Washington, D.C. which are all part of the DC Main Streets program under the larger Main Streets America Program. The purpose of this nonprofit, according to the Department of Small & Local Business Development (DSLBD), is to "revitalize communities by retaining and recruiting businesses, improving commercial properties and streetscapes and attracting consumers."
Eastern Market Main Street was distinguished as an official main street in 2016. Since then, it has served as a pillar of the community.
"The whole goal is to help businesses in a very historic area survive and thrive and help the community be the interesting community Capitol Hill is," Mary Quillian Helms, owner of Mr. Henry's and EMMS Treasurer, said.
Helms said that urban areas like Union Market and EMMS are "in vogue." However, she noted that EMMS is different from many private developments like Union Market because they don't have the same control over things like closing down the streets for events. 
"A little Main Street like Eastern Market Main Street doesn't have a developer; we don't have anybody that's actively looking into the area as a whole," Helms said.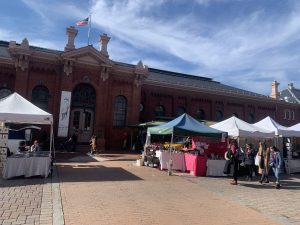 "We are individual businesses in individual buildings, owned by either the business or owned by individual landlords that it's the main street that acts as the collective to try to harness all of our energies and to benefit everybody."
During the height of the pandemic, it was difficult for many small businesses to stay afloat, but former Executive Director of the EMMS board Charles McCaffrey said that in "some respects" the pandemic "helped" their mission.
"Many of our business owners and residents have been there for quite some time," McCaffrey said. "They've been there long enough, especially with the business owners, they know how to run their business. But then when everything changes, it was, how do I adjust?"
McCaffrey and Helms both said that during the pandemic time, there was an influx of collaboration between businesses. Helms' restaurant, Mr. Henry's, was a big part of this. For stores with a large local clientele who didn't want to pay to have something shipped a few blocks, they could submit a pick-up order and grab it from Mr. Henry's. This kind of collaboration was beneficial for both the restaurant and the businesses that utilized this service.
"If you were picking up books from a restaurant, you probably felt obligated to maybe pick up a burger, which you would want to anyway; Mr. Henry's has really good food," McCaffrey said.
According to their 2020 Annual Report, EMMS was able to award $40,000 in grants to help support their businesses during the pandemic. This money came from DSLBD, but also from a GoFundMe campaign hosted by the leaders of EMMS.
EMMS has had this grant program in place for a few years, however, due to the pandemic, they had to change things around. Originally, the federal and donations money they received for the grants needed to be used for specific purposes, like facade renovations such as window replacements or new signs. However, because  of the pandemic, they decided to let businesses use the money however they saw fit.
"We decided to just call it emergency grant funds," McCaffrey said. "So they didn't have to submit what they were going to use it for because it was like, we understand you need funding."
Many of the businesses used their grant funds to help boost their social media presence and to dive into E-commerce by setting up websites for their businesses.
Every weekend, EMMS hosts a Flea Market. Weekend vendors, who don't have a permanent business on the main street, also felt heavily supported by EMMS during the pandemic.
Zachary Sasim, an artist originally from Bulgaria, has been selling his art at the market for 17 years. He said the community has been "tremendous" in supporting each other.
"Even at the time of this pandemia, it was really well operated by the managers of the market," Sasim said. "They actually do a great job."
Douglas Cochrane, also known as the "Old Book Guy," has been a vendor at EMMS for around 12 years selling vintage Life Magazines and said he feels the same kind of support and collaboration among businesses in the area.
"I got to know some of the vendors very well and neighboring vendors and everybody's very friendly and helpful," Cochrane said.
This year, the Washington City Paper named EMMS the "Best BID/Main Street," for the third year in a row. EMMS first received the recognition in 2019 and then again in 2020, McCaffrey said it was "nice" to receive it again, but he just wanted to make it through the year.
"I think that says a lot about the Capitol Hill community and the support that they get, but I was absolutely thrilled," McCaffrey said.
McCaffrey said that even though he is no longer on the EMMS board, he is hopeful for EMMS and thinks that because the area bounced back so quickly it says a lot about the community.
"We do a lot with very little funding and typically it's a one-person organization," McCaffrey said. "I just think it's an incredible asset to the city."