Joey Chen looked up despairingly at the orange neon sign hanging in his storefront window.
The sign read Towne, the name of the 60-year-old liquor store Chen purchased seven years ago on Wisconsin Avenue NW in Georgetown.
"This Towne sign has been here since before I was born," Chen said. "And now we have to take it down."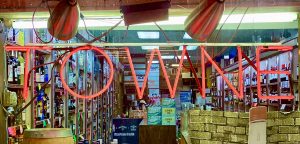 Several Georgetown residents have complained recently about the overwhelming number of neon signs in storefront windows throughout the historic neighborhood. Neon lights and signs are strictly prohibited in Georgetown because they detract from the neighborhood's history and style. But the number of colorful, gleaming lights and signs has only  grown over the last year and a half, causing local representatives to take action.
The Advisory Neighborhood Commission in Georgetown (ANC2E) is a group of locally elected representatives that advise the District government on matters that affect their neighborhood. 
Earlier this month, amid growing frustration from residents and commissioners, ANC2E unanimously voted on a resolution to have the neon lights removed. In the resolution, ANC2E voiced their "frustration" about neon lights within the Historic District and deemed them as "inappropriate." ANC2E is asking the Department of Consumer and Regulatory Affairs to "vigorously enforce" the guidelines for neon lights in Georgetown "immediately."
Business owners in Georgetown are required to submit their signs for review before mounting them in storefront windows, but many business owners chose to hang their neon signs without prior approval. 
"All signage concepts are required to go through the Old Georgetown Board before being permitted," ANC2E commissioner Lisa Palmer said via email. "None of the neon signs in ANC2E's district went through that process." 
Just last week, Towne Wine and Liquors had a large Captain Morgan sign illuminated in the storefront window, as well as a neon Modelo beer sign. Owner Joey Chen has since removed both signs, but he can't seem to part ways with the original neon sign stating the name of his store.
"I can take down a beer sign because that's newer, but that Towne sign has been there since forever," Chen said. 
After receiving notice that his neon signs must be removed, Chen reported back to ANC2E with a photo of the old Towne sign asking if it also needed to come down.
They confirmed that the Towne sign must be removed and reviewed.
Chen wanted to know if the massive neon Georgetown Theater sign hanging vertically over Wisconsin Avenue NW would also be taken down.
The Georgetown Theater sign was erected in the 1950s and is emblazoned with glowing red bulbs. 
But the Georgetown Theater sign is safe from review because it is deemed historic by the Old Georgetown Board.
In a few weeks, Chen will move Towne Wine and Liquors to a new location up Wisconsin Avenue NW. He has yet to decide what he will do with the original neon Towne sign, but for now, it will remain hanging in the same spot it has for decades.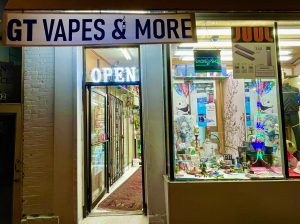 However, Chen is not alone in his plight to understand and follow the guidelines concerning neon signs in Georgetown. There appears to be confusion about the regulations and who's enforcing them. 
Down along Wisconsin Avenue NW sits GT Vapes and More, a smoke shop that opened only four months ago.
The storefront window of GT Vapes and More is framed by a string of twinkling neon lights and signs, which surround a cornucopia of vape pens, cartridges and hookahs. 
Store manager Abdul Yaqubi said he received an email a few weeks ago from the Georgetown Business Improvement District. The email was a reminder that neon lights and signs must be placed 18-inches away from storefront windows, according to signage guidelines.
Yaqubi contacted the owner of GT Vapes and More, asking what he should do.
The owner told Yaquibi to follow the law. 
"According to Georgetown, it's not allowed, this kind of light," Yaquibi said. "Because Georgetown is like, classy."
But according to Thomas Luebke, the secretary for the U.S. Commission of Fine Arts, which oversees the Old Georgetown Board, the 18-inch guideline was recently removed. Now no new neon signs are allowed.
"For many years, the D.C. regulation supported the principle that if a sign were set back 18-inches from the window, it was not subject to this kind of review," Luebke said.
However, since the removal of the 18-inch guideline, the neon lights and signs of GT Vapes and More are against regulations. 
But following the advice from the email he received, Yaqubi used a measuring tape to total the distance between the string lights and the window frame.
"Before, the lights were here. All around the glass," Yaqubi said, tapping the glass with the metal tip of his measuring tape. "I asked them what is the law. They said it must be 18-inches away from the glass. So I moved it."
Yaqubi said he'd hate to see the neon lights removed because they attract business to the new store, especially tourists and people driving.
A spokesperson for DCRA told The Wash, "In the District of Columbia, business signage requires permits. In conjunction with the Office of Planning, we are investigating the complaint submitted by the Advisory Neighborhood Commission."
Several other business owners with neon lights and signs in Georgetown have yet to hear from either ANC2E or DCRA. But considering ANC2E only submitted their resolution at the beginning of the month, a slew of notices is all but certain to follow.