In Chinatown, the contrasts can be stark.
A digital billboard promoting the iPhone 13 abuts a traditional gabled roof building. A red dragon snaking around a light pole greets patrons outside the American restaurant Clyde's. A WeWork space neighbors a family-owned Chinese grocery store. 
For some, the District's Chinatown appears to be a relic of what it once was. But neighborhood leaders say Chinatown isn't dying, it's just changing. 
"This narrative of decline assumes that there was an apex state of perfection, like an Eden, at some point in Chinatown," said Wei Gan, project director at the 1882 Foundation, a non-profit organization working to bring awareness to the significance of Chinese exclusion laws in D.C.
As Chinatown becomes more contemporary, with national franchise brands and a vibrant nightlife, people say it is losing its authenticity. But, Gan said, the alternative is Chinatown staying exactly the same — so people can continue to say the neighborhood is nothing more than shabby, basement restaurants. 
"It is a lose, lose situation," she said. 
In other words, Gan said, public opinion of an authentic Chinatown is a neighborhood that is never restored. "If you can't renovate it, you can't develop it, you can't change it, you're forever relegating these people to live in an undeveloped neighborhood," she said.
Ted Gong, executive director of the 1882 Foundation and president of the D.C. chapter of the Chinese American Citizens Alliance, a non-profit organization fighting against racial discrimination, agreed with Gan and said he pushes back against the idea that Chinatown restaurants are no longer authentic. 
"Authentic to who?" he said. 
"I would hesitate to say there is one authority on authenticity, it depends on the eater's background and preferences," Gong said. 
For instance, he said Americanized chop suey might be as authentic as something from the Fujian province, but not from the Hupei province. He said it depends on what you want and what you expect when dining in the District's Chinatown. 
A community trying to survive 
Chinatown spans roughly two square blocks, along H and I Streets between Fifth and Eighth Streets Northwest. Its entrance is marked by the Friendship Archway — an elaborate 47 foot tall archway that spans 75 feet of road. It was built in 1986 to commemorate the then newly-established sister cities relationship between the District of Columbia and Beijing, China. 
Dotted along the streets are corner signs and storefront slogans written in both Chinese and English. Numerous hole-in-the-wall eateries offer dim sum, dan dan noodles and various pork dishes. China Boy even wholesales fresh rice noodles to other Chinese restaurants in the DMV area. 
Adjacent to the remaining Chinese-owned businesses in Chinatown are an Xfinity, a Capital One bank, a Walgreens and a number of vacant buildings. 
Many of the Chinese owned businesses and landlords chose to sell to bigger corporations because they wanted to make more money and knew the franchises could afford higher rent. 
Gan said it is easy to label an ethnic community as either resilient or dying, but on the ground people are not as interested in the cultural identity of the area as they are in trying to survive. 
This is not the first time the District's Chinatown has been in a battle of endurance.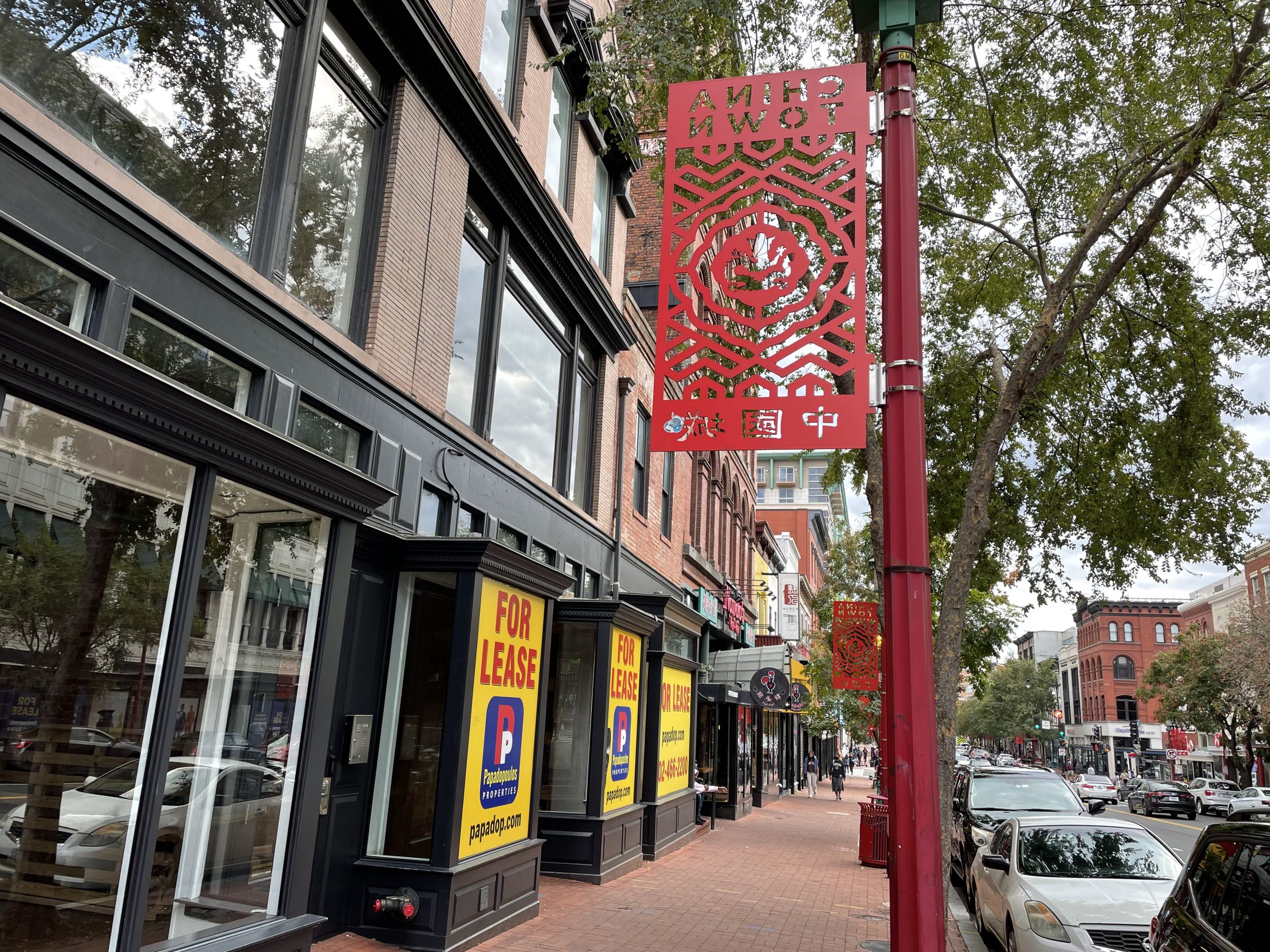 In the 1880s hundreds of Chinese people in the District moved to Federal Triangle because of the Chinese Exclusion Act, prohibiting the immigration of Chinese laborers to the U.S., and racial discrimination. Without access to bank loans, insurance or healthcare, Gan said, "They were forced to congregate and create their own, kind of, parallel economy and support system." 
"It was less of 'let's get together and celebrate' and more of 'how do we survive,' " she said. By the 1930s the government took over the land for development projects, pushing Chinatown to its current location and by 1943 the exclusion act was repealed. 
Most of the original residents left Chinatown for the suburbs when a Metro station came to the area in the 1970s and again with the arrival of the Verizon Center in 1997, now the Capital One arena. Rapid gentrification in the area caused rent to skyrocket. 
Today, just about 300 people live in the neighborhood compared to the thousands that once did. 
Chinatown Garden gets creative 
Carl Brown, executive director of the D.C. Small Business Development Center, which provides free one-on-one services to empower new and existing businesses, said small businesses are integral to communities. 
"A community without stores is a dying community," Brown said. "Small businesses provide a service or product that doesn't already exist in the community." 
For Chinatown's nearly 20 family-owned eateries, Gan said business owners are less interested in preservation and more in promoting a successful product. She calls this a "zest to continue." 
"What I really see happening with Chinatown businesses, and what we're really trying to do here is move with the times," Gan said. The pandemic applied more pressure to mom and pop stores than they were already under and seemed to accelerate plans to revitalize the businesses on social media or with partners like DoorDash, she said.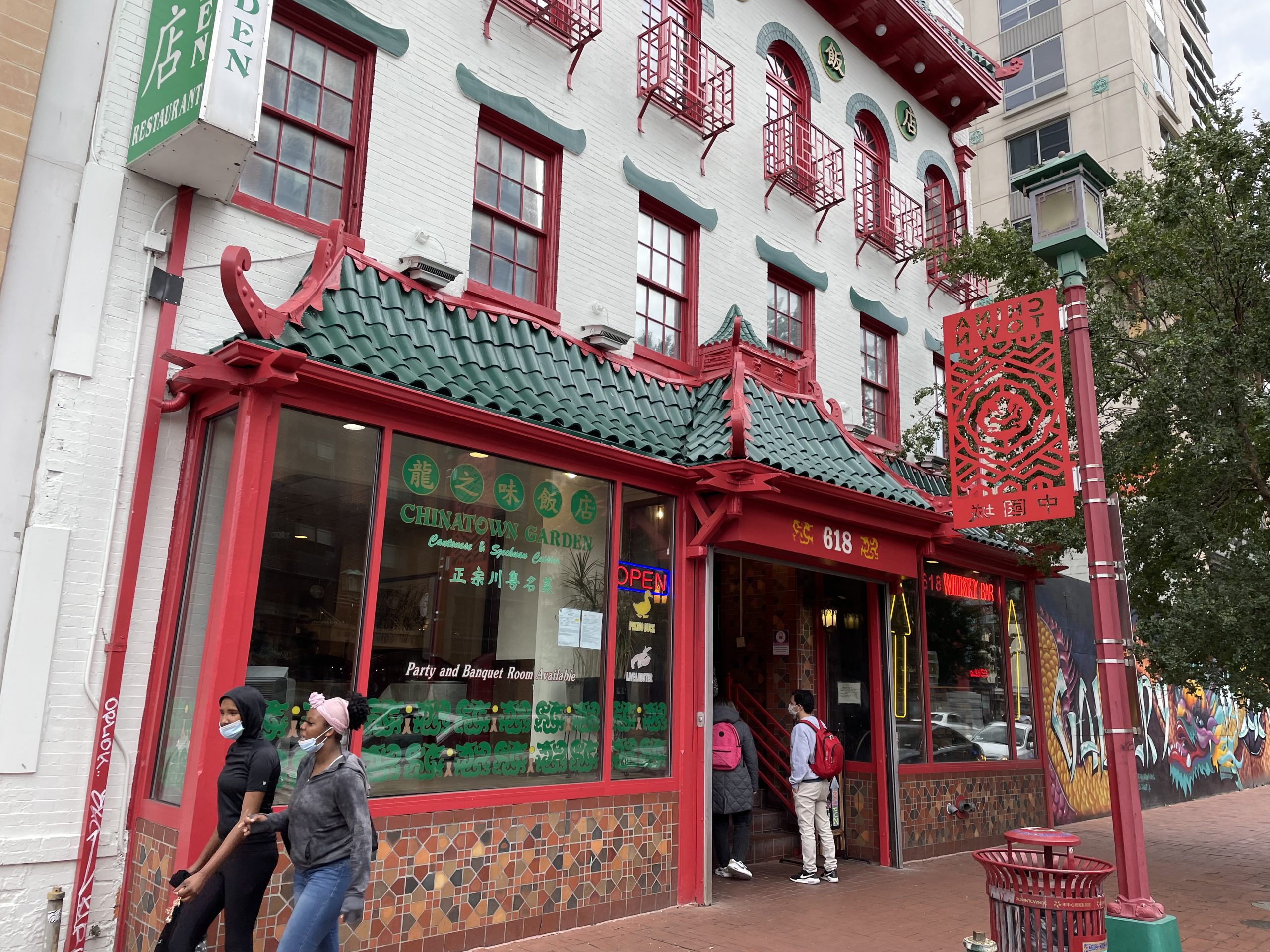 Chinatown Garden, at 618 H St., is one of the many small businesses adapting to the times and trying to bring more activity to the area. 
On the first floor, customers dine on spring rolls and kung pao chicken amid traditional Chinese decor. Upstairs, however, is the 618 cocktail and whiskey lounge that opened right before the pandemic and turns into a nightclub on Friday and Saturday nights.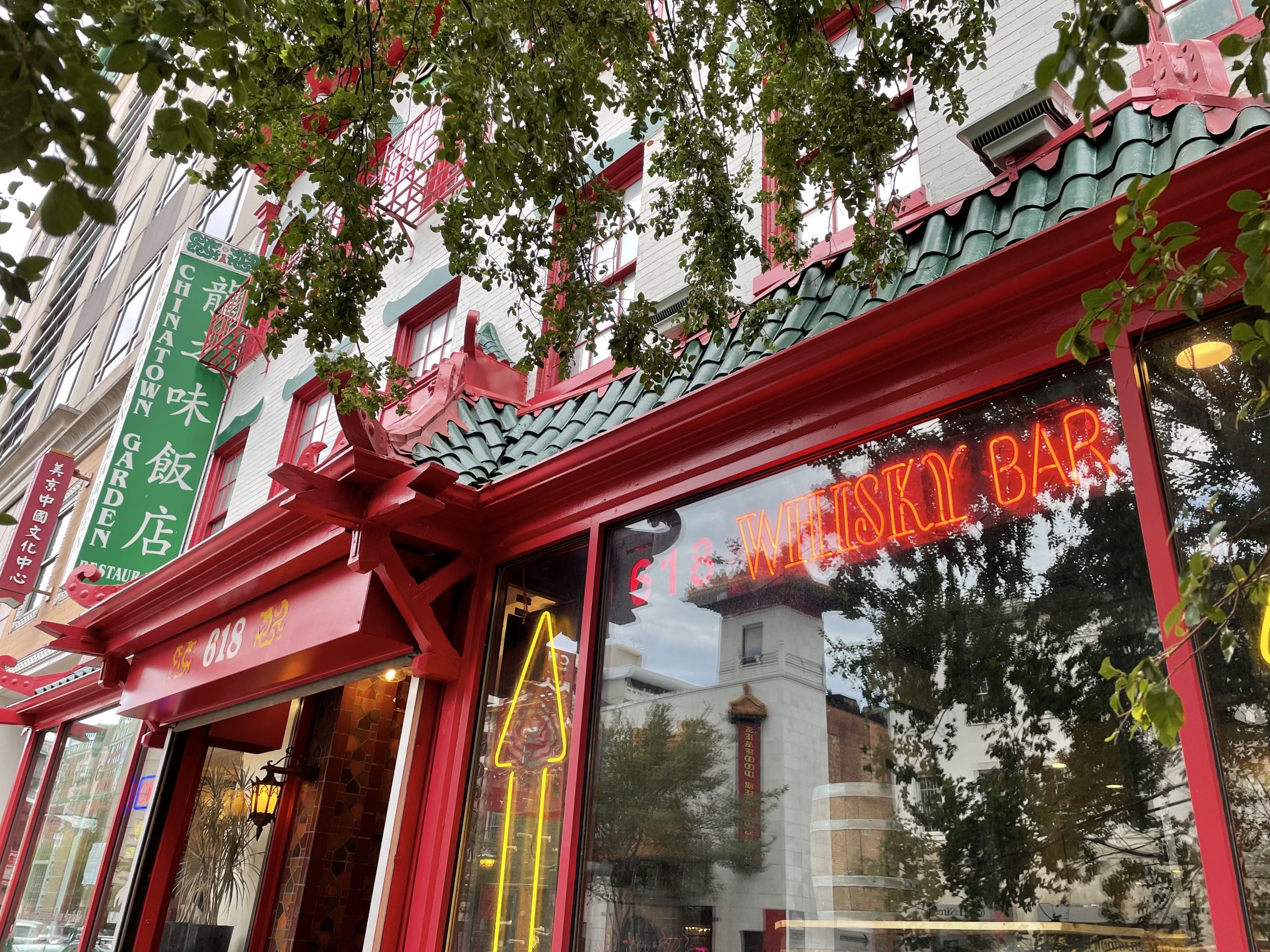 "It's weird because suddenly you're like why is there a techno party in the middle of Chinatown on top of a Chinese restaurant," Gan said. "When the assumption is that it should be, like, a banquet thing." 
But, she said, the stereotype is that Chinese people don't party and are "stiff and want to sit at these giant banquet tables," so a techno nightclub in the middle of the neighborhood bolsters the idea that Chinatown is declining. 
"Everyone is just trying to make something of themselves," Gan said. "So, it is not really my place, neither would it make sense for me to go to the bar manager and be like 'Well, why don't you go find a Latino neighborhood for your nightclub.'" 
Plus, she said, "that bar business is sustaining the restaurant business, there is a symbiotic relationship there. So what's the big deal if there's a techno club in Chinatown?" 
Surviving in the District's Chinatown has been a chronic problem for family businesses for a long time. The Mayor's Office on Asian and Pacific Islander Affairs has been dedicated to plans to bring the neighborhood back to life, including small business grants and other programs for long term customers and owners to become familiar with online service tools. 
"We have been here," Gong said. "We will always be here."