There are 24 rats living in Beverly Schwartz's Dupont Circle backyard, and without intervention, she said there could be close to one hundred by this time next month.
"Dry ice is the most effective thing to kill them," said Schwartz, peering in between the branches of her Wisteria tree— this is one of their favorite hiding spots, she says.
"It's very humane because they die in their sleep."
Schwartz, who has been living in her north Dupont row house for more than 20 years, said that rats have always been an issue, specifically in the alley behind her house that she shares with an apartment complex and small restaurant. Though, after working to plug rat holes in the alleyway and encourage neighbors to secure the lids on their garbage cans, the rodent-problem waned.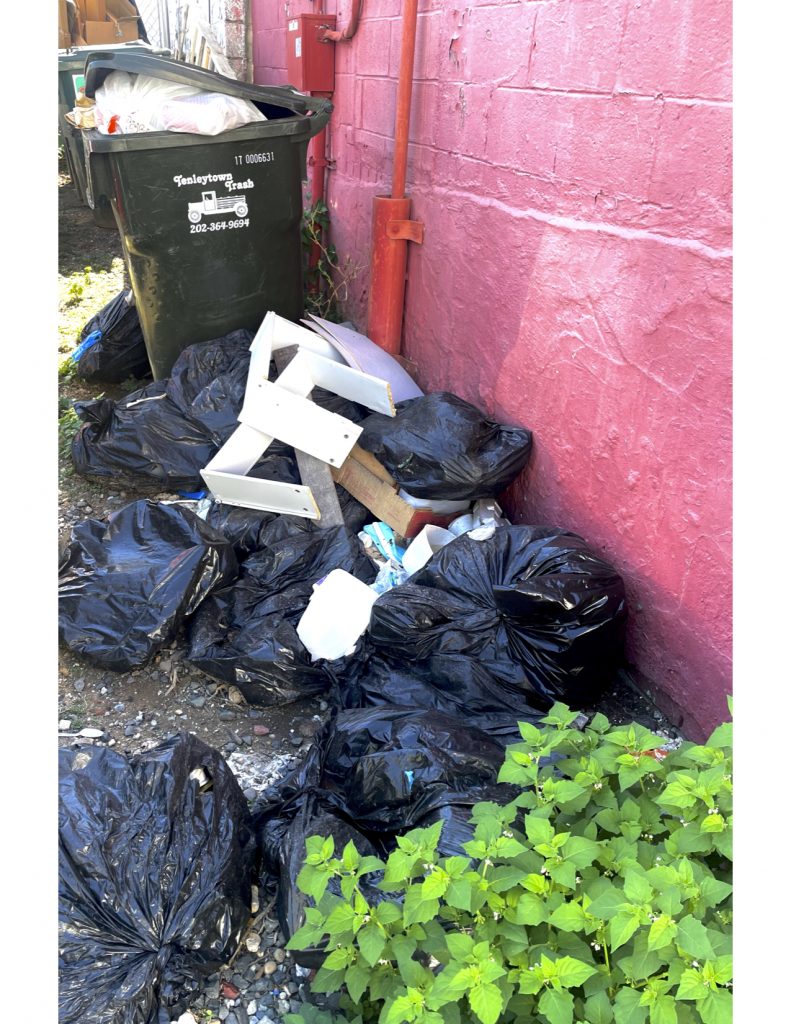 "They all left, and for the last couple of years it's been pretty darn good," said Schwartz.
Everything changed when the neighborhood's locally-owned and operated waste disposal and recycling business was acquired by one of the nation's largest sanitation companies, says Schwartz. It was then that trash began to pile up and rats began to return— and fast.
Tenleytown Trash, formerly owned by lifetime Washingtonian Barney Shapiro, was sold to Republic Services, a nation-wide private garbage collection company, on June 1, 2021. Ever since, customers say the service has gone "from awesome to awful."
Dupont ANC Commissioner Matthew Holden said Tenleytown Trash serviced his condo building weekly, coming once to collect garbage and multiple times per week for recyclables.
"We never had a problem," said Holden. "Then the new company brought them and it was like problems began immediately."
At first, the sanitation company would miss a few days at a time, says Holden, but eventually, the trash began to pile up and service became nearly nonexistent.
When residents complained, Holden said the trash hauling company brought in additional dumpsters to curb the overflowing waste but "even then we couldn't get them to pick the [dumpsters] up at the right frequency or consistently," said Holden.
Since, Holden's condo has severed its contract with Republic Services.
Washington, D.C.'s Dupont Circle neighborhood isn't the only community battling the waste management giant. Neighborhoods from Ohio to Louisiana to Missouri have reported overflowing dumpsters and littered streets, all of which point to Republic Services for the blame.
The Wash made repeated attempts to contact Republic Services by phone and email to better understand the slew of complaints by Dupont Circle residents. In response, Republic Services sent a statement asking for customers' patience and understanding.
"We are currently experiencing some temporary local delays with waste and recycling collections," Republic Services told The Wash in response to the allegations of poor service. "Many industries are facing staffing challenges at this time, and the environmental services industry is no different."
Trash and recycling collection companies across the country have reported staffing shortages amid the coronavirus pandemic, despite sanitation employees being considered essential workers.
Waste management companies have had a difficult time retaining garbage truck drivers since the outbreak of the COVID-19 pandemic due to illness, school closures, and a lack of affordable child-care options that require employees to stay at home, according to a 2020 report by the Solid Waste Association of North America.
Simultaneously, garbage produced by housebound Americans has skyrocketed, resulting in mountains of waste.
Republic Services estimates that trash production per household has increased by 30% since the start of the pandemic, and Jesse Maxwell, advocacy and safety senior manager at SWANA, says the rising trend in trash production isn't going anywhere.
"In D.C., I think a hybrid work model is going to be much more common moving forward," said Maxwell, who says SWANA itself has switched to the model permanently. "We're going to see an increase in residential waste simply because people will be working from home, at least part of the time, probably permanently."
Maxwell said that the pandemic has also fundamentally changed the way Americans shop.
"Obviously we've already been in a very Amazon-centric place, but as people switched to ordering groceries and having those delivered, I think some of that behavior of ordering-in is going to stay," said Maxwell. "Once you've switched over, you're not going back."
As a result, the amount of packaging, shipping supplies and plastic waste will continue to be the driving force behind increased residential garbage in the post-pandemic world, said Maxwell.
In addition to shipping waste, trash being generated by households has spiked primarily due to the rise in personal protective equipment like plastic gloves, disposable masks and cleaning supplies. In fact, plastic waste generated worldwide since the onset of the pandemic is estimated to have reached 1.6 million tons per day.
Maxwell said the increase in waste means more frequent trips to the landfill for sanitation workers, which means more time and expenses for waste management companies like Republic Services.
"Let's say that in a set period of time a crew could pick up 300 houses and take their trash to the landfill before the pandemic," said Maxwell. "Maybe now they could only pick up 200 houses' garbage in the same amount of time because they're getting so much of it."
As a result, Republic Services said its customers could expect to see a cost hike of $2.15 per home per month for their waste hauling services.
However, despite making monthly payments, Dupont Circle residents say that empty pizza boxes, Amazon shipping containers and household garbage have continued to mount outside of their homes with no word on when they'll be removed.
"I have not seen the garbage company pick up the cans since June," said Schwartz. "One of the very nice tenants at the apartment next door is actually spending his own money on black garbage bags and bagging up the trash and piling it up next to the building to keep it as clean and as neat as possible."
Despite residents attempting to remedy the problem themselves, when trash collection is overwhelmed, garbage in the street is like a vacancy sign for rodents. Washington, D.C. has struggled with rat abatement for years, and has consistently ranked as one of the nation's worst cities for the unwanted foragers.
Other than chewing through Schwartz's end-of-the-season tomato crop, the presence of rats in compact metropolitan neighborhoods like Dupont Circle present a number of challenges. Most concerning being that urban rats congregate in unsanitary conditions, where they pick up harmful diseases that can be transmitted to humans.
Since the trash from neighboring homes and businesses began to collect in the alley outside of her home, Schwartz said that she has had to incur additional costs to keep the rodents at bay, including hiring multiple exterminators, building a new fence to surround the property, and installing aluminum sheets in her backyard to prevent the rats from burrowing into the ground.
"I'm not complaining about the rats because this is what happens when you live in a city, I'm complaining because we had it controlled," said Schwartz.