Voters say they are worried that the election will widen a national divide regardless of who wins.
Some say the division emanated from four years of the Trump administration, where the president failed to denounce white supremacy and systemic racism.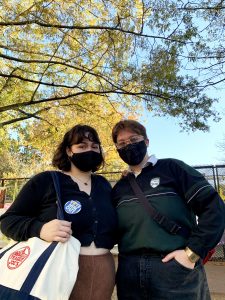 On one side are Biden supporters who think Trump has promoted fringe groups and focused on anti-immigration policies. On the other side are Trump supporters who think law and order translates into more police and decry some being called racist. In many ways the divide also played out in a debate over the economy vs. Covid-19.
Oregon natives Adelaide Robison, 20, and Laura Anes, 22, for example, are worried that the violence they saw in Portland after the George Floyd death will spread to several major U.S. cities. They talked about this while visiting Washington, D.C.
"Trump has made it so much easier for people with far right-wing beliefs to come out and say, 'Hey, I am a racist,'" Anes said. "He's made it a lot easier for people to be hateful."
Kansas master's student Rosie Mansour predicts that this divisiveness will trigger post-election unrest. "President Trump has called for his supporters to be more aggressive and more violent regardless of the outcome," Mansour, 23, said. "So, if he wins, there will be rioting in support of him. If he loses, there will be rioting because they're upset."
Stores in Washington, D.C., are preparing for election-related troubles. Stores with boarded-up windows are even more prominent near the White House.
Robison said when the most powerful man in the country expresses a racist view, he gives permission to a specific group of people who think it's acceptable to think that way. "He is the leader of this new movement of people that are very proud of things they shouldn't be proud of."
Anes says this is scary.
Anes, who identifies as queer, says she and her girlfriend have to be very careful not to draw attention to themselves. She believes the country has regressed.
Robison, her girlfriend, agrees.
"It's so disappointing to me," Robison said. "I don't think everything was perfect, but I think everything was normal-ish. It's disappointing that we've regressed so far."
"I think that it will take a really long time before at least half of the country believes that that's not the way things should be."
Can the nation heal?
As the worries fester, Washington-area activists are already thinking about how to bridge the massive political chasm.
White Christian leaders need to spearhead this movement, said Iva Carruthers, general secretary of the Samuel DeWitt Proctor Conference, a Christian organization within the African American faith tradition focused on justice and equity issues.
"I think it's going to take leadership, particularly … white faith leaders, who are willing to move far beyond their comfort zones to confront, educate and advocate toward a demand for a new way forward," Carruthers said. "It's time for white people to step up and confront other white people."
Policy, education and behavioral modeling can also promote national unity in non-faith circles and communities, Carruthers said.
But many are too hurt by Trump to see themselves truly uniting with his supporters. Arlene Holt-Baker, chair of the social-action group Community Change, said her faith teaches her that unity is possible and necessary. Still, so many feel the Trump Administration has put so many already-oppressed people in even worse situations.
"How can I shout hallelujah for my 401k when others are starving and they are naked?" Holt-Baker said. It's difficult for me to understand how others can, as a Christian."
Leaders of secular organizations – like Bread for the City, a nonpartisan nonprofit that serves low-income and disproportionately marginalized individuals in the District – feel the same way.
The country's political divide has existed much before 2020's Trump-Biden showdown, said George Jones, Bread for the City's CEO. While grappling with the Trump Administration's treatment of low-income individuals, Bread for the City is working to undo longstanding policies that have disproportionately impacted Washington residents.
"That this past administration represented a kind of slap in the face to what supposedly were the values of the country, so it wasn't about different politics but this president himself," Jones said. "It's anti-leadership. To have our fellow citizens support him like that, I have hard feelings about the division."
Politics should step aside
But environmental leaders like John Groutt feel that too much is at stake to squabble over political differences.
Groutt is a founder of the Wicomico Environmental Trust, a nonprofit environmental organization focused on issues impacting the greater Chesapeake Bay watershed.
"Whether you're a Democrat or a Republican, your land is going to be flooding," Groutt said. "Sea levels are rising on the eastern shores of Maryland, farmers aren't able to grow good crops and climate change is bringing about brand new diseases. Everyone is going to be majorly impacted, and it doesn't matter what your politics are."
Climate activists feel the facts speak for themselves, and partisan politics around climate change are beginning to disappear – a good thing.
Sarah Greenberger, the National Audubon's Society's senior vice president of conservation policy, has led party-centered efforts to bridge thoughts that climate change is partisan. Audubon protects birds and their habitats in the United States.
"We're solutions-driven, so we present the science and the facts," Greenberger said. "It's more productive to focus on the solutions, and people can come to different solutions for different reasons, and that's OK."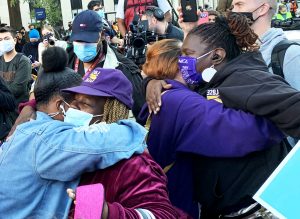 Mansour, a Kansas native, says unification starts in the White House. "We need to vote him out," she said as the votes were being counted.
Americans say although the air at Black Lives Matter Plaza is filled with tension, it is also filled with hope and resiliency.
"What more do they want from us?" Eman Moore, 24, asked. "Cause we'll keep going if we have to, goddamnit. For another four years, we'll keep fighting."