Some voters in Washington, D.C., Maryland and Virginia say they are not worried about the Trump campaign's attempts to recruit supporters to monitor election polling places because they don't take the call-to-action seriously.
On Oct. 31, the final day of early voting in Virginia, voters in places like Fairfax County waited as long as three hours to cast ballots. Others shared their support for either presidential candidate by tabling outside of the polling centers.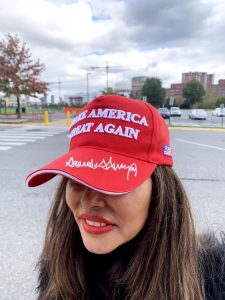 At Charles E. Beatley, Jr. Central Library in Alexandria, Virginia, about 10 Trump supporters carrying large flags and signs lined the sidewalk near the building, encouraging passersby to vote for him.
Several voters had to walk through the small crowd to enter the library and cast their votes for the next president of the U.S. One was Grace Lee, a resident of Alexandria.
Lee told The Wash that she wasn't intimidated by the crowd in front of her and that she did not "feel threatened" by their presence.
Neither did Jonathan Mejia, an El Salvadoran immigrant, who gained his citizenship in 2012.
"We're not intimidated," Mejia said. "Are you kidding me?"
Mejia said he's more concerned about the pandemic than voter intimidation.
Other voters who identified as Democrats told The Wash that Trump supporters have no effect on their decision to vote or their choice for president. None were intimidated by supporters' presence outside the library in Virginia or at other polling sites in D.C. and Maryland.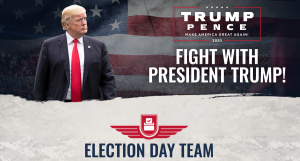 Maryland doesn't have "the typical tricks that are used for voter intimidation," Donald Bolger, a Maryland voter, said. "However, if you look everywhere else south of here and west of here, it gets worse."
Maria Flowers, who cast her vote at the super vote center at Washington Nationals Park on Thursday, said she's not worried about voter intimidation from anyone.
"In D.C., it's enough of us to outdo them," Flowers said. "Right now, we still run D.C. We're here."
Enthusiasm or intimidation?
After Donald Trump urged his supporters to "go into the polls and watch very carefully," his campaign said they hoped to enlist as many as 50,000 election watchers, according to Reuters.
Lisa Shames, a first-time poll watcher for the Maryland Democratic Party, called the president's call-to-action "disturbing."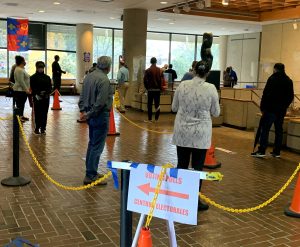 Bolger and his daughter, Lauren Bolger, agreed. Both are worried about voter intimidation in the south.
"As a biracial person, I know if I were to go and try to vote in places like South Carolina or maybe even Texas, I could be faced with people yelling in my face and trying to convince me who to vote for and threatening me with weapons," Lauren Bolger, a first-time voter, said.
Republican Party of Virginia Communications Consultant John March called this fear "silly."
"Just because their side lacks energy and enthusiasm for their ancient candidate doesn't mean we have to dial back our energy," March said.
"Voter intimidation is the next Russian Collusion—a whiny, fake argument and losing excuse."
More car caravans in the news
In Austin, Texas, a caravan of Trump supporters swarmed a Biden campaign bus Friday and attempted to force it off of the highway, Democratic officials said. The FBI has opened an investigation into the incident.
A similar caravan shut down the Garden State Parkway in New Jersey and the Gov. Mario M. Cuomo Bridge in New York on Sunday. The motorists waved Trump and pro-police flags.
March, who has been a member of the Republican Party of Virginia for more than two years, said these caravans have nothing to do with Virginia. "What happens in Texas stays in Texas," March said.
In New Jersey, a convoy of vehicles supporting President Trump has halted traffic on the Garden State Parkway. #NJ #Trump

— TalkRadio 77 WABC (@77WABCradio) November 1, 2020
In terms of voter intimidation in general, "no voter should have to deal with something like that," said Zachary Israel, a D.C. campaign worker for council candidate Ed Lazere.
After a rally outside of an early voting center in Fairfax, Virginia, Shames says the Maryland Democratic Party took extra steps to prepare her for a similar situation in Montgomery County. However, the retired congressional worker says she hasn't seen any.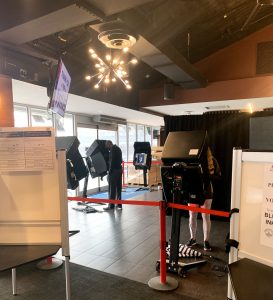 Neither has James Howlett, the site coordinator for the super vote center at Washington Nationals Park in Navy Yard.
Howlett said Thursday there is a strict policy for poll watchers who intimidate voters, particularly those who turn voters away based on their political affiliation.
"If I see any bad behavior, it warrants a warning,'" Howlett said. "If you don't follow the warning, you're fired."
Voter intimidation is prohibited in Washington.
"Unauthorized poll monitoring and voter intimidation are prohibited in the District," a spokesperson for the Office of the Attorney General said in a statement addressed to The Wash.
"Up to this point, OAG has not received complaints alleging such unlawful activity—but we will remain vigilant until every District resident has their chance to cast a ballot."
The D.C. Republican Party did not respond to requests for comments.