Protests were held last Tuesday and Thursday in front of Mercury Public Affairs offices in both Washington DC and Los Angeles, pressuring the lobbying firm to cut ties with the Turkish government over its involvement in the Nagorno-Karabakh conflict. 
War broke out between Armenia and Azerbaijan in late September over the Armenian enclave of Nagorno-Karabakh, referred to by Armenians as Artsakh. 
The enclave is internationally recognized as a part of Azerbaijan. Still, it maintains a majority Armenian population that has run the independent de facto government there since the conflict initially started when the Soviet Union collapsed.
Fred, an Armenian American activist with a prominent Instagram following, said they want Mercury to "Stop representing a country that supports terrorism."
Although Turkey and Azerbaijan continue to deny the allegations, several reports have emerged that Turkish-backed Syrian fighters have been sent to support Azerbaijan and fight on the conflict's front lines. 
Turkey and Azerbaijan have both denied the use of Syrian mercenaries while the presidents of France, Iran and Russian intelligence officials issued statements supporting the allegations.
"The Turkish dollars right now are being paid to hire ISIS fighters to go in and commit genocide in Christian Armenia," said another activist who requested anonymity out of fear of being recognized at the protest because he is a lawyer that works with other public relations firms.
Armenians have raised alarms that this conflict amid a global pandemic is an excuse and opportunity to cleanse the region of Armenians and is a continuation of the genocide from over 100 years ago.
The lawyer added, "Mercury represents a lot of good people. I don't know if those good companies that do the right thing want to be associated with those that perpetuate genocide."
According to Open Secrets, Turkey is among Mercury's highest paying clients, paying the lobbying firm over $1.5 million in 2020 alone.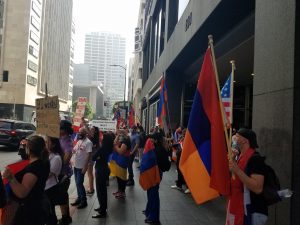 Their other high paying foreign clients include the governments of China, Qatar, and Kazakhstan. Their domestic clients include Microsoft, American Airlines, Starbucks, and Comcast.
According to Courthouse News, when President Donald Trump announced that the US would withdraw from the Syrian conflict last year, Mercury "rushed to defend the decision." 
Trump said, "It is time for us to get out of these ridiculous endless wars," amid bipartisan criticism that the decision would create a power vacuum in the region and was a betrayal of the longtime US-backed Kurdish allies.
Mercury circulated editorials published by the New York Times but written by Turkish government officials, including President Recep Tayyip Erdogan. The articles described the US-backed Kurdish allies as "terrorists."
Following Tuesday's protests, several public officials sent formal letters demanding Mercury terminate their dealings with Turkey.
In the last week, all fifteen Los Angeles City Councilmembers, Los Angeles County Supervisors Kathryn Barger and Hilda Solis, California State Senator Anthony Portantino, and sixteen members of the California State Legislature all signed letters in solidarity with protestors and urged Mercury to cut ties.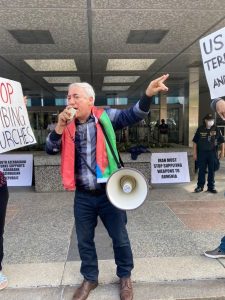 The Wash reached out to Mercury for public comment but did not hear back. However, the lobbying firm announced that they are terminating their registration as a foreign agent of Turkey on Friday.
Cedric Adzhemyan, another protester in Los Angeles, said his organization, Gamavornere (translates to "Volunteers" in Armenian), and several others have continued to hold demonstrations to shed light on the war. 
"We did Glendale City Hall, Burbank City Hall, the candlelight vigil, the NATO building," said Adzhemyan. 
Since fighting broke out, the Armenian American community mobilized several protests and demonstrations and called on public officials to condemn Azerbaijan and Turkey for their hostilities.  
In less than a month, the Armenian community worldwide raised over $150 million in relief aid to Armenia and Artsakh. "We decided to come together and join forces," said Adzhemyan. Activists continue to spread social media content and participate in demonstrations, including a hunger strike in Los Angeles that began last night.