The coronavirus spurs a rise in telemedicine
Washington, D.C. – This week health care providers across the country are transferring their in-office appointments to virtual visits, heeding the call for social distancing while protecting their practice.
However, telemedicine, also known as telehealth, has been an increasingly popular option for many years.  The American Hospital Association (AHA) found that the use of it more than doubled from 2010 to 2017.  The AHA defines telehealth as providing "health care services through videoconferencing, remote monitoring, electronic consults, and wireless communications."
Some health care providers in the D.C. area are well-positioned to transition their services from in-person to online and shutter their offices without much interruption to their business while others are not.
Robin Tucker, a psychotherapist and life coach in Washington, D.C., is shifting 100% of her appointments to videoconferencing or phone calls this week and closing her office.  She's seeing minimal reduction in her client load as a result of this pandemic and even added a free, daily online meditation class and support group to help people get through the crisis.  "A lot of people are talking about their concerns about the virus and how long they'll be socially isolated," says Tucker.
Prior to the current social distancing precautions, only her life coaching sessions were conducted virtually as that's the standard for that modality.  She saw her psychotherapy clients in-person unless they were traveling.
However, she thinks that there are some benefits to virtual visits for all her patients.  "Sometimes being in-person and being in an office can be distracting for a person," says Tucker.  "I actually think that the teletherapy is really effective and can help people to hone-in on what it is that they really want to focus on."
She has found no issues being reimbursed by insurance companies for teletherapy and foresees no major impact of the coronavirus on her business.  "I feel so grateful for the technology, my phone, and the ability to launch a class and invite hundreds of people," says Tucker.  "We're still able to get together in that way."
Other health care providers are opting to move toward telemedicine while still keeping their offices open, such as Dr. Jasmine Moghissi, a primary care physician in Fairfax, Virginia.
She has been practicing telemedicine increasingly for nearly five years.  This week she shifted her patient appointments from approximately 25% videoconferencing to nearly all of them.  "My practice, along with a lot of local practices, are small businesses, and if we don't see patients, we have to shut down," she said.  "We'll go bankrupt."
The medical group that she practices through, Privia Health, had already negotiated with insurance companies to cover telemedicine appointments before the coronavirus pandemic.  However, prior to this week, she couldn't get paid for virtual visits for Medicare recipients, so those patients were only seen in her office.  She welcomes this week's announcement from the Trump administration that makes this option accessible to those patients.
She plans to keep her office open and staffed as not all of her practice can be done virtually, such as blood draws and physicals, but she feels that telemedicine is imperative in this health care crisis.  "A lot of people are getting medical care who wouldn't otherwise because they don't want to leave their house," says Moghissi.  "Or, we don't want to see them because we don't want to put our staff at risk."
She has several patients that she thinks might have the coronavirus, but she has no way to test them for it.  She's monitoring them through virtual visits while they self-quarantine.  If a patient becomes really sick, she'll have them admitted to the hospital, where they can be tested for the virus and treated.  "If they're not at a point in their illness level where they need to be hospitalized. There's no point to going anywhere," says Moghissi.  "There's nothing we can do."
For other health care providers quickly adapting to social distancing is much more difficult.  After serious consideration, Lindsay MacDougall, an acupuncturist in Washington, D.C., decided to close her practice completely for an undetermined amount of time.  She hasn't done telemedicine previously, as her practice requires physically touching patients.
MacDougall worries that she could contract the coronavirus during a session or while taking public transportation on her commute to her office without knowing it and then transfer it to other patients.  "I was thinking back to the ethics training that I had about 'do no harm,'" says MacDougall.  "And, I felt that this was the most aligned choice."
She'll be taking an online continuing education course and working on her business's marketing instead of performing acupuncture until the crisis improves.  "For me, the cost was too high to stay open.  I wouldn't be able to serve the way I want to," says MacDougall.  "I would just be living in fear for a long time, and that really does tax a person's chi energy."
Adapting her current practice to telemedicine is a challenge, but she is considering ways she might do it if the need for social distancing drags on too long.  Currently, she can offer some health coaching and teach clients how to do acupressure on themselves, which doesn't require the insertion of acupuncture needles.  "Acupressure is still re-wiring the chi and promoting health with regular pressure on these points," says MacDougall.  "So, it is creating that change for the patient."
For now, MacDougall is thinking about the future of her practice in both the near and long-term as she considers how she will adapt it once the threat of the coronavirus subsides.  When she returns to doing office visits, she will be more vigilant about her cleaning and sanitizing habits with and between patients.
She's also contemplating ways she can evolve and expand her business to incorporate modalities are that easier to do in a virtual space, such as herbal medicine counseling and alternative health classes, in order to be able to continue practicing during public health crises.  "In terms of anti-viral and immunity boosting, I think there's a lot I could do in the realm in herbal formulas to help people," says MacDougall.
Health care practitioners, like many Americans, have been forced to adapt their work significantly as the events surrounding the coronavirus evolved rapidly over the past week.  Some of the changes have eased up restrictions for health care providers to practice remotely.
President Trump, flanked by members of his coronavirus task force, issued emergency orders giving the secretary of the Department of Health and Human Services the ability to waive laws to enable telehealth in a press conference on March 13.
Days later, the Administrator of the Centers for Medicare and Medicaid Services, Seema Verma, announced an expansion of telehealth benefits for Medicare users "to give patients greater access to care through telehealth during the COVID-19 outbreak."
These announcements came as the calls for social distancing ratcheted up in statements from The Centers for Disease Control and Prevention (CDC) on Sunday and The White House Coronavirus Task Force on Monday.  The CDC recommends staying at least six feet away from others to prevent the spread of the coronavirus, which is more likely to become deadly in senior citizens — the biggest recipients of Medicare.
Public health officials hope that this measure will reduce the number of coronavirus cases that occur at the same time in order to spread the amount of cases over a longer period — often referred to as flattening the curve.  The goal of the flatten curve is to avoid overwhelming hospitals, which have limited space, supplies, and equipment, such as ventilators, needed to treat those who get severely sick from the illness.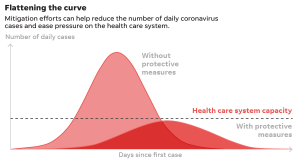 Courtesy of USA Today  SOURCE Centers for Disease Control and Prevention