By Emily Hayes
CHARLESTON, S.C. — Democratic presidential candidates were peppered with questions this week at a televised CNN Town Hall in Charleston, South Carolina, on the day of a mass shooting at the Molson Coors brewery in Milwaukee.
The town hall comes days before the primary vote in South Carolina, as well as the Super Tuesday primary vote March 3 in Colorado.
"I want to see us do the things that are obvious," Sen. Elizabeth Warren, D-Mass., said at the event, identifying universal background checks and "getting assault rifles off the street."
Warren said the shooting Wednesday in Milwaukee, in which a brewery employee killed five people before killing himself, happens all too often in public places like schools and movie theaters, such as the Aurora shooting.
"We need to treat gun violence like the public health emergency that it is," Warren said.
Sen. Amy Klobuchar, D-Minn., outlined specific policy goals to address gun violence at her town hall, including universal background checks and closing the "Charleston loophole" and the "boyfriend loophole."
Universal background checks "save the most lives when it comes to things like suicide and domestic violence," Klobuchar said. The "Charleston loophole bill" would eliminate a law that allows licensed gun sellers to give firearms to buyers before the background check is completed. The bill would also extend the background check review period from three days to 10 days to produce a more thorough background check.
The "boyfriend loophole" is a gap in current gun law that allows physically abusive partners and stalkers with previous convictions to purchase firearms. Klobuchar introduced a bill early last year to close the loophole and prevent convicted stalkers and abusive dating partners from purchasing a gun at the federal level.
"I don't want us to forget that everyday gun violence," Klobuchar said at the event.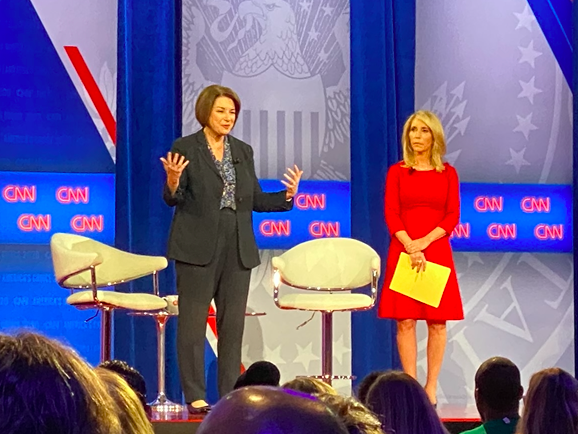 Former Vice President Joe Biden said Tuesday during the Democratic presidential debate that he has already worked to close the "boyfriend loophole." Biden introduced the Violence Against Women Act in 1993, and it passed in 1994. But the act does not address the same specifics for the "boyfriend loophole" that Klobuchar's proposed bill does.
Both bills await action from Senate Majority Leader Mitch McConnell, R-Ky.
Gun violence and laws in Colorado
There were 888 gun deaths in Colorado in 2018, and half of all suicides in Colorado were committed with a firearm, according to Colorado Ceasefire, an organization that raises awareness about the dangers of gun violence.
Elaine McCarron, president of Colorado Ceasefire, has worked closely on the gun violence issue for 20 years in Colorado. She said Sen. Bernie Sanders, D-Vt., has voted against background checks in the past, but the state of Vermont has since enacted a law that requires gun sales to be processed by a licensed firearms dealer, which includes a background check.
Biden led former President Barack Obama's gun violence efforts after the Sandy Hook shooting in 2013. However, the legislative efforts were largely thwarted by Republican leaders in the Senate and activism from the National Rifle Association.
Obama visited Colorado in 2013 to commend the gun reform laws passed after Sandy Hook and explained his administration couldn't get the votes to pass similar laws at the federal level.
Former Mayor of New York City Michael Bloomberg has "dedicated a lot of money and resources" and has been a "champion for gun violence," McCarron said, though she does not endorse him as the Democratic candidate.
Colorado State Rep. Tom Sullivan, D-Denver, whose son was killed in the movie theater shooting in Aurora in 2012, has endorsed Bloomberg for president based on his strong gun-control record.
In 2013, Bloomberg founded Everytown for Gun Safety, a nonprofit organization that advocates for gun control. But the organization has been unsuccessful so far in establishing universal background checks at the federal level because that would "give too much away to the NRA," McCarron said.
Hunters and sportsmen left out?
Sabra Lin O'Crotty, general manager of the Rocky Mountain Gun Club, said a "large swath of the firearms community feels uninvited to the gun-control conversation." She pushes education and awareness, and she aims to "create a place where all ideas are welcome," O'Crotty said. But some strong rhetoric has been off-putting for hunters and sportsmen in the state.
Hunting guides like Mia Anstine of Southwest Colorado have argued that universal background checks make it "harder for rural Americans to pass on the hunting and sporting traditions from our past," she wrote in a guest column for The (Cortez) Journal.
Under universal background check laws, gun owners wouldn't be able to share or loan their firearm to other people, including family members on a hunting trip.
Gun control policy proposals from the remaining Democratic candidates don't have major differences. But it is an important talking point for the candidates "because of our history of gun violence in our state," McCarron said.
This story was originally published in The Durango Herald. Emily Hayes is a graduate student at American University in Washington, D.C., and an intern for the Herald.