Two Adams Morgan organizations have partnered on a creative solution that aims to tackle the growing need for affordable housing in D.C. 
On Nov. 2, Jubilee Housing and Sitar Arts Center "broke ground" on their new partnership, which was announced on Twitter by Ward 1 Councilmember Brianne Nadeau. But these two organizations shared a long history prior to this collaboration.  
It was an honor to celebrate the beginning of @jubileehousing's new transformative project, which will bring deeply affordable housing to Adams Morgan and invest in the arts education of our young people by expanding @sitarartscenter! #AdamsMorgan #Ward1 #JusticeHousing pic.twitter.com/0BMch4H2by

— Brianne K. Nadeau (@BrianneKNadeau) November 2, 2022
A long-term partnership 
"Sitar Arts Center and Jubilee Housing have been longtime partners – Sitar was initially founded in a Jubilee property," Jim Knight, president and CEO of Jubilee Housing, said in an email. "Our missions work closely together on behalf of the community."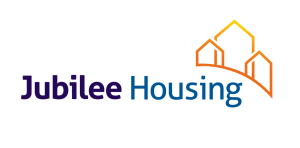 Jubilee Housing's mission is "to build diverse, compassionate communities with opportunities for everyone to thrive through justice housing," Knight added.
Justice housing is housing that's located in resource-rich neighborhoods, close to schools and grocery stores, has transportation and offers onsite and nearby services. The housing is also deeply affordable and accessible to community members with the greatest barriers to thriving.  
"Supportive services include programs that Jubilee offers in-house, as well programs offered through a network of neighborhood partners," Knight said.  
Musician Rhonda Buckley founded Sitar Arts Center. She was inspired by her friend, and visual artist, Patricia Sitar.
Sitar and her friend Barbara Moore were worried about the after-school hours for the children living in Jubilee Housing, so they created Good Shepherd Ministries.  
"You know, their parents were out working, they would come home from school and have nowhere kind of safe and enriching to be," Maureen Dwyer, the executive director of Sitar Arts Center, said. 
Buckley volunteered music lessons to the kids at Good Shepherd Ministries' after-school center. She began to have a vision for a multidisciplinary arts education center, opened her own nonprofit and named it Sitar Arts Center after Patricia Sitar.   
When Sitar Arts Center was looking for partners for their new expansion, Jubilee Housing was one of the first stops.  
"The partnership came about in 2018 because Sitar had a growing waitlist for their affordable afterschool and summer arts programs and needed more space," Knight said in an email. "Sitar reached out to Jubilee and it felt like providence in action, as Jubilee had just launched its first Justice Housing Partners impact investment fund and was ready with the funds needed for a fast strike acquisition."
Jubilee Housing bought the empty building next door to Sitar, and the arts organization will buy most of the first floor from them to expand its offerings.  
The building will include three floors of "deeply affordable housing," according to Dwyer.  
"Many of those units will be available to people at 30% or less of median income," she added. "They're larger units than typical. So, they're big enough for families, several of them are two to three bedrooms." 
In total, 50 units are being added, and the first floor will feature Sitar Arts' after school programs that will be available for the families.  
The partnership is also expanding Sitar Arts Center's footprint by 50% so the program will be able to reach around 500 more school-aged students, according to Dwyer.  
Sitar is also implementing a new workforce development program for "young adults to find career pathways to arts-based careers and careers in the creative industries," she added.  
D.C. is becoming an increasingly expensive city 
Rent in the District has increased yearly, according to a report from Rent.com. The average rent for a one-bedroom apartment in Adams Morgan is $2,504 – a 3% increase. For a three-bedroom apartment, average rent is $4,098 – over $200 more than the D.C. average.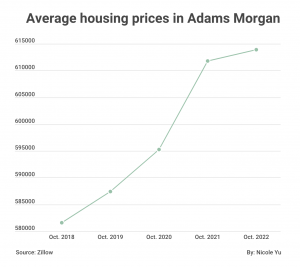 According to Andy Wassenich, the assistant director of outreach for Miriam's Kitchen, D.C. has two major housing resources, permanent supportive housing and rapid rehousing, to mainly help those in the homeless community.  
The Department of Housing and Community Development also has the Inclusionary Zoning (IZ) Affordable Housing Program, which "requires that most new (and some renovated) residential developments include some affordable homes," according to the D.C. government website. 
Permanent supportive housing is a long term, indefinite housing resource that provides people vouchers that can cover ranging rent prices.  
For example, "If it's a one-bedroom apartment with utilities included, the rent that it will cover is $2648 a month," Wassenich said. "It's market rent." 
Rapid rehousing is a short-term subsidy for up to 12 months. It's for people who "just need a little bit of help to get back on [their] feet and regain employment and set a little money aside so [they're] good to go for a while," he said.  
To be eligible for the Inclusionary Zoning (IZ) Affordable Housing Program: 
Households must make 50%, 60% or 80% of the median family income

 

Housing costs for an IZ home can't be more than half of your income

 

Can't be enrolled full-time in college or university program

 

Must live in IZ home as primary residence

 

Can't own other residential property at the time of lease or purchase

 
The process of getting an IZ home is based on a lottery system and only occurs when homes become available.   
The challenges of affordable housing make the partnership between Sitar Arts Center and Jubilee Housing an innovative model because of the various resources available for community members, according to Dwyer.  
"You know, have wonderful, beautiful new housing that's big enough for families, and then a community anchor like Sitar that provides great out of school time programming, a safe place for kids to be until their parents return from work," Dwyer said. "So it's really a way for a family who is overcoming challenges to have a lot of what they need right there, the resources right there."