Ever since being catapulted into the national spotlight as an impeachment manager during then-President Donald Trump's second impeachment, Rep. Jamie Raskin, D-Md., has been at the forefront of national politics.
In 2021, he was appointed to the high-profile Jan. 6 Select Committee, growing his national profile further. He's even been parodied on Saturday Night Live.
In the past, politicians have lost their constituents as a byproduct of their rapid ascension to national relevance. In recent months, Wyoming Republicans punished Rep. Liz Cheney for her intense focus on impeaching Trump and beyond.
Raskin, on the other hand, has managed to stay in line with the will of his constituents, and much of that has to do with the uniquely engaged and national-focused nature of his district.
In the Washington, D.C., suburbs that make up Maryland's 8th congressional district, the highly educated and informed population appears to be in favor of Raskin's hard-nosed approach in the aftermath of the Jan. 6 insurrection.
His upcoming bid for a fourth term in Congress — which pits him against Republican aerospace engineer Gregory Coll for the second-straight election cycle — is expected to be an uncompetitive race, according to multiple pollsters. Coll has run a campaign focused on neighborhood safety and security, military support and fiscal responsibility.
Peter Kovar, who served as chief of staff to the prominent Democratic congressman Barney Frank for 18 years, now sits on the Takoma Park, Md., City Council. He said Raskin's national focus enhances his appeal. "I don't see it as a conflict," Kovar said, "I see it as part of good governance and good representation."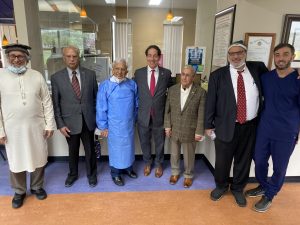 This appears supported by recent polls that say Marylanders' top issue is the economy, with threats to democracy as second.
Jeffrey Slavin, a lawyer and four-decade Democrat who is the mayor of affluent suburb of Somerset, Md., noted that despite rumbling speculation that Raskin will seek a seat in the Senate or even the presidency, Raskin is likely to stay in the House of Representatives.
Slavin also said that voters in the district are chiefly concerned with the federal government and tend to care less about what goes on in the Maryland General Assembly or their respective city halls.
Because of that, Raskin's focus on national issues like democracy, reproductive rights and political extremism play well since his constituents are largely employees of the federal government — or related to it through work — or are otherwise plugged into national issues.
"He has such a great ability to discuss these issues, these heavy constitutional issues and make everybody understand," Slavin said.
Leonard Steinhorn, a professor of political communication at American University, where Raskin once taught constitutional law, said focusing on national and local issues are not mutually exclusive for members of Congress. Steinhorn pointed out that since Raskin lives less than 10 miles from his Capitol Hill office, he is especially well-positioned to balance both priorities.
Steinhorn also said politicians with national profiles like Joe Crowley — a senior House Democrat who lost his Queens, N.Y., House seat in 2019 because he neglected his district and focused too squarely on his own political profile — do occasionally fall from grace. Crowley lost the Democratic primary to the rising progressive Alexandria Ocasio-Cortez, who triumphed in one of the cycle's biggest upsets.
"There's sort of a very mensch quality to Jamie Raskin," Steinhorn said. "The trick is, some people lose touch with their communities. I don't ever think that's in Jamie Raskin's DNA."
According to Raskin's district director, Kathleen Connor, their office handles thousands of constituent cases a year, a figure that dwarfs most other constituent offices and increased significantly during the COVID-19 pandemic.
Connor credits their office's productivity to their office staff, which includes six caseworkers and a handful of full-time interns in their Rockville, Md., office.
"So, even though everybody sees him on MSNBC and CNN," Connor said, "he is still doing the same job for the constituents."
For his part, Raskin insists that he has no motive outside of simply representing his constituents in Congress. He also stressed that he will continue to pursue his work on the Jan. 6 Committee to its necessary end, which he said could impact American life in the short, medium and long term.
"My constituents are very upset about assaults on democratic institutions and the right to vote," Raskin said. "And, again, I cannot imagine them being any more supportive of the work that I've been doing."
Ultimately, the voters in Raskin's district — and the composition of the House of Representatives, which may force him out of his prominent oversight position — will determine his political future. For now, he appears to be taking an incremental approach to growing his own profile while still staying close to home; he announced his intention to seek the chair of the revered House Oversight Committee this summer, and routinely campaigns for Democratic candidates across the country as he is asked.
"We almost lost everything," Raskin said. "And I tell my constituents, we're in the fight of our lives, and the outcome is not predetermined, we need to fight for constitutional democracy and freedom in America."
Note: Jamie Raskin is a professor of law emeritus at American University's College of Law.