Nearly every morning and evening during rush hour on the popular D.C. street across from District Wharf, city hired tow trucks winch, haul and ferry away cars that have overstayed the 7 a.m  and 4 p.m. rule from the right lane. 
Destiny Sanchez briefly parked on Maine Avenue SW,  before realizing other cars were getting towed right in front of her.  
"I was going to come out for some lunch today when I saw the tow truck coming in sweeping somebody's car off the side street," she said. 
So why are so many cars getting ticketed and towed?
Sanchez was among several drivers who told The Wash, it's because the parking signs are confusing.
"The messages on the sign that are not that clear… you can't really tell where they stop and start," she said. "They say just pay to park for two hours… three hours okay, that's fine only, not from 4 p.m. to 6:30 p.m. in the fine print."
On average, parking tickets in the District cost around $50 plus additional towing costs.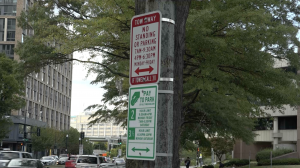 Through a FOIA request, The Wash acquired parking records from the Department of Public Works. Those records show Maine Avenue SW was the third most towed street in all of Washington D.C. in 2021, with an average of 50 tows per week. Each tow costs about $100, so by our calculations, that's $5,000 just in towing fees coming out of the pockets of drivers every week. 
It's important to note that the District suspended parking enforcement in March 2020 because of the COVID-19 pandemic, and didn't resume until June 2021. 
The DPW doesn't tow on the weekends, so our calculations were made by dividing 17 weeks' (June 1st-September 30th) worth of tows by a five-day work week.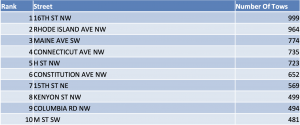 But at the same time, the tow trucks often block the second, and even the first lane of traffic when they pick up cars– creating even more hazards for drivers.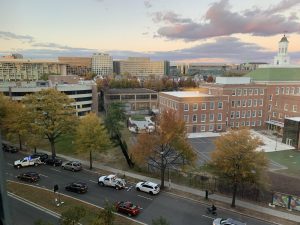 Even after the trucks have gone through and picked up a handful of cars, there's usually one of two left when the restrictions are lifted at 9:30 a.m. and 6:30 p.m. So, after all that, the right lane is perpetually blocked and can't be used. 
So why do officials go through all that effort to clear some cars if the third lane is never functional for commuters?
Drivers like Antoine Douglas, who got his car towed on Maine Avenue, said it's about the money. 
"Man, I'm sure they don't care about taking an extra $100 from us because we messed up parking," he said. "I didn't read the sign properly… but I think if they cared about the citizens, I think they would take some initiative, so we don't end up with situations like this… it gives a bad rap to the nation's capital."
Maine Avenue has long been targeted by parking enforcement. This became clear when a recent amnesty program went into effect across the District in June 2021. Under the program, drivers were enticed to pay old parking tickets and fines, without having to also pay additional penalties for being late.
Out of this program, the Department of Motor Vehicles made $931,200 in 17 weeks this Fall, just on Maine Avenue SW.  
The program was so successful District wide, Mayor Bowser extended it through Dec. 31, 2021.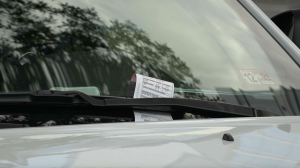 A clear street benefits everyone, so Douglas said the city should be helping drivers by making the parking signs more clear, not punishing them. 
"You look at the signs and it's a bunch of words that you're probably too busy or too occupied at the time to really read it over," Douglas said. "So you wing it, and you end up with your car towed like I did."
The Department of Public Works and the Department of Motor Vehicles declined repeated requests to answer questions about why Maine Avenue SW is never clear.
In response to ticket and towing concerns on Maine Avenue SW, The District Wharf Community Association told the Wash in a statement: 
"The Wharf highly encourages everyone visiting the neighborhood to use non-vehicular modes of transportation, including Metro rail, Metro bus, Water Taxi, and Bicycle. The Wharf also operates the free Southwest Neighborhood Shuttle which circulates between L'Enfant Plaza Metro, the National Mall, and The Wharf every 10 minutes throughout the day, every day of the year. You can learn more about transportation to and from The Wharf on our website at www.wharfdc.com/getting-here/"

-The Wharf Community Association
So at the end of the day, thousands of dollars are coming out of taxpayers' packets, revenue for the city revenue continues to grow, and the third lane is never open for rush hour traffic.