Dave Thomas Circle, a Northeast D.C. intersection named for the Wendy's restaurant at its center, died Nov. 15. It was approximately 36.
The Wendy's that made Dave Thomas Circle a circle — by quite literally and strangely existing in the middle of it — served its last customers Sept. 21. It "vacated the premises" Sept. 30, beginning the circle's protracted decline. The NoMa Business Improvement District bought residents Wendy's Frostys to commemorate the occasion. The circle succumbed to long-standing contempt during a community meeting where the District Department of Transportation announced its final redesign plans. It died at that moment.
An update on Dave Thomas Circle: We were informed today that the last day of operations for the Wendy's will be next Tuesday, & they will vacate the premise by 9/30.

Onward to a less confusing and safer intersection. Grateful for the advocacy of neighbors who helped us get here.

— Mayor Muriel Bowser (@MayorBowser) September 18, 2021
Dave Thomas Circle lay at the edge of the original 1791 L'Enfant Plan for D.C., which organized most streets into a grid, with streets named after states crossing diagonally. 
Florida Avenue, one of the streets that comprised the circle, used to be called Boundary Road. Parts of northeast D.C. were left undeveloped even after the city became the nation's capital. Planning did not prioritize pedestrians as the L'Enfant Plan had when Northeast D.C.'s population began to grow during the 20th century.
"When our roads started to change from community-centered roads to commuter-focused roads, it was redesigned to allow as many people as possible to come in and out of the city," said Conor Shaw, president of the Eckington Civic Association and owner of the Twitter account @fixcircle.
The L'Enfant Plan ended where O Street and First Street met at Boundary Road, now Florida Avenue. The Wendy's at Dave Thomas Circle's center was constructed in the mid-'80s. In 2010, DDOT made each of the streets one-way, a pale imitation of a true traffic circle. DDOT called it a "virtual circle," a euphemistic name for one of the most loathed intersections in the city.
The area will now be known as the intersection of Florida Ave NE, New York Ave NE, First Street NE and Eckington Pl NE — a jumble of street names resembling the confusion of passing through the circle, whether on foot, bike or car. It was ranked among the top 10 most hazardous intersections in D.C., according to DDOT.
The redesign "realigns" the intersection, adds turn lanes on New York and Florida Avenues, makes "high visibility crosswalks" and creates three public park spaces.
"It's a disaster zone," said one driver who crosses the intersection regularly driving to Maryland.
Construction on the circle will begin this summer. Plans indicate Dave Thomas Circle's grave will go unmarked.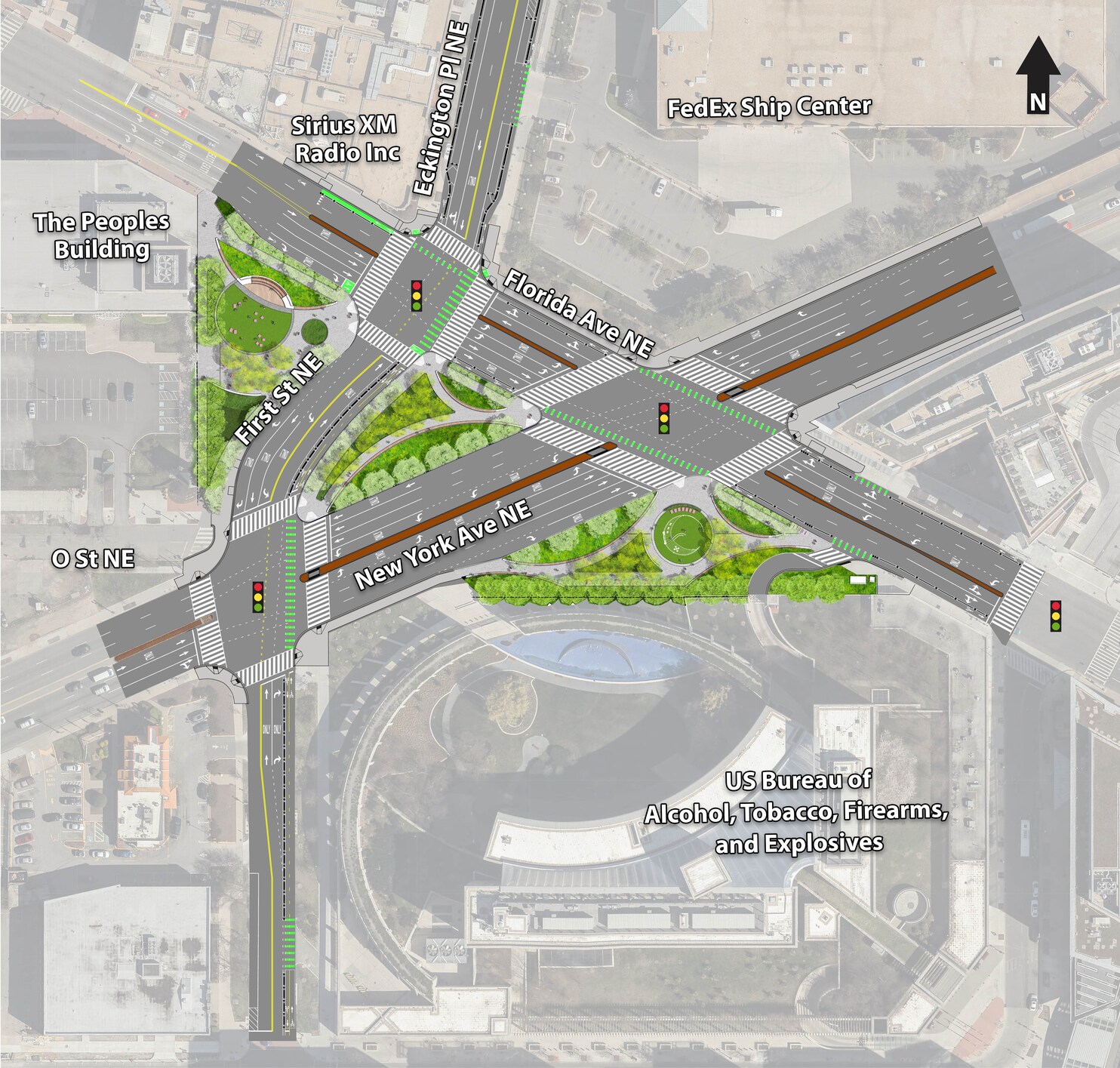 It includes "green infrastructure," according to Amanda Stout, DDOT's Deputy Chief Officer for Project Delivery.
"The real problem is car emissions, and we haven't done anything to address that," Shaw said.
Residents who attended the community meeting expressed similar criticism of the redesign. Despite the circle's death, the drivers, cyclists and pedestrians who traffic the intersection said the redesign does not do enough to make everyone safer.
"I consider it more of a rebirth than a death," said Thomas Luebke, secretary of the U.S. Commission of Fine Arts, a federal agency that has review authority over federal and D.C. government projects. The commission does not approve construction.
Others said they were unsure of how much the redesign would improve safety.
"This part of the city is quickly becoming one of the most dense residential and commercial districts. If all of the people who come to live and work in those buildings have cars, whatever changes you make to those intersections won't work," Shaw said.
Dave Thomas Circle, a tangle of asphalt, concrete and traffic lanes, left much to be desired when compared to the fountains, picnicking lawns and tree canopies of its prettier cousins, like Dupont or Logan Circle. The redesign's three planned parks will help combat the old image, according to DDOT's communications director, German Vigil.
"These three spaces will feature thoughtful, innovative landscape design to create great spaces for people to gather," Vigil said.
The Commission of Fine Arts disagreed.
"There's not a lot of spatial unity in what was proposed. There's a lot of smaller moves, like repetition of circles here and there," Luebke said.
The circles in the parks are meant to gesture at D.C.'s other traffic circles and connect several disconnected parcels, according to Luebke. But he said they do not do enough.
NoMa BID president Maura Brophy said the redesign will provide a place for people to come together.
"We will work to activate them," Brophy said. Brophy said activating a space was different from simply using it because activation entails a dedicated use, like a farmers market NoMa BID has proposed for one of the parks.
Still, community members said it was difficult to imagine gathering in these spaces if DDOT does not do more to protect pedestrians and cyclists.
Attendees repeatedly asked why DDOT does not plan to reduce the nine lanes of traffic.
"We can't really reduce the number of lanes," said Jay Smith, a DDOT consultant. Smith said DDOT conducted an analysis and decided not to try to reduce traffic.
The redesign plan includes a reduced speed limit, warnings and speed radars, but no physical changes to force drivers to slow down.
"We designed this intersection to be safer for all users," Stout said. But attendees at the community meeting said the redesign continues to prioritize drivers.
Dave Thomas Circle is dead. But its problems persist.