Teresa S. was relaxing on her back deck on the night of Oct. 6 when she heard gunshots. About a dozen pops rang out into the crisp night air in the direction of Watkins Elementary School, she said, less than a block away from her home.
"After the first four or five, I realized it wasn't firecrackers," Teresa said. "Then I heard screams."
According to the Metropolitan Police Department, 26-year-old Aaron Wiggins, of Upper Marlboro, Maryland, was pronounced dead due to the gunfire on a football field adjacent to the school in Washington D.C.'s Capitol Hill neighborhood. Just two days later, on the night of Oct. 8, 23-year-old Giovanni Lovelace, of Northeast, D.C., was killed on the 1700 block of Independence Ave. in a shooting that also wounded three others.
The slayings account for the third and fourth homicides within the boundaries of Advisory Neighborhood Commission 6B so far in 2021, and the first since May, according to MPD data. But in a neighborhood, city and country where the rate of homicides is on the rise, local residents say they aren't surprised by the sudden back-to-back incidents of fatal violence.
Speaking to ANC 6B commissioners and residents during a virtual meeting on Tuesday night, MPD First District Captain Tatjana Savoy said the shootings are representative of a recent, general increase in crime within Capitol Hill.
Incidents of robberies, burglaries, assaults and homicides in Capitol Hill have all seen upticks within the past month, Savoy said, and police are playing catch up.
Savoy said during the meeting that police in Capitol Hill will make strides in getting guns off of streets, "but then something else just comes along and smacks us in the face."
Yet the increase of fatal violence within Capitol Hill is the most visible aspect of the recent crime wave.
Between Oct. 12, 2019 and Oct. 12, 2021, the amount of homicides within ANC 6B more than doubled over the previous two year stretch, from four to nine, according to MPD data.
Homicides involving firearms in the area meanwhile more than tripled in the same time frame, from two to seven.
In regard to the shooting near Watkins Elementary on Oct. 6, Savoy said the incident is currently under investigation by MPD's violent crime branch. Wiggins and the suspect of the shooting were playing a game of pick-up football together, she said, when the suspect brandished a handgun and fired at Wiggins after an argument broke out between the two.
Savoy added that the firearm used by the suspect was recovered from the scene and that officers working the case are "making positive strives for an arrest."
ANC Commissioner Kirsten Oldenburg also lives about a block away from the field where the Oct. 6 shooting occurred. Unlike Teresa S., Oldenburg said she was asleep in her home when the shots rang out.
In an interview, Oldenburg said an increased police presence in the area may help to dissuade future incidents, but acknowledged that police cannot be everywhere within the neighborhood at once.
"I've known for years that there can be problems with pick-up games at the field, especially when there's large groups of people," said Oldenburg, who has lived in the same home for about 30 years. "But we really need to identify why the use of guns is so prevalent in our community."
Oldenburg emphasized however that while D.C. has seen an increase in crime in recent months, cities across the U.S. are struggling with the same issues.
Teresa Adams, a teacher's aid at Brent Elementary School who lives near Watkins, said the shooting is sad, but not shocking.
Adams, whose children used to attend Watkins, said she believes the effects of isolation and worsening mental health caused by the COVID-19 pandemic may have played a role in the incident.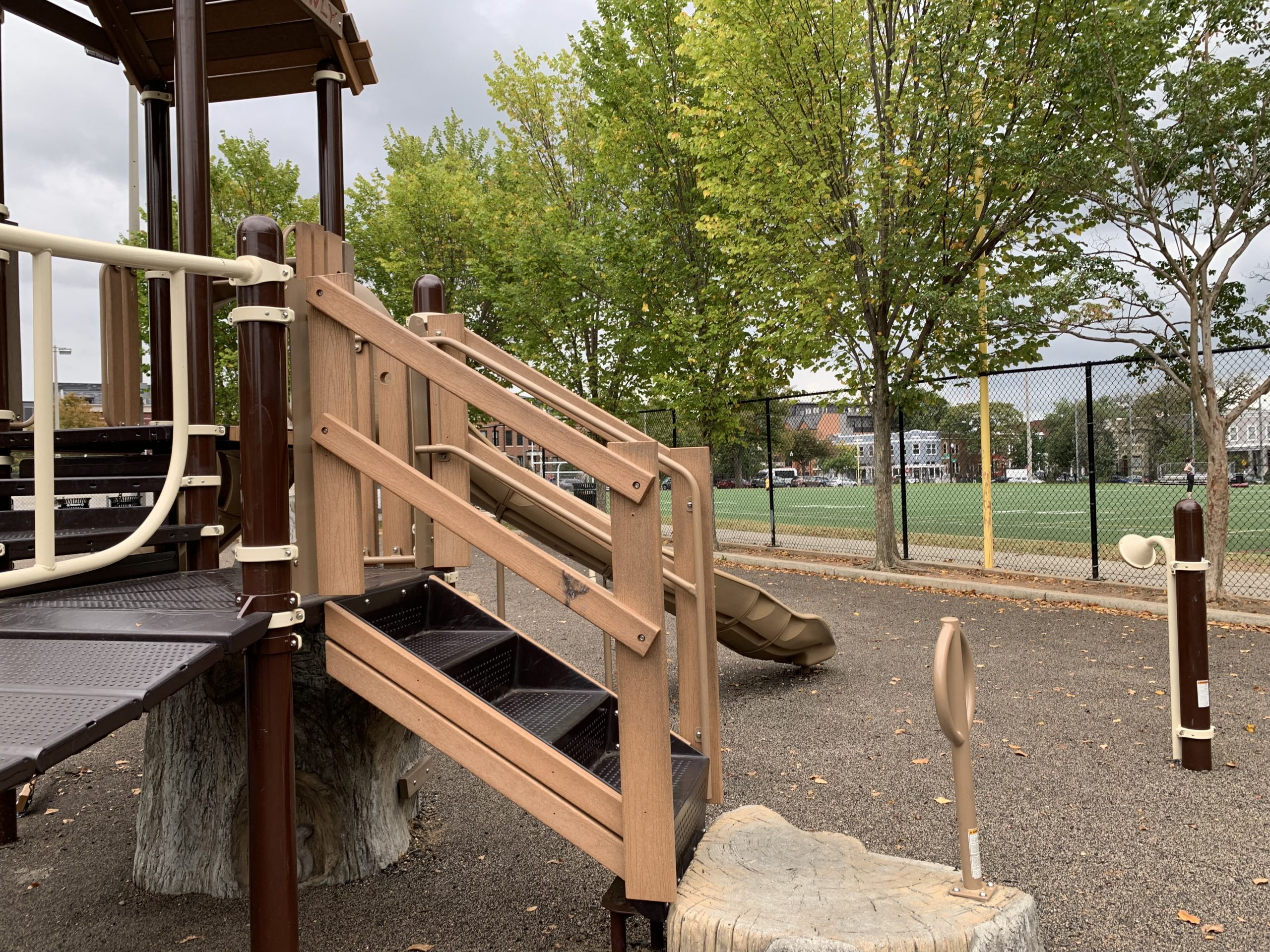 But, Adams said, the increase of violence in the district is palpable. Both her and her neighbor's car were hit by stray gunfire in recent weeks, she said. The shots shattered one of her rear-seat windows and riddled the chassis with bullet holes.
At the end of the day, she said, D.C. is D.C.
"I grew up on 17th Street, and back then even though there was crime there was a strong sense of community — people took care of each other. It's not like that anymore," Adams said.
Now, outside Watkins Elementary on Capitol Hill, "everyone knows to leave the playground when it gets dark."
Teresa S. agrees. She said she's lived in her neighborhood for about 12 years, and while she usually feels safe, she acknowledged that she's become slightly desensitized to crime in the area due to constant alerts from MPD and her Ring doorbell.
Teresa has no plans to move out of the neighborhood anytime soon – she said she enjoys living close to the school, in a normally nice, residential area.
But, she said, she does worry sometimes about neighborhood kids growing up around violence so close to their homes.
"Kids should be able to play without having this sense of danger," Teresa said. "It's sad – but it is D.C."