The Greater Washington Hispanic Chamber of Commerce recently took important steps to combat lending discrimination Latinx communities face, but there is still more work to be done, a Latino Studies expert said.
The Chamber of Commerce used to only use captions in their education webinar sessions, but they recently added live Spanish and sign language translations to create greater accessibility.
Robert Albro, research assistant professor in Latino Studies at American University, said this is a positive step forward because accessibility is one of the greatest barriers for the Latinx business community.
"There has to be good lines of communication," said Albro.
Albro noted that people already have to be well-versed in how to run a business.
Albro said during the economic crisis of the pandemic, many Latinx small business owners did not have those crucial lines of communication and prior entrepreneurial knowledge, which left many unprepared and consequently unable to receive the relief funds such as the Paycheck Protection Program— a loan backed by the U.S. Small Business Administration to help protect businesses during the pandemic crisis.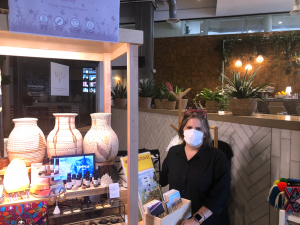 Tamara Barnabei, owner and founder of ARTTEPUY, said that even though she had some entrepreneurial knowledge prior to the pandemic, the process was still a challenge. She applied for the PPP loan in the first round, but she didn't get the full amount she applied for.
"When I tried to apply for all the grants and the financial help, I didn't have a full financial statement for one year and that's why for me it was very hard," Barnabei said.
According to Albro and Eric Hershberg's recently released study at American University, "Pandemic Relief for Latino Owned Businesses," only 7% of Latinx small businesses received the PPP loan during the pandemic compared to 83% of white-owned businesses.
Experts said there were many reasons for this dramatic number.
Grisel Saez, Director of Grants and Programs at the Greater Washington Hispanic Chamber of Commerce, said Latinx businesses cannot and did not get a loan because they were woefully unprepared.
She said they did not have their financials in place; most did not even have financial tracking software such as Quickbooks or spreadsheets. So when they would go into the bank to get a loan, they did not have the documents and paperwork they needed filled out.
"The pandemic, if anything, was a wake-up call that people should always be prepared."
Saez said they have not let up on their communication outreach and education efforts at the Hispanic Chamber of Commerce.
She said they currently have more people attending their sessions and are much busier compared to pre-pandemic.
Saez said she recently hosted a webinar about federal contracting, and over 1500 people registered compared to last year's 40 registrants.
Saez said education and outreach are crucial because small businesses need to understand the importance of numbers.
"Most businesses are very passionate about what they do, but they don't spend nearly enough time with the numbers," Saez said. "It doesn't matter how good of a product you have or how great of customer service you have if you can't make the numbers work."
Saez said for banks, small business loan applications are just a number. She said for banks to sort through the large amounts of applications, they need to look very closely at the paperwork– which includes tax forms, projection sheets and cash flow analysis.
Albro said Latinx business owners often disproportionately rely on friends and relatives and manage their businesses in informal ways. He said this consequently causes Latinx businesses to be unprepared financially.
Albro said it's crucial for Latinx businesses to have access to proper lines of communication and education programs like the Business Bootcamp at the Hispanic Chamber of Commerce, and a local bank or financial institution with a proper system in place to facilitate loans.
While conducting his research at American University, Albro said he frequently heard that some banks provided Latinx businesses with incorrect or contradictory information.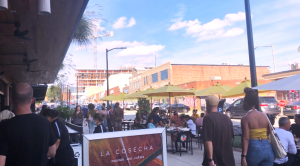 Carolina Furukrona, CEO and Founder of NOVA BOSSA, said she applied for a PPP loan during the first round of the pandemic. Because of a massive mistake made by her bank,  she ended up only receiving a quarter of the money owed to her.
"So basically, it was almost nothing in financial help," Furukrona said. "If I wasn't self-funded, I would never have made it."
Saez said understanding business processes like loan applications is very hard especially during an economic crisis, and that's why education is so important.
"At the end of the day, you have to have fiscal responsibility, and that is something that has to be taught. It's not something that comes easy for most," Saez said.
Albro said moving forward, one of the key ways to address the disproportionate challenges Latinx businesses face is to increase accessibility to education efforts and make an essential distinction between education and communication.
He said Latinx communities often have preferred channels of communication such as meeting at their place of business, text message, Facebook and listening to Spanish radio, and it's important to know where these communities are and how to reach them.
Saez said the Hispanic Chamber of Commerce is constantly working on improving its outreach. She said their efforts currently include their newsletter list, social media marketing and working with partner organizations such as the Small Business Administration, the Department of Community Housing Development and the Mayor's Office.
"People just need to speak up, raise their hand and be counted and take advantage of the resources. They're there. They just need to take the time to do it," Saez said.