The tombstones at Congressional Cemetery at first unfold in tidy rows like any other graveyard. But a closer look reveals dog tails weaving among the graves, children skipping down the aisles and beehives buzzing with activity, sitting on top of family crypts.
From off-leash dog walking and ghost tours to goat yoga programs, Congressional Cemetery on E Street SE in Capitol Hill appears more like a park than a place where relatives are laid to rest. The resemblance is not accidental, according to Jackie Spainhour, Congressional Cemetery's incoming new president.
"I've never seen its like before," Spainhour said. "I think the cemetery is a neighborhood staple. It really works as an anchor for the Capitol Hill community."
Spainhour, who has acted as director of the Hunter House Museum in Norfolk, Virginia, since late 2015, said she intends to keep the spirit of community engagement at the cemetery alive once she takes over for outgoing President Paul K. Williams on Nov. 1.
Spainhour was selected following a months-long search for Williams' replacement. After leading the cemetery for nearly a decade, Williams will step down in October to become superintendent of Oak Hill Cemetery in Georgetown.
Spainhour said the staff and board at Congressional Cemetery, which she described as feeling "like a family," also personify that community spirit. Many live in Capitol Hill or nearby, she said, while a majority of board members own plots in the cemetery for when they shed their own mortal coils.
Though already attracted to the macabre, Spainhour said that what truly drew her to the cemetery was her interview with the Rev. John Kellogg, rector of Christ Church, Washington Parish, which owns the cemetery.
According to Spainhour, Kellogg told her that he envisioned the cemetery as one of "radical welcome." As a mother to a 6-year-old son with autism, Spainhour said she was sold immediately.
"I want to reach out to, and create more programming, for people with intellectual disabilities because I think the cemetery can really be a safe space for them to be without judgement," Spainhour said of her presidency. "The cemetery is a calming place for everyone, but I think it's especially well positioned for people like my son to be and learn in a calm and serene environment."
Yet the cemetery, founded in 1807, wasn't always such a community hub.
According to Director of Sales and Funerals Crystal Palmer, the cemetery was originally the final resting place of many congressmen and their families during the early 1800s. By the late nineteenth century, the cemetery had become neglected and overgrown.
By 1997, the cemetery was in such disrepair that it was added to the National Trust for Historic Preservation's list of most endangered historic sites, according to the cemetery's website.
Yet according to Palmer, the local community knew that the cemetery was full of potential.
Palmer said that what started as a group of concerned citizens cutting the cemetery's grass themselves in the early 1990s eventually became the cemetery's K-9 Corps, a dedicated group of hundreds of members who pay an annual fee to walk their dogs off-leash on cemetery grounds.
Palmer said the K-9 Corps is much more than just a weekend program for enthusiastic locals, however.
The more than 900 dogs that make up the corps can be seen walking the grounds of the cemetery from dawn until dusk, seven days per week, except during funerals and Saturday afternoons for family visits, Palmer said.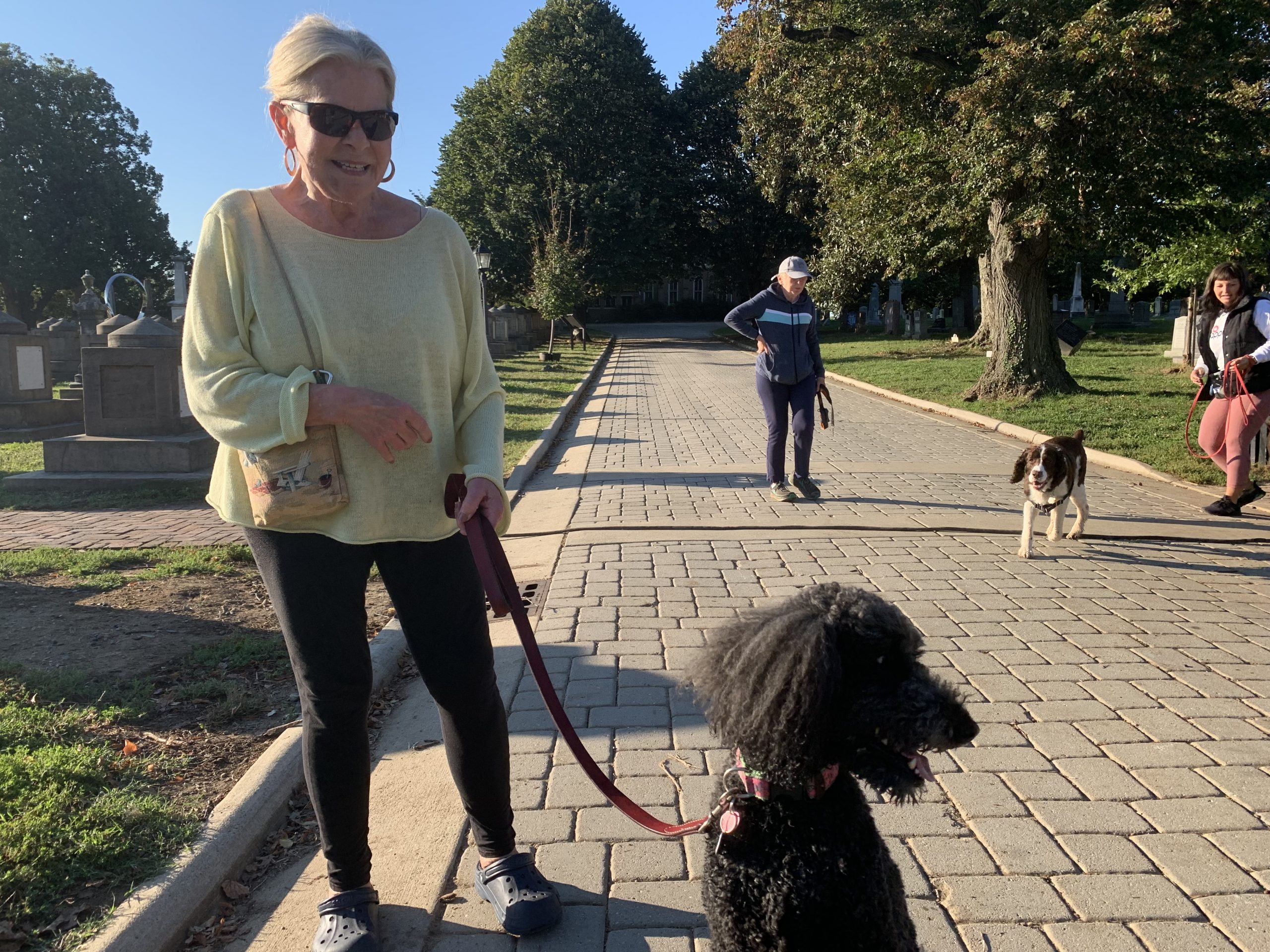 Membership fees from the program currently make up about 25 percent of the cemetery's entire operating budget, according to Palmer, and the waitlist for membership can swell to hundreds of individuals depending on the time of year.
"Our membership here allows the cemetery to thrive, and for the dogs this place is like Mecca," said Phyllis Young, a K-9 Corps member who has walked her dog Samantha in the cemetery for the past six years. "It's great for dogs, great for socialization and I think it's great to tell the people buried here that they aren't forgotten."
Spainhour echoes the sentiment.
In addition to greater community outreach and developing more robust fund-raising initiatives, Spainhour said one of her main goals as president is to revamp the cemetery's volunteer program for stone preservation.
Preservation is difficult, Spainhour said, and often expensive. To combat the cost, Spainhour said she hopes to draw in experts who can assist with the cemetery's preservation program long-term.
Although she initially intended to stay at the Hunter House Museum, Spainhour said her ambition eventually outgrew the facility. In Congressional Cemetery, Spainhour said she feels she found a historic site large enough where both she and it can thrive when she takes over as president next month.
"I don't want to be a placeholder, I want to stay as long as I can be helpful and relevant," Spainhour said. "But it's also important to remember that this truly is a special place. It feels like a duty to keep it going for the neighborhood."