Around 80 people gathered outside the Los Angeles mayor's mansion in Windsor Square Tuesday morning to protest Garcetti's policies and hope to dissuade the incoming Biden administration from including the mayor in upcoming cabinet positions. 
The demonstration began at 9 am when BLM organizers addressed to the crowd their grievances against the mayor.
"We condemn Mayor Garcetti's policies that have been inherently anti-black," said BLM organizer Tabatha L. Jones Jolivet.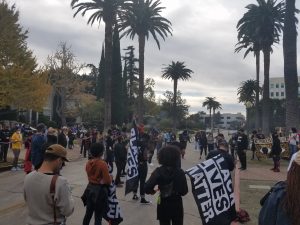 Jolivet told The Wash that the incoming Biden administration is also eyeing the mayor for a potential cabinet appointment. According to her, Garcetti is being considered for a HUD position or the FTA, two policy areas that he has "entirely failed our city" on. 
"We cannot stand by knowing what we know about his policies here locally to let him set policy at a national level," she said. 
According to a NPR report this past summer, homelessness in the city has increased by over 14% in just the past year, marking the third time in four years it has grown. 
The increase has come amid rising housing rental costs and lack of adequate, affordable housing in the city while the coronavirus pandemic has left many struggling to make ends meet. 
Following the day of protest, it was announced that Ohio representative Marcia Fudge would be appointed the new HUD secretary.
Meanwhile, Jolivet said that many working people don't have adequate access to transportation services, and "that can't be something that's rewarded with a national role."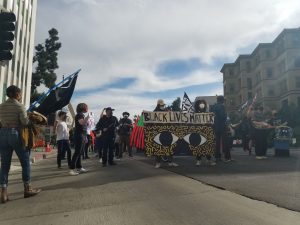 "There's no support whatsoever. They're being tone-deaf, they don't give them any help," said Rodda, another protestor at the demonstration.
The protest remained peaceful during its duration and lacked a police presence, but it hasn't been this way every day. 
According to the Los Angeles Times, police "clashed" with peaceful protestors on Sunday after a protestor continually used a blow horn, leading to a "skirmish" where police beat the crowd with batons.  
The LAPD "viciously attacked us, without warning," said Jolivet, adding that they were "clearly there to make an arrest and engage in repression."
Officers arrested Jamie Penn, the Sub-District 3 representative for the Wilshire Center Koreatown Neighborhood Council, for allegedly trying to remove someone from police custody. However, police released her later that day.
Several public officials have denounced the use of force by police during Sunday's protests. Garcetti, however, did not make any sort of statement or comment about the event. 
"His silence says everything," exclaimed Jolivet, adding, "It looked like the kinds of images people are used to seeing when you look back at the 1960s." 
Another protestor, Kaitlyn, said she has been participating in demonstrations since the summer against the government that has "wreaked havoc on a lot of L.A."
"A lot of lower-income and colored communities are affected by Eric Garcetti and Jackie Lacey's policies," she said. 
Jackie Lacey was the city's district attorney until she was voted out and replaced with progressive George Gascón, who ran on a reform platform.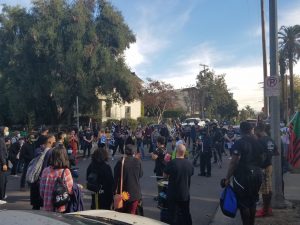 Gascón was sworn in on Monday and has already begun to make policy changes, including an end to cash bail, a ban on prosecutors seeking enhanced prison sentences and showing leniency to many low-level offenders.
As the crowd marched and chanted down from the mayor's mansion to Harold A Henry Park, several protestors banged on drums and improvised percussion instruments.
Rodda said she's been at the demonstrations every day and that despite the seriousness of the community's grievances, it isn't all "just bitter feelings, it's like a celebration."
BLM and other allied organizations have announced they will continue to turn out every day until Garcetti is no longer a contender for a cabinet position.