Pepe Montesinos immigrated from Oaxaca, Mexico, to Washington, D.C., in 1965, and 10 years later his American dream took root in Adams Morgan. For 40 years, his restaurant Mixtec was a neighborhood staple, serving traditional Mexican food as one of the District's first taquerias.
In 2014, Mixtec died out along with other restaurants due to rising rent. Epic Philly Steaks, Mixtec's replacement, didn't last long itself. The restaurant closed earlier this year. And now, the storefront at 1792 Columbia Rd. NW may see a franchise, NYC Bagel and Sandwich Shop — if it doesn't fall victim to a scam first.
'Unhappy franchisee'
Marketing veteran Sean Kelly spent 30 years in the industry with experience advertising on behalf of companies looking to franchise.
"There's an overarching sense of 'you always promote that franchises are good and you never criticize any franchise no matter how bad they are,'" he said. "I was always opposed to that."
As a marketer, Kelly aims to show "people are legitimate competitors," he said, but when he came across NYC Bagel franchises, he noticed a trend that he "just could not believe." 
They would open and then, months later, abruptly close. Soon thereafter, a lawsuit would be filed against the franchisors. 
He joined a "400 blog network" monitoring franchising abuse and started to investigate NYC Bagel.
With his experience guiding his intuition, Kelly investigated the NYC Bagel franchise and its variations over time, all the while curating the evidence. 
He was alarmed by the history and behavior of those behind the scam. As his investigation grew, Kelly said he started receiving information from scammed people — and threats from NYC Bagel.
"It was open season and there's no sheriff in town," Kelly said of his findings.
His private investigation into the franchise has spanned well over seven years, with every peculiar detail leading him further down the rabbit hole.
When he started documenting the information online, Kelly said "more and more people started reaching out, and I didn't know how widespread the scams were, how unethical the practices that were administered."
The Process
Kelly said the systematic fraud started off simple enough. Franchisees were lured with a franchise disclosure document that promised fast and growing profits regardless of credit score — all for the price of a refundable fee to finalize the agreement.
"Qualified owner operators will need a minimum of $75,000 in available capital for each $120,000 to $208,500 location they wish to develop," the NYC Bagel website states. 
But, according to several legal documents, in some cases the fee was as low as $19,000 if it meant sealing the deal.
In Bergen County, New Jersey, a 2013 case showed franchisee Mohamed Elsaid paid his initial fee to NYC Bagel in installments. When he couldn't make the whole sum, he wasn't issued a refund despite the contract with NYC Bagel ensured a complete refund when a full fee couldn't be paid.
In the next step, a franchisee would notice that the weekly earnings at the bagel shop aren't as high as promised. And even when the earnings are low, a good portion went to paying the franchisor. The payments and the debts would start to pile up.
Another 2013 case, also from New Jersey, shows couple Gordon Cunningham and Christine Mason were victims of a "fraudulent and incomplete franchise disclosure document," which caused them to lose "a substantial amount of money."
The couple were told "stores were earning $10,000 to $15,000 per week in revenue."
The couple visited a store in Parsippany, New Jersey, to see if the earnings were true. That store was making $10,500 per week at best. The couple decided to franchise anyway with a fee of $27,500.
The couple did not earn more than $4,900 per week. By the time their franchise failed, they lost approximately $230,000 and were almost $150,000 in debt.
The New Jersey couple found out that Dennis Mason was in the middle of another franchise scam lawsuit when they accepted his offer. But, only after filing their own lawsuit did that information arise.
In the third step, NYC Bagel would suggest franchisee's take out a loan from a small business administration to make debt collection easier. 
"To help protect franchisee's investments, a cost-free third-party project funding assessment will be made available," as stated on their website.
As the debt would start piling higher for the store owners and with a third-party in charge of collection, the franchisors would disappear.
The franchisee, stuck in this income-to-debt loop, would then be forced to close down shop.
Out of 58 stores monitored, Kelly reported 55 stores have closed or left the NYC Bagel brand and then closed. 
When a franchise failed, Kelly said, NYC Bagel then deflected blame to the franchisee.
When Kelly asked NYC Bagel about the closure of a particular store in Tracy, California, NYC Bagel told him the franchisee "went to pieces" because her husband died, he said. 
"In fact, the husband died three years earlier," Kelly said.
It is not unusual for business entities to suggest third-party collectors while being the main creditor. However, this can lead to predatory behavior against the franchisee because collectors can enforce payments with lawsuits.
The Consumer Financial Protection Bureau, a government organization that records consumer data, notes their largest source of consumer complaints per month is debt collection. 
Additionally, the Federal Trades Commission states consumer harassment by debt collectors is illegal given the Fair Debt Collection Practices Act, an act aimed at protecting consumers from abuse.
The fear of facing lawsuits, which are costly themselves, may keep franchisees reluctant to take legal action against NYC Bagel, their creditor. 
And that refundable fee that could help out a struggling franchisee? It's not always paid back. Washington state's Department of Financial Institutions led a legal investigation into NYC Bagel franchising violations. It found seven out of 10 lawsuits resulted with refunded fees.
The scheme and its actors
Before it was NYC Bagel and Sandwich Shop, documents show founder and CEO Joseph V. Smith ran the company under the name NY Bagel Café. And before that, Smith ran it under NYC Bagel Café and Deli.
Smith's right-hand and chief salesman is Dennis Kenneth Mason, who has used multiple fake names. A Virginia case reported Mason to have used the alias Keith Samuels. 
Kelly reports Mason has used five different aliases so far, including alternative spellings of his name and going by Anthony Stewart.
Both Smith and Mason have declared three known bankruptcies among them, which Kelly believes is a way to "fold over" when it comes to paying back franchisees. The latest bankruptcy was filed in 2009 by Mason.
The bagel company has accrued multiple lawsuits in several states over the years. Smith, Mason and NYC Bagel and Sandwich Shop were issued a cease and desist in Washington state, banned from business in Virginia and Maryland, as well as having faced hefty penalties in other lawsuits.
In Virginia, a 2016 verdict found New York Bagel Enterprises, Inc., guilty of fraud. The state penalized the bagel company as an entity and each of its owners, individually, to pay $225,000 each — for a total of $675,000. The case also ordered all three parties to pay back the fees to their franchisees and to pay the court $20,899.33 for their investigation.
The case also "permanently enjoined" the bagel company and the assailants from registering or participating as a franchise in Virginia.
The year before, in Maryland, the bagel company was found to be selling franchises two years past their trade permit's expiration. The case ordered Smith and Mason to stop all franchise trades unwarranted by Maryland law.
As for the 2017 case in Washington, the legal findings cited Mason as a defendant in "at least 10 commercial lawsuits," with seven cases resulting in franchisees being refunded their initial fees. 
The findings also showed franchise opportunities had been advertised on Craigslist with a franchising fee of $27,500. Additionally, findings showed Mason was franchising illegally without a license and that NYC Bagel had violated the state's Franchise Investments Protection Act, a law set on protecting franchisee from financial abuse. 
There are 13 states that legally require franchise registration. Washington, Virginia and Maryland are three of them. The District of Columbia requires no registration.
A background check on Dennis Mason was conducted by The Wash through TruthFinder, a public record search service. Mason is listed as the president of two business: Franchise Ventures, Inc. and Franchise Unlimited, Inc.
Although the service disclaimed little confidence in Mason's criminal record search, there were multiple assaults, a felony and a forgery conviction listed. Whether the assaults were truly his is unknown and the felony charge predates NYC Bagel's activities.
However, on Oct. 31, 2014, one Dennis Mason was convicted of forgery by a New Jersey Court. Between 2013 and 2015, legal records show NYC Bagel faced multiple problems with the law in all New Jersey, New York and Maryland.
A background search was conducted for Joseph V. Smith as well. His name wasn't found on the database, and TruthFinder has an "opt out" option.
This investigation could not find Smith in multiple other databases either.
The third-wheeling oddity
Alongside Smith and Mason, a third player exists: the bagel supplier.
Davidovich Bakery in New York is the exclusive supplier of all NYC Bagels, and its owner is Marc Fintz. 
When Kelly was asked if he had come across Fintz, he scoffed and said to look up Marc A. Zirogiannis — Fintz' original, legal name.
On TruthFinder, Zirogiannis had a verified name but no criminal record history at all. On another public records search platform, SpyFly, he had no criminal record either. However, SpyFly did show an October 2016 bankruptcy discharge for Zirogiannis, possibly used to alleviate debt. 
SpyFly also showed seven Uniform Commercial Code filings, also known as a UCC-1, a method that allows creditors to notify other creditors about a debtor's assets being used as collateral.
One way a UCC-1 can be used is issuing it as a security agreement between a lender and a small business. The lender uses the filing to place a lien on, for example, inventory or equipment of a small business.
In exchange, the entity that files a UCC-1 can ask the small business to take out a loan. If the business fails to pay back the loan they just took out, that party can't claim what's part of a UCC-1 file.
Zirogiannis filing a UCC-1 multiple times means he was often in a lending position with securities placed on special interests of those who owed him money.
Despite having a hard-to-trace record, Zirogiannis' name did show in news archives.
On July 8, 2009, Zirogiannis was indicted for his part in a $100 million mortgage scheme that involved a range of financial juggernauts like AFG Financial Group Inc., Wells Fargo and SunTrust mortgage among others.
Zirogiannis entered a guilty plea on Nov. 24, 2009, and was charged with grand larceny. 
Since Zirogiannis was a practicing attorney with a felony on his record, he was automatically disbarred. Kelly said Zirogiannis served time in the infamous Rikers Island prison system for his offence but no evidence could be found on where Zirogiannis served his sentence.
Zirogiannis is also an author of multiple books, with titles ranging from taekwondo help books and Nazi history to crime drama fiction.
Being an experienced author, Kelly said Zirogiannis may be behind several blog posts aimed at discrediting investigations into the NYC Bagel scam. Kelly, admitting that "some of the stuff Zirogiannis wrote about me was pretty clever and funny," also pointed to a post titled "the rise and fall of Sean Kelly."
He thought it was another "public relations tactic" and paid it little mind initially. However, one day, Kelly said, he received an anonymous package shortly after discovering Zirogiannis' identity.
Inside the package was a book titled "the rise and fall of H & H Bagels," authored by Zirogiannis. 
The book is a memoir detailing Zirogiannis' time watching a bagel empire rise and crumble while he worked as a consultant for founder and then-owner Helmer Toro. Kelly suspects that neither Smith nor Mason are the masterminds of the franchise web, rather Zirogiannis is.
Zirogiannis is said to have spent jail time with Helmer Toro, who was convicted of an unrelated bagel fraud case and spent 50 weekends in jail. Toro was charged with grand larceny for pocketing more than $500,000 in employee taxes. 
The Rise and Fall of H&H Bagels' Amazon profile, posted by Zirogiannis himself, describes Toro's bagel baron history as a "fulfillment of the American dream," with "drama and decadence behind the scenes."
Zirogiannis also described the author the book, himself, as, "the one man who lived through it all — its National Business Manager and right hand to the man at the top of the H&H Empire."
Smith, Mason and Zirogiannis did not reply to multiple media requests sent by The Wash.
Franchising and the American Dream
Like Pepe Montesinos, whose restaurant Mixtec operated for 40 years at the same address that may now see a NYC Bagel franchise, Amin Hilal is an immigrant too.
Hilal, a former Syrian refugee from Turkey who migrated with his Arab-American wife to Washington, D.C., said franchising would be a good start toward an American dream.
For Hilal, a franchise like the NYC Bagel and Sandwich Shop can come with financial promise — or ruin. 
Franchise Direct, a platform aimed at connecting franchisors with prospective franchisees, cites multiple reports on the healthy gains of the industry. 
Franchising is simple and sustainable.
On the other hand, pyramid schemes and credit rackets that target vulnerable groups are also rampant in the franchising world. The Federal Trades Commission recorded a total of 661,938 fraud reports made in 2018 alone, 20% of them targeting people aged 60 and above.
And, Sean Kelly said some of the scammed NYC Bagel franchisees depicted a pattern of two additional targeted groups: U.S. veterans and immigrants.
When asked how he would react to a similar scheme, Hilal said financial distress and "being cheated" wouldn't only "create a sense of disillusion," it would possibly create "an imitated behavior."
"If cheating people is how the American dream is done, what does that teach immigrants like me? It would make me want to cheat them back, or cheat someone else," he said.
Adams Morgan's unclear future
The permit for the NYC Bagel store in Adams Morgan, verified by DC's Department of Consumer and Regulatory Affairs' Permits Division, was issued to Spirit Investment Group.
There is no clear evidence of the relationship between NYC Bagel and Spirits Investment Group other than a franchise deal.
"Cases like these are easy to defend as long as it doesn't reach the state's attorney's office," said criminal defense lawyer Christian Hatfield. "And if they do, hard evidence doesn't always stick."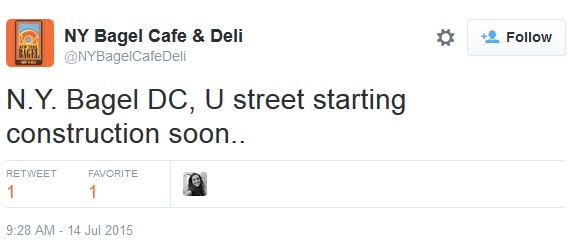 Based in New Mexico, Hatfield often takes cases that require representation in other states. He also added that "political connections" are usually the "big indicator," saying "it's easier to get away with something if a politician has your back."
This investigation did not find ties between the people mentioned and political groups or figures.
As for the future of the Adams Morgan location, Kelly doubts it'll ever open. In his research, he said two stores in D.C. have been declared before and neither opened — one on U Street and the other said to be in Georgetown.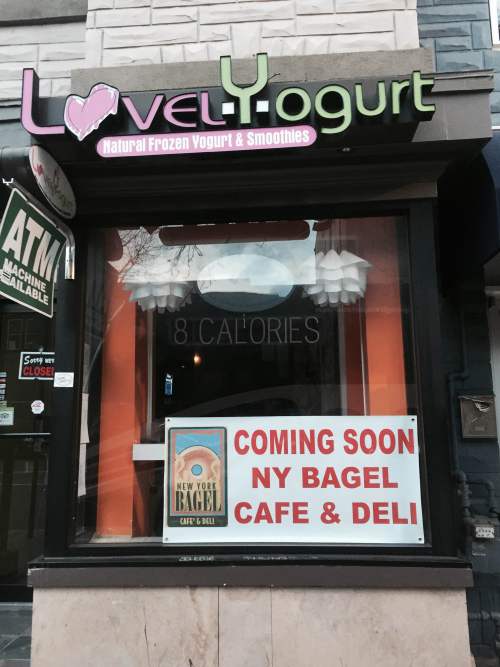 Adams Morgan resident Autumn Anthony said a New York style bagel shop would be highly unlikely to gain much attention in Adams Morgan anyway. Anthony pointed to local favorite Bethesda Bagels and So's Your Mom.
"So's Your Mom is a legit New York City deli, it's not in the name but you'll see it when you're there," she said. "I doubt people would let it slide if a store opened up and claimed it was 'New York style' then turns out it isn't."
As for Hilal, his aspirations to run and own his business still remain. He already has an idea: a coffee shop with a stage where different people share stories on culture and identity. 
He would call it "hakawati," an Arabic word that translates to storyteller.