Arlington County's local government ensures that its environmental efforts are known to the community at large.
Its environmental services department readily broadcasts that the county is ranked at the highest level by Leadership in Energy and Environmental Design (LEED), the only community in the nation to do so. Bike lanes line the streets across Arlington too, a sign of its commitment to eco-friendly transit.
As residents, businesses, and local government ready themselves to welcome the multinational tech giant Amazon into Northern Virginia, some activists struggle to reconcile Arlington's sustainable future with the company's environmental impacts.

Amazon's environmental and economic footprint in Northern Virginia spans far past just HQ2 – its impact on the region will include data centers, shipping facilities, office buildings, and thousands of employees once HQ2 is completed.
Amazon's inconsistencies on environmental commitments are nothing new – something that has long been evident to some of its employees. The internal group Amazon Employees for Climate Justice has voiced its concerns about the companies environmental habits for years. 
John Mixon, a former Amazon employee and member of the group, has watched the company's internal environmental strategy shift over the years.

Mixon's initial concerns came from what he calls "greenwashing," a practice where companies provide a false impression about how a company's products are more environmentally sound. 
"They try to promote good-intentioned actions for employees around recycling and composting," said Mixon. "But, they weren't really doing anything on the subject of climate change." 
A representative from Amazon refuted Mixon's claims, saying that "Amazon has been committed to sustainability for many years." He pointed to the company's pledge to meet tenants of the Paris Agreement 10 years early, announced by founder and CEO Jeff Bezos in September 2019.
"We're done being in the middle of the herd on this issue—we've decided to use our size and scale to make a difference," said Bezos in a press release announcing Amazon's latest effort. Mixon believes that this change in tone would not be possible without his group's internal pressure campaign. 
Still, Amazon Employees for Climate Justice believes that these environmental moves on the company's behalf are only a "long overdue" first step. 
Both Mixon and local Sierra Club chair Rick Keller point to Amazon's massive cloud computing centers in Northern Virginia as a place where environmental improvements are imperative. 
Keller says that his subgroup, along with environmental watchdog Greenpeace and another group from Loudon County, are working to pressure Amazon into purchasing renewable energy practices for Amazon Web Services, or AWS, which the company has not done since 2016. 
Greenpeace reported previously that AWS's "continued lack of transparency and its rapid growth in Virginia and other markets largely served by dirty energy" are harmful to the local energy economy. 
Rick Keller heads the largest local subgroup in the Virginia Sierra Club. Keller's group championed Amazon's foray into the D.C. metro area, viewing some of the company's shortcomings as "tradeoffs" that could bring greater environmental growth to the region.  
For example, Keller believes Amazon will help combat Northern Virginia's housing crisis by encouraging dense, environmentally-friendly housing in Arlington and Alexandria. 
By the end of 2019, housing prices in Arlington County are expected to jump more than 17 percent, a number that far exceeds previous modest estimates from the Northern Virginia Association of Realtors and the George Mason University Center for Regional Analysis.
Keller's group hopes that the boom in local investment will draw funds towards affordable housing practices throughout Northern Virginia. 
Keller's optimism on Amazon's net environmental positive has faded in light of more recent developments, like the company's announcement of new environmental standards for buildings that would fail to meet Arlington's Community Energy Plan, an environmental agreement that has been fiercely debated by local activists for the past three years, and the company's own Climate Pledge. 
Despite the local Sierra Club's concerns, the Arlington Department of Environmental Services remains proud of its strides towards sustainability. 
The Arlington Community Energy Plan sets a county-wide goal of becoming carbon neutral by 2050, pushes government operations to achieve 100% renewable electricity by 2025, and hopes to make sustainability available to every member of the community. 
"Both sides are working to transform the Pentagon City site from a block of vacant warehouses into two new LEED-certified buildings, new retail space for area businesses, and plenty of open space for the community to enjoy," wrote a spokesperson from the Arlington County Department of Environmental Services in an email to The Wash.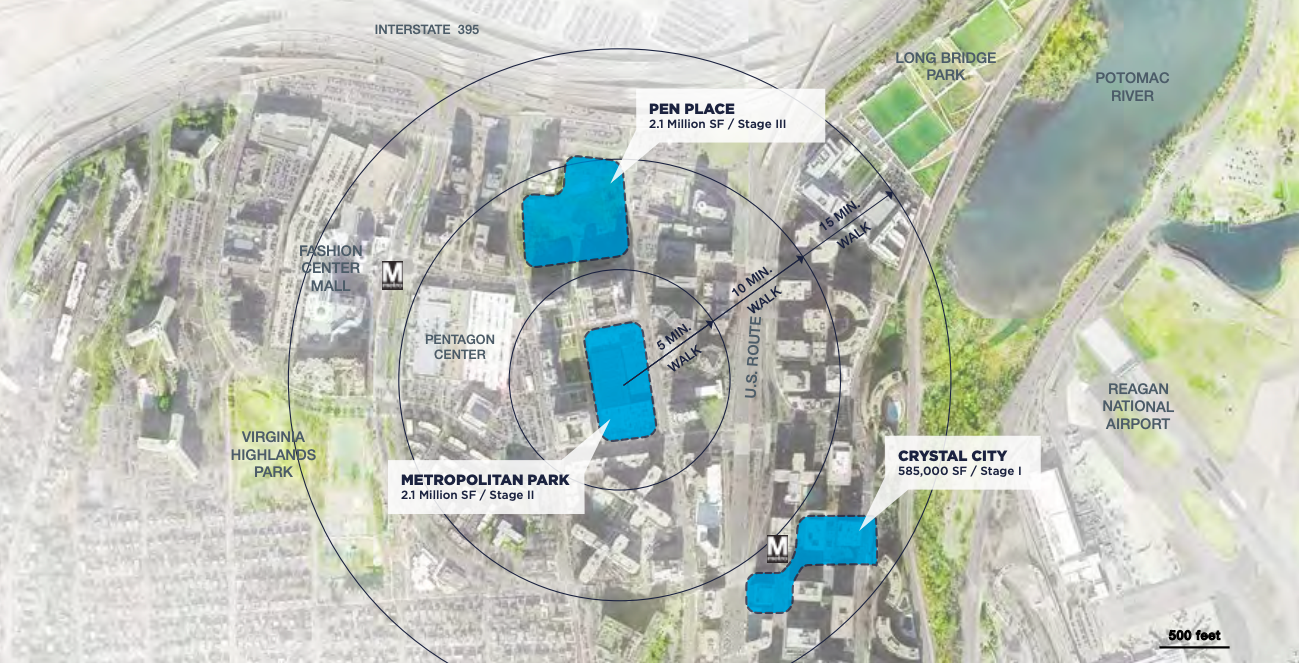 Discrepancies between plans and realities have not discouraged Keller or the Virginia Sierra Club from pursuing important conversations with Amazon and Arlington Count or giving the "good people with the same goals that we have for the environment" at the Arlington County Department of Environmental Services the benefit of the doubt. 
Mixon from Amazon Employees for Climate Justice encourages that kind of action and persistence in the face of Amazon's arrival. 
"I think that that the community must hold Amazon to the highest standard possible," said Mixon. "They must make sure that Amazon builds and invests to make sure that its a zero impact investment for the company."