Brightly colored tents in all shapes and sizes, mattresses and bedding line a small bike lane around the corner from the M Street underpass, a few blocks from the NoMa-Gallaudet Metro Station. People are standing around talking and idling as they wait for public works trucks to come through and sweep the street. In a few hours, the people clustered on the sidewalk will move the tents back to the underpass — the street that many of them call home.
It's a ritual that happens every couple of weeks as the city conducts sweeps of homeless encampments throughout the city, and with particular frequency in the three underpasses on K,L,M streets in NoMa. 
The sweeps — known by the city as by the bureaucratic name of "encampment protocol engagement — are based on a law banning camping in the city. 
In practice, however, people move their stuff for a couple of hours and then move back, sometimes complaining of lost possessions. The sweeps have received increased scrutiny in recent months as both homeless advocates, community residents, and business groups question their effectiveness.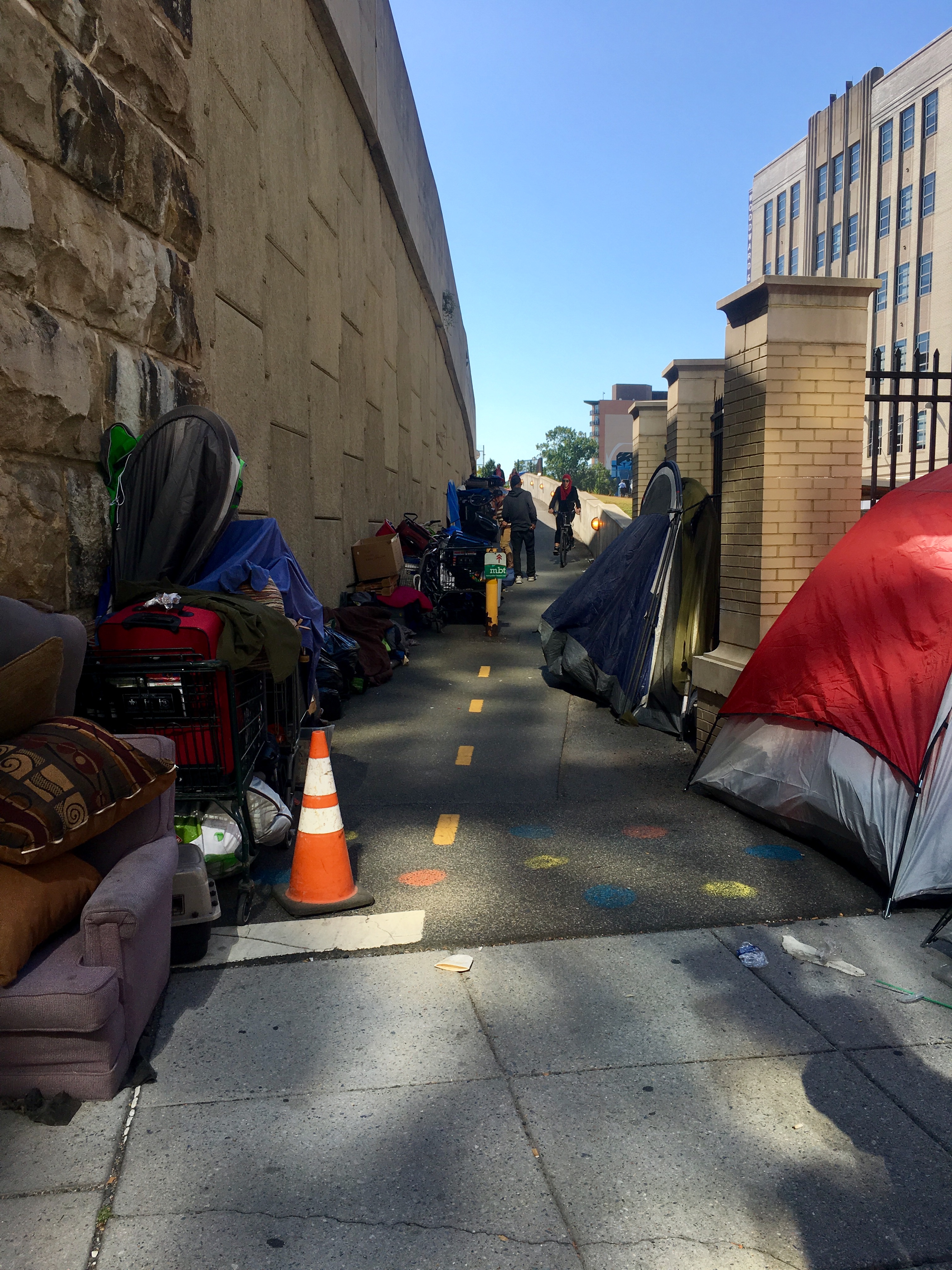 When the encampment clearings take place, the homeless move their belongings just a few feet away from the underpass, now occupying another area that residents use as bike lanes. 
Even though the city has conducted at least 98 such sweeps in 2019, the number of tents in the encampments in NoMa have doubled between summer 2018 and 2019, according to Aaron Howe, a PhD student at American University who is conducting an ethnography of the encampments.
"It's a waste of time," said Michele Hydier, an on and off encampment resident. She said that the city could still clean the streets, but allow people to move their tents to one side. "The people that live in the tents should be responsible to clean up the trash," she said. 
The city is currently fighting a class action lawsuit from two women who say that the city improperly disposed of their belongings during an encampment sweep.
Ann Marie Staudenmaier, a staff attorney with the Washington Legal Clinic for the Homeless, described the encampment clearings as "counterproductive." She said that people often skip work or doctors appointments to move their tents, and that having the same people who are doing outreach show up alongside the cleanup crew can undermine trust. "The stress of having to deal with this every couple weeks really wears on people."
Individuals experiencing homelessness are drawn to NoMa in part because of the nearby access to public bathrooms and city services. Individuals who are homeless have increasingly moved into tents in recent years, a fact which can improve their safety but which also makes homelessness more visible and can make them a target for sweeps.
Right now, no one seems happy with the encampment clearings. Even as homeless advocates argue that they are an unnecessary and humiliating ritual, some business groups and local residents also think they are a waste of time — but for different reasons. They would like to see the city adopt more aggressive solutions to clearing the space for pedestrians.
Earlier this summer, the NoMa Business Improvement District set off a firestorm when it published a controversial letter demanding city action on the encampments, which it described as a public safety hazard for pedestrians in the area. In its letter, the business group called for the creation of pedestrian zones in the underpasses. Under this proposal the city would immediately clear any tent or structure in the zone, rather than providing notice and waiting two weeks.
"I do think there is a consensus that the current situation is not working," Drew Courtney, an advisory commissioner for the NoMa neighborhood, said.
Courtney said that he was receiving an increasing number of complaints from city residents about encampments and that there are legitimate concerns from people who have experienced harassment. Others complain that there's an overwhelming smell and too much trash laying around that makes the neighborhood look unappealing. He has heard a range of proposals from increased police presence to expansion of shelter services. But he cautioned that it was unlikely that there would be a "silver bullet" solution.
The issue of encampments has increasingly come to dominate public meetings and forums in the rapidly gentrifying NoMa neighborhood. 
NoMa resident, Ayesha Hossain, said that it's hard to see the homeless having to deal with another obstacle but need a place to go to where they can lay their heads. 
"You know it's tough to say whether I think that the clearings are a good or bad thing because these people don't have anywhere to go. But at the same time, they can't keep taking up the sidewalks, it's just not a place for them to be," Hossain said. 
The city may be contemplating changes.
The Advisory Neighborhood Commission invited Deputy Mayor for Health and Human Services, Wayne Turnage, to participate in a public meeting. Courtney said, however, that Turnage declined, saying that the city was in the process of reviewing protocols. The office of the deputy mayor did not respond to The Wash's request for comment before publication.
Meanwhile, Mayor Muriel Bowser, spoke about homeless encampments an Advisory Neighborhood Commission in Foggy Bottom last week. She described the current clearing process as ineffective, according to reports from the event.
Many experts would welcome a change in the way that the city goes about clearing encampments but were wary that pressure for immediate solutions would lead to more aggressive efforts to move homeless people out of public spaces.  
"All around the country business improvement districts try to clean up public space, which usually means privatizing it in some way so only some people can use it," said Hilary Silver, a professor of sociology at George Washington University.
Homeless advocates argue that the city needs to expand and improve shelter services and housing options.
While the overall number of homeless people has decreased in D.C., the number of homeless single adults has increased slightly over the past year, according to the city's annual survey.
Kate Coventry, an analyst at the D.C. Fiscal Policy Institute, said that the core issue was one of "improving shelters and increasing housing." She argued that when people decide to stay on the street, they are often making a rational choice. Some people cannot bring their pets or belongings with them, and couples without children cannot stay together in most public shelters Washington D.C., she said.
Although D.C. has a law requiring it to have a shelter bed for everyone who needs one when the temperature drops below freezing, in practice, Coventry said that the city has not done enough to increase permanent housing. 
D.C. is not the only city struggling with encampments. President Donald Trump railed against homeless encampments in California last month, sparking concerns that political pressure could lead to a crackdown on vulnerable individuals. Several cities in the West Coast, where a larger proportion of the homeless population is unsheltered, have set up permanent encampments. In many cities throughout the United States, police ticket or charge homeless people for sleeping outside. 
Staudenmaier said she was worried about increasing pressure in both the national and local context.
"Trump is railing against homelessness, and at the same time so many people who aren't from DC, they don't get that a lot of folks are multigenerational DC residents who've been forced out of their homes."