In the middle of severe rain showers, two cars collided Saturday evening in the middle of Wisconsin Avenue in Bethesda. A black Lincoln MKX and a grey Ford Taurus crashed into one another causing an accident build up on the corner near Fairmont Avenue.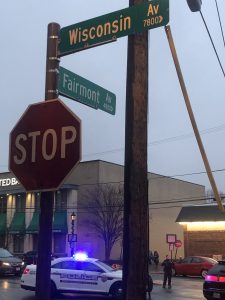 The front of the Lincoln MKX was crushed and the airbags were released. The Ford Taurus, sporting a bumper sticker that read "goalie mom," swerved its way onto Fairmont Avenue to avoid other cars.
An ambulance arrived on the scene immediately. A woman was carefully taken out of the Ford Taurus wearing a neck brace as paramedics carried her into the ambulance on a gurney.
Three rescue teams from Bethesda/ Chevy Chase Rescue squad responded to care for the accident.
"No major injuries. It was just a rainy day car accident," Officer Chris Johnson told The Wash on scene.
The also collision caused a traffic jam backing up Wisconsin Avenue on both ends. Officers blocked off Wisconsin Avenue as Montrose towing arrived and towed away the black Lincoln SUV out of the middle of Wisconsin Avenue.  The tow truck was the main source of creating excess traffic as it blocked off both sides of the streets. Officers stopped all vehicles as the tow truck removed the car. Vehicles on both ends came to a complete stop for ten minutes before officers allowed traffic to move freely again.
CVS Pharmacy shoppers, with umbrellas in tow, stopped at the scene in the rain to see the crash. Other bystanders in the street quickly ran to their cars as it was raining. 
Officers waited as all passengers headed to the hospital in ambulances and cleared the scene.