Logan Circle business owners say Mayor Muriel Bowser's proposed Addressing Crime Trends Now crime bill only helps corporate chains, not small businesses. 
These owners say theft doesn't seem much different than in past years for them but add that they hope the bill solves problems for larger businesses.
Bowser introduced the ACT Now Act on Oct. 23, 2023. Among several proposed changes, the legislation aims to create criminal penalties for organized retail theft. Specifically, it seeks to define organized retail theft as a felony with a prison sentence of up to 15 years.
The offices of Mayor Bowser and Councilmember Brooke Pinto didn't respond to requests for comment.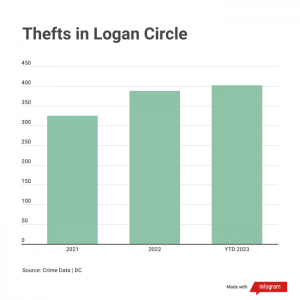 According to the U.S. Chamber of Commerce, organized retail theft is theft organized and carried out by criminal rings that steal large amounts of goods to resell for profit.
According to Metropolitan Police Department's Year-to-Date Crime Comparison data, theft in the District has increased 22% from 2022 to 2023, with 9,212 incidents of theft last year and 11,194 instances of theft so far this year. 
According to Crime Data DC, incidents of theft in ANC 2F, which encompasses Logan Circle, have increased by 16% from this time last year. There were 388 incidents in 2022, and there have already been 402 incidents in 2023. There were 325 incidents of theft in the ANC in 2021.
Amanda McClement, owner of home goods store Salt and Sundry, said the crime bill was concerned with a group of people running into a store to steal a bunch of stuff at once. That wasn't something she experienced.
"I don't think it'll help us specifically," said McClement.
Crime rates didn't seem to her to be any more significant than any other year, according to McClement, but theft was still an obnoxious and damaging inevitability of running retail businesses.
It was a reality she had to contend with, but she didn't see any solutions. She said theft, especially for her small business, felt personal.
"It's literally money out of your pocket," said McClement.
She said the crime bill was aimed at corporate chains. 
Craig Smith is the chief executive officer of A Few Cool Hardware Stores, a retail group that owns 13 Ace Hardware locations in the DMV area. Smith said he fully supports the mayor's new bill. 
Smith said he hopes it curbs theft in the District, but he admits his stores don't experience the same type of theft as other stores. He said the stores affected most were places like CVS and Walgreens. 
Although he hadn't noticed a major uptick in crime in his stores over the past year, he admitted thieves had become a little more brazen. Offering an example, he said he'd seen people leave other stores with carts full of merchandise they hadn't paid for.
Theft at Ace stores, according to Smith, wasn't the organized retail theft the bill seeks to address. Though he wondered if it could be chalked up to the resale value of hammers versus the makeup and detergent that had been stolen at larger chains, he offered another potential reason as well.
"They will still try it, but we've been in business for over 20 years in the Logan Circle area and I would say we're ingrained in the community," said Smith.
He said people might think twice about stealing from stores that are locally and employee owned. A Few Cool Hardware Stores are both, with 30% of the company owned by staff.
If people who work in the store have eyes on customers and customers know they'll talk to them, it's more daunting to steal, according to Smith.
He said attentive employees are the outlier, not the norm right now.
"I don't think you walk into too many stores these days that are retail stores that you get great customer service in," said Smith.
The Small Business Development Center's Executive Director Carl E. Brown, unlike Smith, didn't see any real solution for theft. He said the new crime bill wouldn't fix any problems.
"It's not going to do anything to address theft," said Brown. "If that was the case, then people wouldn't commit crimes."
He said the issue was much deeper than stealing, pointing to the rising cost of food and other goods and its effect on lower-income communities.
"They feel that it's their privilege and right to steal from you because they feel as though you're stealing from them by charging the amount you're charging," said Brown.
Serv-U Liquor's Ralph Mokonnen said crime was nothing new.
"Stealing is like going to work right now," said Mokonnen. "It's normal, like watching football or basketball."
He said he couldn't say whether the crime bill would help and believes it's the government's job to figure that out.