Blocks away from each other in Dupont Circle sit two museums, one that works to preserve Palestinian history and culture and the other recognizing Jewish service members in the United States. 
During the ongoing Israel-Hamas war, each museum is offering programs and support for their communities.
Hamas launched an attack on Israel on Oct. 7, killing more than 1,400 people, mostly civilians killed in the initial attack. In retaliation, Israel launched attacks on Gaza and cut off humanitarian aid, some of which has now been restored. Israel has now started its ground invasion in Gaza. In Gaza, more than 8,500 Palestinians have been killed, according to the Gaza Health Ministry. 
The Museum of the Palestinian People's walls are filled with art, clothing and posters detailing the history and current experiences of Palestinians. In addition to the permanent exhibit, the visiting exhibition titled "Huna Al Quds: Palestinian Art and Culture in Jerusalem during the early 20th century" looks at life in Jerusalem under the British mandate.
"Our mission is to humanize Palestinians to show that we have history that goes back thousands of years," Founder and Director Bshara Nassar said. "We also have our rich culture and history, but also we are people living under occupation."
Nassar also said his museum is a space where people can grieve with Palestinians during the Israel-Hamas war and a place where people can learn. He said since the start of the war, the museum has seen more people coming to visit. 
"The museum really seeks to create a safe place not just for Palestinians, but for everyone, for Palestinians to come and share their story like the daily life of Palestinians, the culture, the history, and dedicate time for other people to ask questions," Nassar said.
Nassar's family is still in Bethlehem. He said it's difficult to operate the museum and also think about his family and how they're doing during the war. 
"It's been very hard to do all of this and be with family and check on them and just make sure that they're okay," Nassar said.
Only four blocks away in the same neighborhood, military regalia, artifacts and posters line the walls at the National Museum of American Jewish Military History (NMAJMH). The museum offers visitors two floors of exhibits highlighting the role Jewish service members have played in the American military during wars going back to the American Revolution.
Michael Rugel, director of programs and content at the museum, said most of the museum's content focuses on American history. Still, he said it recognizes the role it plays in being a space where people can come and reflect on current events that impact the Jewish community.
"We've always wanted to be a place for community but to be able to respond specifically to what's going on in Israel and maintain a place in the community," Rugel said. 
The National Museum of American Jewish Military History is associated with the Jewish War Veterans of the U.S.A, headquartered in the same space as the museum. The National Executive Director, Kenneth Greenberg, said the organization advocates for veterans and their families and stands against anti-semitism. 
"We stand strong against all kinds of bigotry and hatred, and believe that there's no place in the United States, no place in the world for discrimination and bigotry," Greenberg said. 
Rugel said a recent program discussing the 40th anniversary of the bombings of the Marine barracks in Beirut also turned into a discussion on the Israel-Hamas war. The bombings in Beirut killed 241 U.S. military personnel, 58 French service members and six Lebanese civilians. 
"This was planned well before the Hamas attack on Israel, but since we were talking about terrorism, that certainly was where everyone's thoughts were," Rugel said. 
During the ongoing war, the museums share similar concerns on safety and taking care of their communities. The Anti-Defamation League and the Council on American-Islamic Relations have reported increased instances of attacks and harassment against Arab and Jewish people.
"There is greater awareness about security with our building in particular, with our staff, " Greenberg said. "We've talked to everybody and I think that that's important and I think that there needs to be greater awareness on both sides."
Greenberg said the organization also has close contacts with the Metropolitan Police Department and he said the department has increased its presence. 
"As Palestinians in the United States we see attacks on Palestinian communities, I think it's scary," Nassar said. "In general of course we are just cautious and just monitoring the situation even in the United States as we see increased attacks on Palestinians and so that's something of course we consider." 
Rugel said he hopes the museum continues to be a space ready to stand with the Jewish community.
"We want to focus on being a place where community can come and people can reflect, people can discuss what's going on, our audience, most of which is Jewish, not exclusively, are still really upset, many people with close ties to Israel and everyone having seen these appalling images and heard reports that are difficult to deal with on a personal level."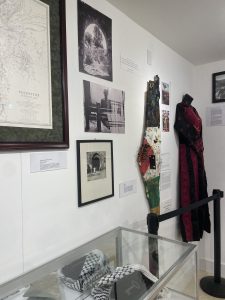 The Museum of the Palestinian People also has a similar mission. Nassar said he wants the museum to be a place where people can show their support for the Palestinian community and a place where people can get a more full understanding of their lives. 
"There've been many people coming to the space to grieve with Palestinians, as we've seen more than 8,000 Palestinians killed in Gaza, so many people are coming to grieve with us," Nassar said. "Many are coming to ask questions."