A woman was stabbed at the Navy Yard Metro station last Sunday. The next day, police arrested the suspect, Michael William Harrington, and charged him with assault with intent to kill.
The crime represents a larger trend of increased violent crime in the Navy Yard. Violent crime constitutes of every incident of robbery, homicide, assault with a dangerous weapon, or sex abuse, according to the Metro Police Department.
Sheilah V., a resident from the Southeast Ballpark area of the Navy Yard, who declined to give her last name, said the incident discouraged her from using the Metro.
"This is one of the many reasons that I just bought a parking pass to drive to work after taking the Metro for over a year," Sheilah V. told The Wash.
According to Metro Police data, the Navy Yard experienced 64 violent crimes this year to date, compared to the 55 total in 2022. In addition, the data show the amount of violent crime in the Navy Yard has increased by over 200% from 2018 to 2023.
While the assault cases tend to draw the most attention from residents, the vast majority of incidents fall under the category of robberies. Out of all violent crimes seen over the past five years, robberies also show the most consistent increase over time.
Homicides, assault, and sex abuse together only amount to about 15% of violent crimes in 2023 so far. In 2018, those percentages were much more balanced.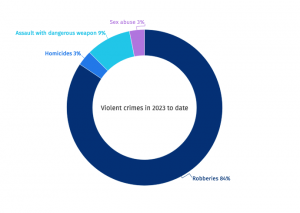 The neighborhood saw a spike in crime overall starting in 2020, a trend that has continued into today.

Chloe D., a resident from neighboring Waterfront South said crime seemed much worse now than it did in 2018. Chloe D. declined to give her last name.
The neighborhoods on either side of South Capitol Street are similar, "although I'd say Southwest used to be safer than Navy Yard, and now it's probably about even," Chloe D. said.
"It wasn't like this when I last lived here, and now it's gone to shit," Chloe D. said. "I'm getting the hell out of D.C. ASAP."
The Advisory Neighborhood Commission and local MPD representatives have not yet responded to The Wash's requests for comments.