When Jarvis DuBois set out to curate this year's Foggy Bottom outdoor sculpture exhibition, he wanted something that encouraged reflection, allowed for refuge from the hustle and bustle culture of D.C., and exposed art to a wider audience.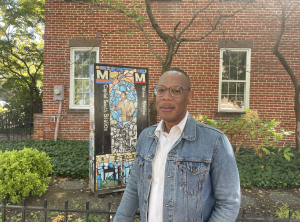 As the exhibition reaches its last month, DuBois will lead a final tour Oct. 8, accompanied by Jennifer Mondie, a violist in the National Symphony Orchestra. She will play original music specifically composed by her and Michael J. Evans, a D.C.-based composer, for each work of art. Mondie, a resident of the neighborhood, displayed one of the artists' sculptures in her yard. 
The free tour will begin at 5 p.m. at 842 New Hampshire Ave. NW and will continue around the neighborhood, which is located between 25th Street and New Hampshire Avenue, west of the Foggy Bottom-GWU Metro station. 
Taking art out of an enclosed space, like a museum or gallery, and displaying it publicly in a neighborhood, public park or street corner, is a way of engaging with the community, said DuBois, an independent curator and museum specialist at the National Museum of American History.
The public art biennial put on by Arts in Foggy Bottom features 13 sculptures, the majority created by local artists, which are placed in the yards of the neighborhood's residents. The exhibition launched on May 6 and runs through Oct. 21. 
This year marks the seventh sculpture biennial produced by Arts in Foggy Bottom since its inception in 2007. The organization, a subset of the Foggy Bottom Association, aims to foster inspiration and community dialogue through partnering with artists and local community members. Each show intends to highlight the historic neighborhood's past, present and look towards the future.
BUCK!, a Capitol Hill-based artist, said he used the opportunity to branch out of his safe space and create his first sculpture. BUCK!'s piece, With Due Thought and Careful Consideration, focuses on thinking and reflecting before you speak.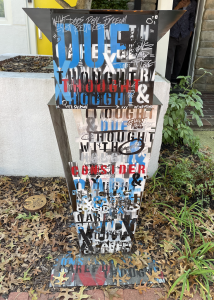 BUCK! heavily painted a metal lectern with words like "due thought and consideration" and "care" in red, white, blue, and black in different styles. His piece's intended meaning of reflecting and taking consideration, thought and care with your words before speaking is juxtaposed with the typical use of a lectern–as a place to hold a speaker's papers as they actively talk to a crowd. 
"It's about the idea to take the time and be thoughtful of what you say and what you do. I'm not speaking to any one community, I'm speaking to everyone," BUCK! said.
Compared to the people viewing his other artwork in more traditional galleries, BUCK! noticed different types of people than the usual fine arts connoisseurs gathering in public art spaces, he said.
With public art, like this exhibition, the artists and curator said they take into consideration how different types of people would understand the art differently than with art in a more traditional space like a gallery.
DuBois said he gets the sense that many people don't feel allowed to attend galleries or even free museums.
He thought heavily about public engagement, the environment and the residents when curating the exhibition.
Leslie Cohen, a passerby and native Washingtonian, revisited the featured sculptures after a prior guided tour of the historic neighborhood.
"For someone to put art out on the street for anyone to see it, without an admission fee, it's a gift," she said. "I can actually feel the love and the pride on the part of the artist."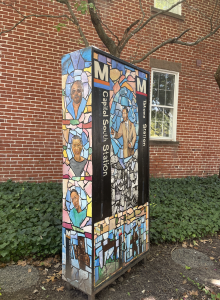 Some of the art pays homage to growing up in D.C. and the changing city. Jabari Jefferson, a fifth-generation Washingtonian, honored D.C. and his family with a six-foot-tall sculpture centered around the shared experience of riding the D.C. Metro. 
Jefferson's sculpture, D.C. Stride, 5 Generation Strive: An Altar Piece, depicts his family members and different Metro stations–some are iconic D.C. stations and others are specifically connected to his upbringing. Jefferson said he created his piece to pay respect to his heritage and encourage reflection for other D.C. natives, while still being recognizable enough for visitors to appreciate.
"When you do public artwork, you are signing on to a responsibility to have it be pleasing to the public, have them understand it and have them be able to form their own connection," he said.
While working on the project, Jefferson discovered his own connection to Foggy Bottom; even though he grew up in Fort Totten, his mother grew up in the neighborhood. Jefferson said he wanted to be mindful of how the community changed over the years by celebrating the faces that can sometimes be forgotten if they no longer live in the neighborhood.
"I created something that was synonymous with any Washingtonian, no matter what location of D.C. they lived: if it was now or four years ago, no matter anything, because the Metro does connect us all," Jefferson said.
Arts in Foggy Bottom's next show is scheduled to open in May 2025.