Inside one of Columbia Heights' signature row houses alongside bustling 16th street, lies The Family Place Adult Public Charter School. 
The outside looks more like a sanctuary than a place of learning, but for the students who attend classes there, those two concepts are the same. 
The school opened its doors in 2018 to serve adult residents of the District who want to improve their English. These language skills provide the students with better income and career opportunities, as well as the ability to become more active members of their communities, according to the school's mission statement. 
The Family Place Adult PCS is one of ten Adult PCSs funded by the Office of the State Superintendent of Education. 
Each school has a different focus, but teaching English as a Second Language (ESL) is a primary objective of six schools due to the needs exhibited by those in attendance. The Family Place Adult PCS alone has eleven different ESL classes.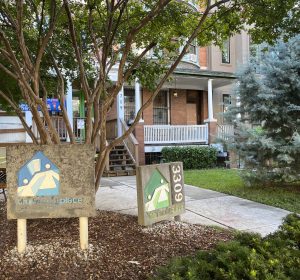 Latino residents are highly represented across D.C.'s ten Adult PCSs. They comprise 55% of the Adult PCS population and around 95% of participants at The Family Place.
From El Salvador, Maria Rivas has been a student at The Family Place since the school's conception. 
"I never want to leave. I always want to be at the Family Place because I love everything about it," she said.
Maria Herrera, from Ecuador, also started studying at The Family Place in 2018. She chose this school for its amount of available classes on multiple days of the week.
"I like this place because of the very nice teachers. I feel very comfortable here," she said.
The school has a current enrollment ceiling of 183 students but actually served 202 last year. The school requested to amend its enrollment ceiling to receive funding for the additional students. The DCPCSB voted last month to raise the ceiling to 225 for the next school year. 
This new ceiling will provide the school with additional funds of around $498,600. 
"The idea is to possibly impact the community. We are doing this to make it better," said Fernando Saldaña.
The Family Place non-profit was created in 1980 with the primary mission of helping immigrant mothers. They still serve this purpose, but their duties have shifted to better fit the needs of the community. 
Yinzú Nairouz, Director of Family Services, said finding steady employment is an issue for many of the people they serve, especially in Columbia Heights. 
"Around Columbia Heights, there are a lot of low-income families that make only the minimum wage per hour, and it's hard to have a family, pay rent, and find food with that amount. Also, in general, they have jobs that are not permanent but only temporary."
Nairouz cited language and cultural barriers as two reasons why many need help acquiring employment. 
"There is always a cultural barrier, especially with the people that have been arriving at the border in the last year and a half. There is always that culture shock," she said. 
To help mitigate these challenges, the school offers a variety of classes in three categories: English as a Second Language, Foundations of Literacy, and a Child Development Associate accreditation program. 
The school accommodates its busy students by offering small class sizes and meeting times. Fernando Saldaña, school staff member at The Family Place, said the programs must stay flexible because they serve a large number of single mothers and people working one or two jobs.
Retaining students is a priority for the school, so they have taken steps to ensure that students get personal support as well. 
In one of the classrooms, dozens of students mingled with school case managers in an event called "Coffee with a Case Manager." Students snacked on coffee and pastries while speaking with staff about resources they may need, including assistance with immigration paperwork, mental health, and medical insurance.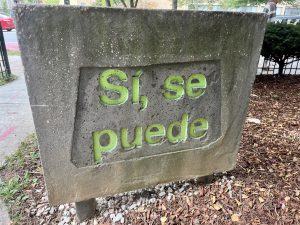 The organization has adapted to keep up with the unique short-term needs of some migrants and asylum-seekers that arrived among the 180 busloads of people to D.C., many of whom were sent by Texas and Arizona's Republican governors in protest of President Biden's border policies.
The school partners with D.C. Central Kitchen to provide daily packaged meals for students to promote their well-being and success.